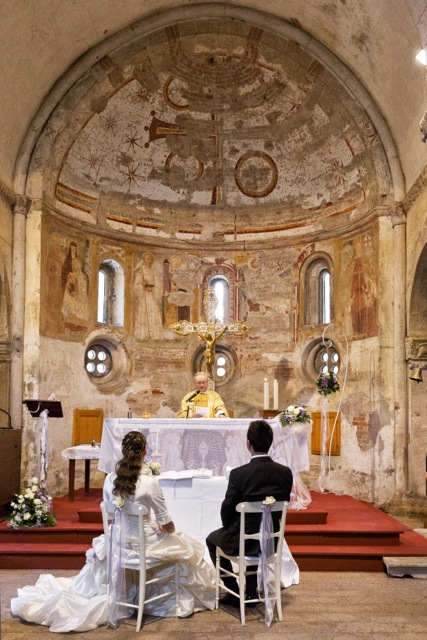 Rome, Italy's city of romance. The city will sweep any couple off their feet with it's  nearly 3,000 years of globally influential art, architecture and culture on display just about everywhere you look. If you're planning on getting married in Rome, good choice! Let Anna Maria Nardi at Wedding Planner Roma sprinkle some stardust on your wedding and make it one to remember.
Celebrity Style Weddings  Tell us about Wedding Planner Roma.
Wedding Planner Roma  My company works from years in the personal shopping field and fashion consultant for wedding, we can advise on the best for the future husband and wife in their most important and challenging day.
Everything must be perfect: Anna Maria and her team know very well how exhausting can be to think about everything and that's why, thanks to the experience of their consultants, will be able to solve every problem in a short time.
The wedding planner is all these things together, the aim is to take the weight of all these responsibilities to the couple, to make sure that everything will be perfect and organized thanks to competent staff with many years' experience in the field.
CSW What makes a wedding by Wedding Planner Roma unique?
WPR Our company is able to provide high quality services with any kind of budget; a tailored wedding for you, with your vision of life and having fun and pure ,intense emotions, it is not only about the design of the wedding.It's about the feelings.
Guarantee of our work is undoubtedly the prestigious ABC (Association Bridal Consultant), officially released by the American authority acknowledged that ensures excellence standards in the "wedding planner" consultant category .
CSW  What locations do you cover? (In Italy and abroad if you can also plan events outside of Italy).
WPR  We are based in Rome but we have also our branch in London. Depend on the request but with a reasonable notice we can organize a wedding most of everywhere.
CSW  For brides who are planning to have a destination wedding in Italy, what is your booking process?
WPR  Every wedding has his own story so we cannot tell you a general rule. It happens to organize a wedding in a month and was a great success. Our advice is to take time to think and analyze all the possible solution in order to find a tailored event that will be absolutely perfect.I think the point about marrying abroad in a country that means something to both even a dream or a song.
CSW  Do you have any wishes or expectations for each couple that you work with?
WPR  The most difficult thing in my job is to understand the couple characters and build their wedding following their expectations and desires; you do not have to revolutionize their tastes but simply guide them in the right way helping make the right decision and plant "Goosebumps" memorable moments.
See Also

CSW  What inspires you when you're planning a couple's wedding?
WPR  People in general are always inspiring me. I know that is common to say but you never stop learning from people. Style is what you have on the inside, you only need somebody helps you pull it out. Stylish people do not copy, they make their own rules!
CSW  Tell us your 5 favorite things.
WPR  Talking about weddings, I love:
Ivory
Orchids
Fish
Millefoglie pastry
White gold rings
CSW  Favorite celebrity wedding?
WPR  For sure the supermodel Kate Moss wedding, the correct mix of perfect choices, understatement, the couture dress designed by John Galliano sobriety and elegance, to the purple Vivienne Westwood dress chosen by Dita Von Teese
CSW  What are your style tips for brides and grooms?
WPR  Do not let people make the decisions for you; if you want to do one specific thing, do it! You will appreciate it for the rest of your life. [For example, take a look at details of recent celebrity wedding in Venice,  they are very personal.]