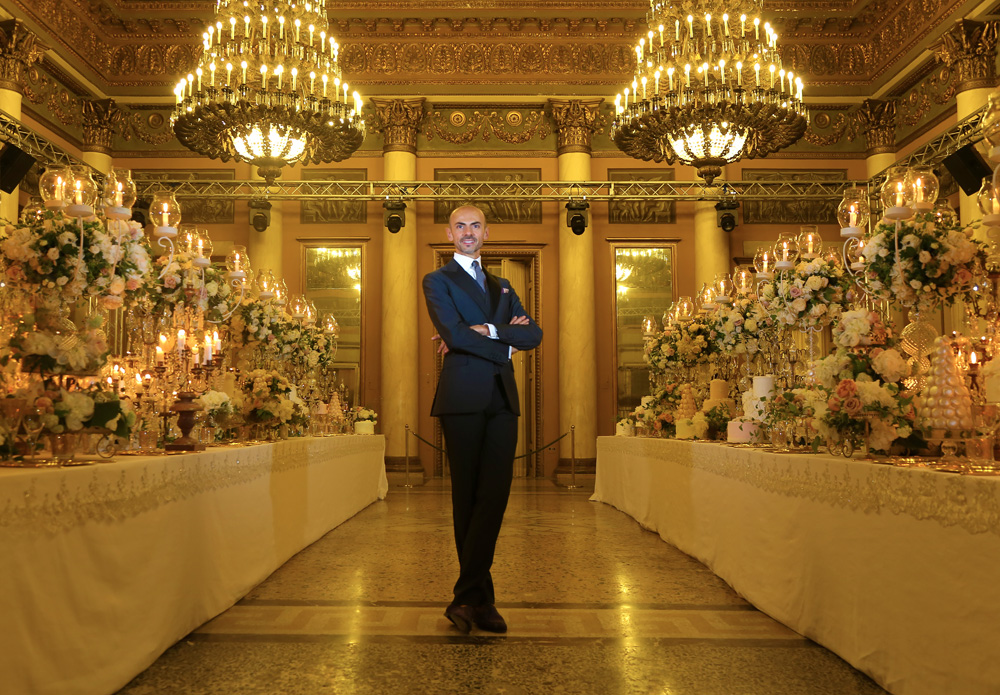 Enzo Micio, celebrity event planner and Italian television presenter of Wedding Planners began his career in Milan where he graduated at world-renowned Istituto di Design. Soon he began a career in fashion and event planning, working with prestigious fashion and lifestyle magazines. His love for the opera can be seen in his luxury productions both in Italy and abroad. A perfectionist, Miccio's work is focused on personalizing every wedding – leaving no detail untouched.
Celebrity Style Weddings  You're described as the most famous wedding planner in the Italian TV and a Master of Elegance. Tell us what elegance means to you.
Enzo Miccio  The Elegance does not express itself buying cutting-edge clothes, accessories and bijoux. Elegance is not a matter of money, brand or carats of precious stones you wear. Elegance is not only for those who fit within catwalk models' parameters. It is an attitude, a savoir faire, a natural inclination. This means not only to be able to do the right combinations of material, colors and lengths, but in order to do it in a great way you should have a great personality. Having a great personality, in fact, helps you finding your own style and looking nice in people's eyes around you. The important thing is to find a personal way to wear clothes, and if it is not just pure elegance, it will be at least an expression of personality.
CSW  You began your career in fashion, attending a high profile design school on Milan and organizing fashion shows, special events and photo shoots for fashion houses.] How does your background in fashion influence your work as a wedding planner?
EM  Fashion companies, you know, are the home of creativity and it is always good to deal with other creatives. Every meeting is an opportunity for brainstorm, dialogue and a moment of professional growth.
CSW  Congratulations on Enzo Miccio Bridal Collection debutted recently. It is obviously your first collection of wedding dresses. We've seen them and absolutely love them. Each gown is exquisite, oozing so much beauty and elegance. What inspired you to create the collection?
EM  It's my first bridal dress collection which aim is to transform every bride in a princess. It was my debut and I thought of a timeless elegance. As a result of this, my collection is called "Back To Elegance", a return to elegance and to pure shapes.
I didn't want to go too far with special shapes or amaze with special effects. The collection is composed by precious gowns, well cut on woman's silhouette. A mix of lace, which is the basic ingredient of my collection, organza and mikado. So a timeless wedding dress disconnected from fashion. A classic bride with a necessary touch of modernity. It's a collection that goes beyond the trend of the moment.
CSW  You have planned some of the most beautiful and famous weddings in the world. Can you tell us about some of them? And is there any type of wedding you still want to plan?
EM  Each wedding is unique, whether it is about VIP person, or common people.
Through years of experience I have had different and original requests, which my team and I met always with elegance and good taste.
I do not have a particular wedding in my heart, I grow fond of each couple I work for and I become very closed to them.
I live emotions together with both groom and bride and I guide with my hand until the day of their marriage.
Certainly, during my career there were some unique project. Such of these are: marriage in costume or a special wedding set in a private island or wedding weekend in exotic locations. Projects not yet realized? I'd like to face other cultures and traditions far away from ours in order to produce an Italian mixed style with native culture and traditions of India, Japan and Middle East.
CSW  Your TV shows in Italy, "Wedding Planners" and "Ma Come Ti Vesti?", the Italian version of "What Not to Wear" were a big hit [very popular]. Is there a big difference between working on and off the camera's lens?
EM  There is always a big difference between working in front of and behind the cameras. "Wedding planner", (each episode lasts only 50 minutes), is the result of a long-term organization that sometimes lasts more than a year. Each wedding includes a number of meetings with the bride and groom, from the cognitive interview, until the moment before you get to the altar. Also, another aspect that is not immediately apparent is the number of staff and employees who work behind an event. Regarding "Ma come ti vesti?!", beyond fun and irony, it's hard to perceive the effort to improve the look of a contestant in such a short time. It's pretty hard to try to create three different outfits and, above all, a great responsibility… what if the contestant is not happy with the new look ?
CSW  What style tips would you give a bride who has just started shopping for her wedding?
EM  As I always suggest to my brides, the starting point is choosing the right wedding dress. It is when we see yourself for the first time wearing the white dress you will realise you are next to the altar. I have lots of Style tips, but it all depends on the context. For example, about the wedding dress, never daring necklines on the neckline or shoulders. As a general rule: Do not exceed mixing too many colors. The marriage must be a set of coordinated and harmonious elements. If the bride wishes to have a little metamorphosis: iti s ok in order to have a distinction between the ceremony and the wedding party.
CSW  Does the Enzo Micio wedding also extend to couples outside of Italy?
EM  Absolutely yes. My business event organization is not only for foreign people who wants to get married in Italy, but also vice versa. More and more often I get requests for real wedding weekend where I along with my staff we follow out all the organizational parts from the Répondez s'il vous plaît until guest accommodation, from the guest welcome until their departure. In the case of a destination wedding, the event often lasts several days and it celebrates different moments: from the hens and bachelor parties until the promises, from civil marriage, until the celebration in the church and the wedding party.
CSW  What are the first steps couples should take when planning a destination wedding in Italy?
EM  I would be partisanship if I say: "Contact Enzo Miccio"?
Surely the first step: to rely on a well-establish professional with decades of experience in the event planning. This certainly makes a great knowledge of the area and not predicted location. Rather than the classic five stars hotel, in fact, it is always very impressive -and difficult if you do not have knowledge- to be able to access historic residences of great visual impact and dramatic. Another advantage, in this sense, is the large number of people a wedding planner work with. Many years of experience helps, in fact, creating a strong trusted networks of professional people you can rely on, in order to realize event project.
CSW  What can a bride expect from an Enzo Miccio wedding?
EM  Each special wedding signed by Enzo Miccio is characterized by refinement and good taste, with no excess. Every newlywed couple should express their wishes and I help them to clarify their ideas and to stage the wedding you have always dreamed of. Whoever comes to me will expect to find (and he will find!) an event planner with many years of experience, who is essential for dealing with emergencies and contingencies. As I always say to my students of the Enzo Miccio Academy, in order to competently perform this job you must have a 360 degrees knowledge, from architecture until art history, from the Food and Beverage until furniture, from music ultol light design.
CSW  What new trends would you recommend for the Celebrity Style Weddings bride and groom?
EM  I do not follow the fashion trend because marriage is – at least you should be- a unique timeless event. I do prefer offering my couples a uniqueness of the project and the maximum customization of the service. But if I had to choose a style, I would love the romance in all its forms.
CSW  How does Enzo Miccio unwind [relax] when he's not working?
EM  In my free time, -actually few days a year- I dedicate myself to my passions, primarily to travel. In reality, this can be considered a "working time" because just as my journey begins, it starts a period of researches and inspiration. For me, every image, every encounter is an incentive for my creativity. Each trip is an adventure, a continuous discovery from which I always enriched. I like immersing myself in the culture and life of the place, I like buying local products as much as possible and… from every trip I come back with an extra suitcase!
CSW  Tell us your 5 favorite things
EM  I love: 1) my job…. Yes my event planning organization is one of my greatest passions 2) Classical music and Opera 3) Fashion 4) Art and Interior decoration 5) Horse riding.
Via Borromei, 2,
Milan, Italy