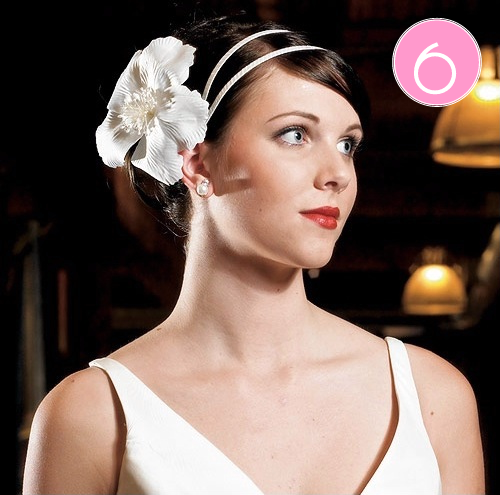 As we approach the new year, we watch many designers including Carolina Herrera and Maggie Sottero delicately display vintage inspired wedding gowns in their Spring 2013 collections. We can't wait to see more of the Hollywood era that gave the fashion industry the very definition of the word "classic."
See our picks of glamorous fascinators that will surely add elegant burlesque to any vintage themed wedding.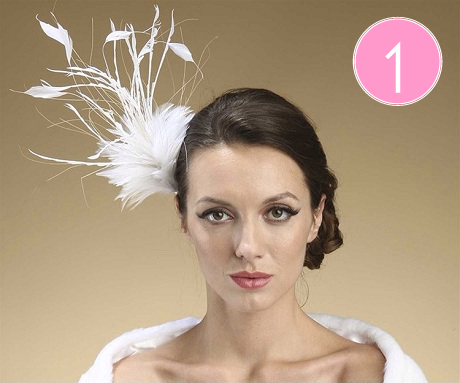 Mixed Feather & Crystal Fascinator Spray that measures a dramatic 11″ h x 4 7/8″ w. It retails at $44 and is available in white, ivory or black plus includes a comb elegantly wrapped in satin.  You will see more of this Bette Davis inspired fascinator below at no.5, where it is shown with a birdcage veil.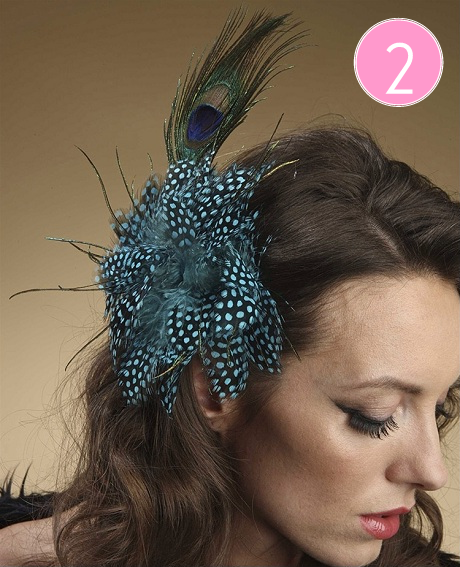 Polka Dot Feather Fascinator With Peacock Plumes is said to be inspired by one of Hollywood's famous weddings. The polka dot flower measures 6 inch round, with the peacock feather measuring 3 1/2 inch in height. At just $35, it is available in brown, purple, turquoise, black or fuchsia. It comes with a spring clip and brooch backing so you can clip it in your hair, pin it to a dress or even use the clip to fasten a shawl without piercing the fabric. A perfect choice if you want to achieve a demure look for your wedding.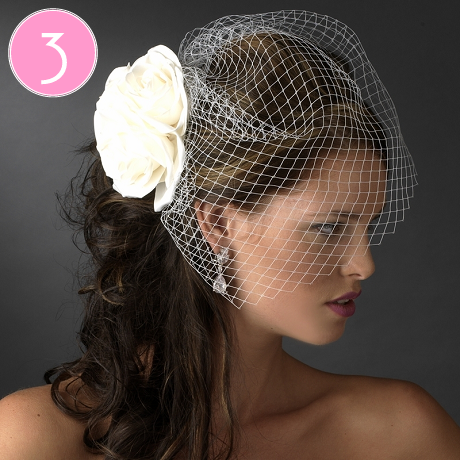 X Large Garden Rose Cluster with carefully handcrafted chic detailing that makes the artificial flower look almost like the real thing. The back of the rose bunch features an alligator clip for providing a secure and comfortable fit into your hair. The flower retails for $52 and is 6 inch wide. It is available in ivory or white and can be worn with or without a birdcage veil which is sold separately. Wear with the birdcage veil for a sassy lolita look.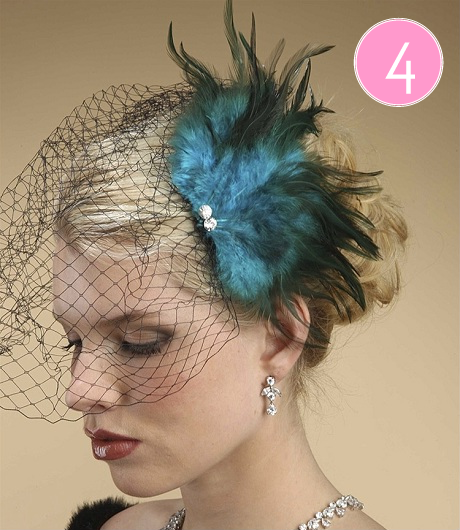 Fan Shaped Feather Fascinator With Austrian Crystals can be worn without or with the French net or tulle face veils which are sold separately. It retails for $28.50 and is available in white, black or turquoise/teal. It measures 9 inch W x 5 inch H and includes both a spring clip and brooch backing for versatile wear.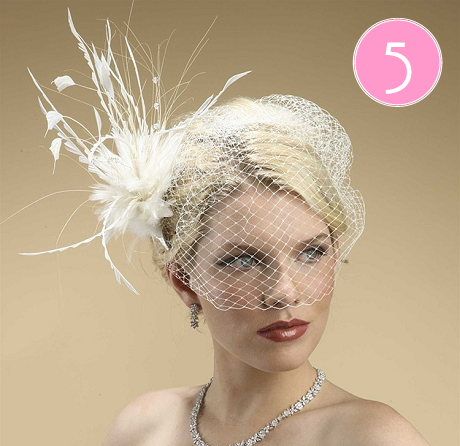 Mixed Feather & Crystal Fascinator Sprays that measure a dramatic 11″ h x 4 7/8″ w. It retails at $44 and is available in white, ivory or black plus includes a comb elegantly wrapped in satin. This is the same as no. 1 but shown here with a classic French birdcage veil which is sold separately. This fascinator will give you a very sophisticated vintage look, pair it with the right jewels for a killer vintage Russian heiress look.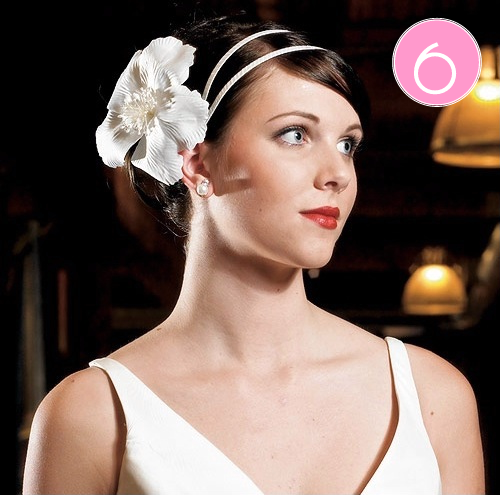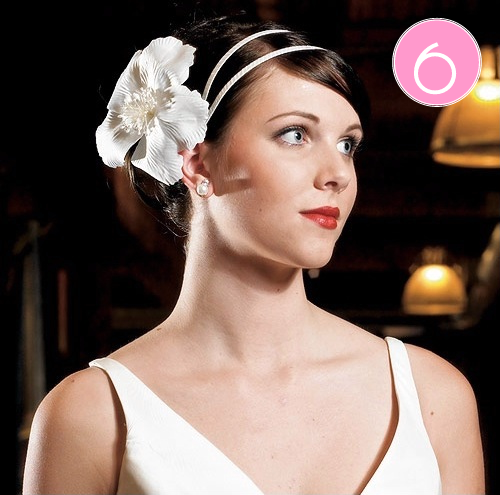 Single White Fantasy Bloom Floral Hair Accessory comes with an elegant double white silk wrapped headband that is sold separately. The flower retails at $26.99 with optional headband to tie in that roaring 1920s vintage style.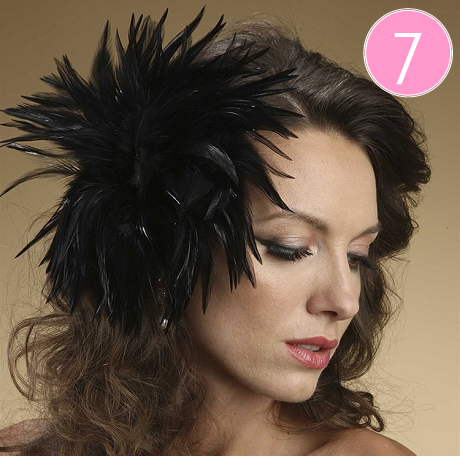 See Also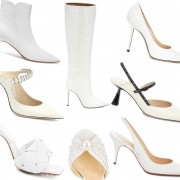 Bold Shimmer Black Feather Fascinator that has a dramatic look with beautiful shimmering black feathers. The back of the headpiece features a silver spring clip and includes a pin so it can also be worn as a brooch. Measures 9 inch and retails at just $30. This particular fascinator is best for the bride that is a mature sophisticat.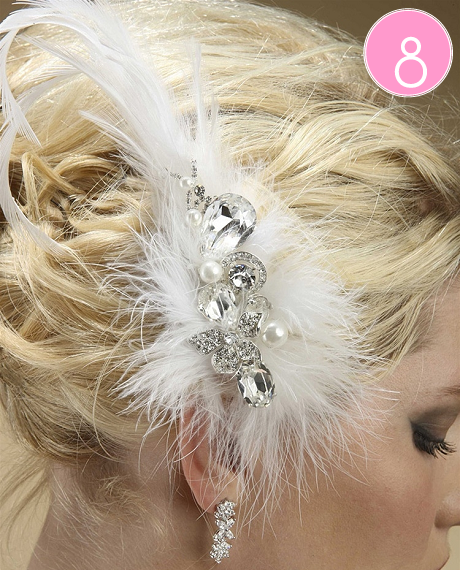 Lavish Swarovski Crystal And Pearl Feather Fascinator which boasts a lavish assortment of bold Swarovski crystals adorned with jewel encrusted flowers and a mixed array of pearls. No measurements available but it looks approx 7.5 inch W x 3 inch and retails at $92. This is a very beautiful fascinator and is perfect for a very delicate vintage look.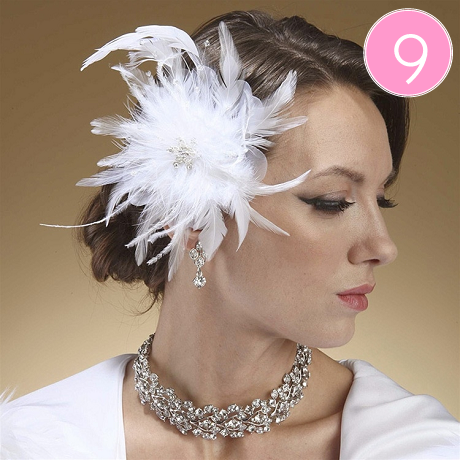 Bridal Feather Fascinator Clip With Swarovski Crystals is a best-selling Mariell fascinator with a floral motif and a brilliant starburst of Swarovski crystals in the center. It retails for $75 and measures 8 inch W x 5 inch H. Available in White or Ivory with silver accents.

See more of these gorgeous fascinators at Online Bridal Store. From peacock feathered fascinators to beautifully well coordinated and highly accessorized wedding gowns, expect to see a lot of beautiful vintage accessories come out next season. We love the 1920s-1960s for the beautiful fashion it gave us and the freedom to accessorize like crazy and still look elegant!
The playful outfits like the flapper and the rise of designers like Poiret and Gabrielle "Coco" Chanel helped make vintage fashion modern enough for brides to wear today. Old Hollywood was also an influential piece of history that has significantly shaped and defined what we consider to be glamorous, and as a wedding theme it is just fabulous.