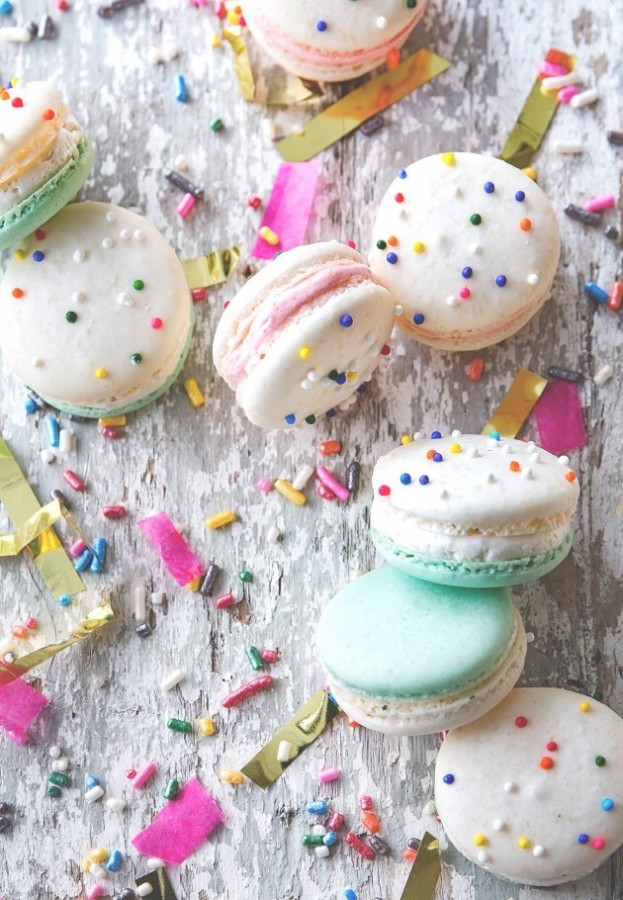 Every couple wants to find unique and memorable ways to make their big day even more special. From the bouquet to the first dance song, planning the little details can be one of the most exciting parts of getting married. A beautiful cake is often the centerpiece at the reception, but many couples are beginning to make a statement at their weddings by featuring a unique dessert. Here, we have gathered different ideas for you to serve on your exciting day. From layered dessert cups to macaroons, there is a decadent treat to fit every wedding. Let these ideas inspire you to find a dessert as unique as you and your beloved to help celebrate.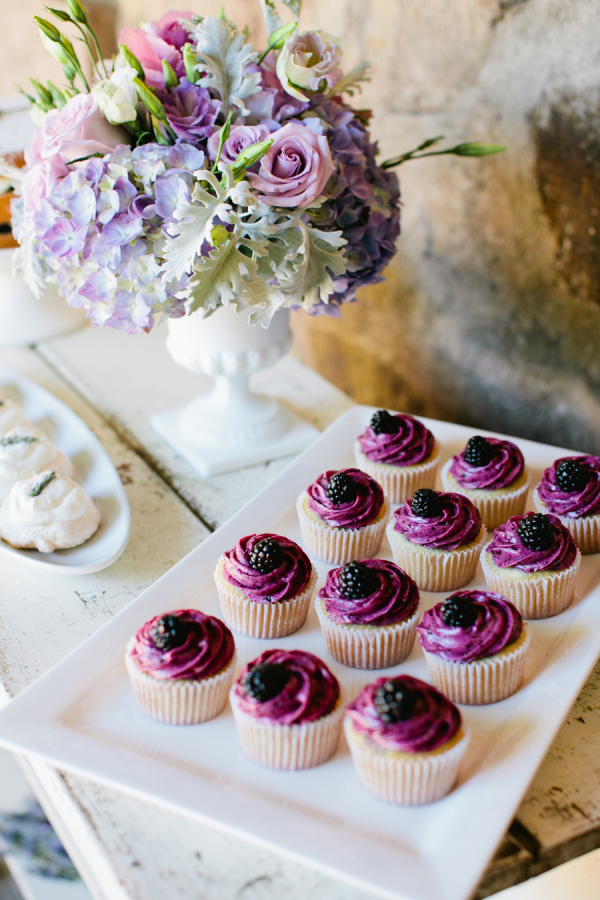 Cupcakes
Cupcakes are a simple way to feature a dessert that is similar to a cake, but will still offer a little spark. This is a great way if you want to offer multiple flavors or frosting to your guests, and a great option if you're looking for an easier way to serve dessert without the mess of cutting a cake. Have the cupcakes baked in decadent wrappers and topped with edible glitter or pearls to take a simple dessert to fabulous!
Photo credit: Sarah Anne Photography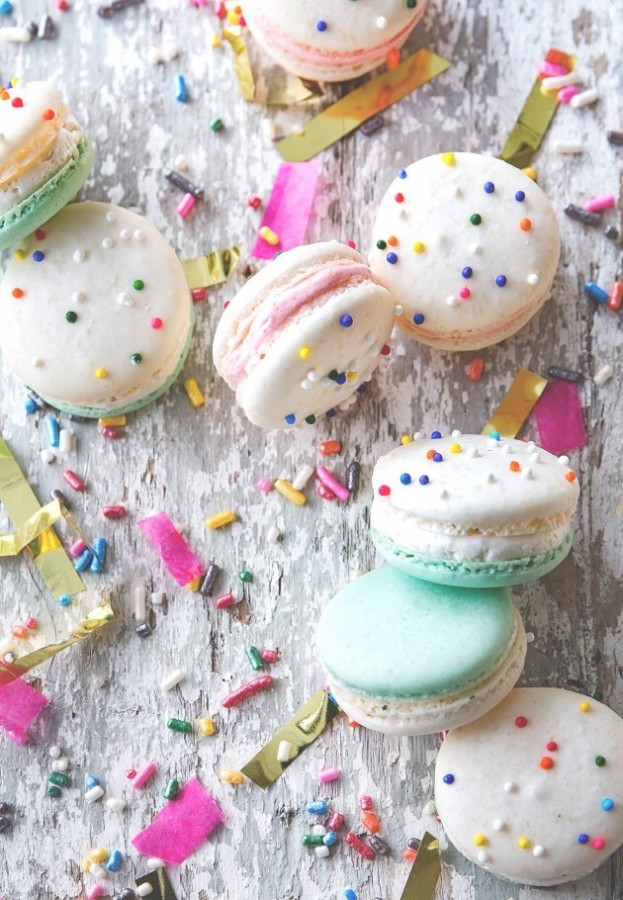 Macaroons
Give your guests a taste of Italy with bite-size macaroons. Find fun flavors like lavender, almond, or raspberry to spice it up and match your theme or colors. These bite-size treats are a perfectly pretty delicacy to showcase at your wedding!
Photo credit: Bakers Royale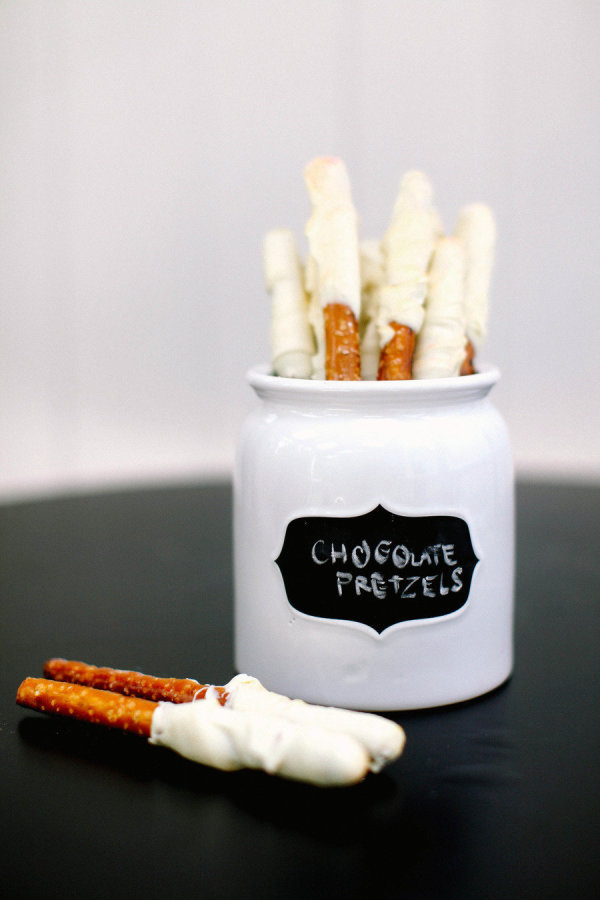 Chocolate-Covered Anything
Whether you decide to have pre-decorated treats or a chocolate fountain where guests can dip fruit and pretzels themselves, chocolate covered goodies are an exciting way to switch things up! Pretzels, strawberries, cherries, and cookies are all taken from simple to exciting with a delicious layer of rich chocolate on top. Your guests will love the fun new dessert idea!
Photo credit: SMP Living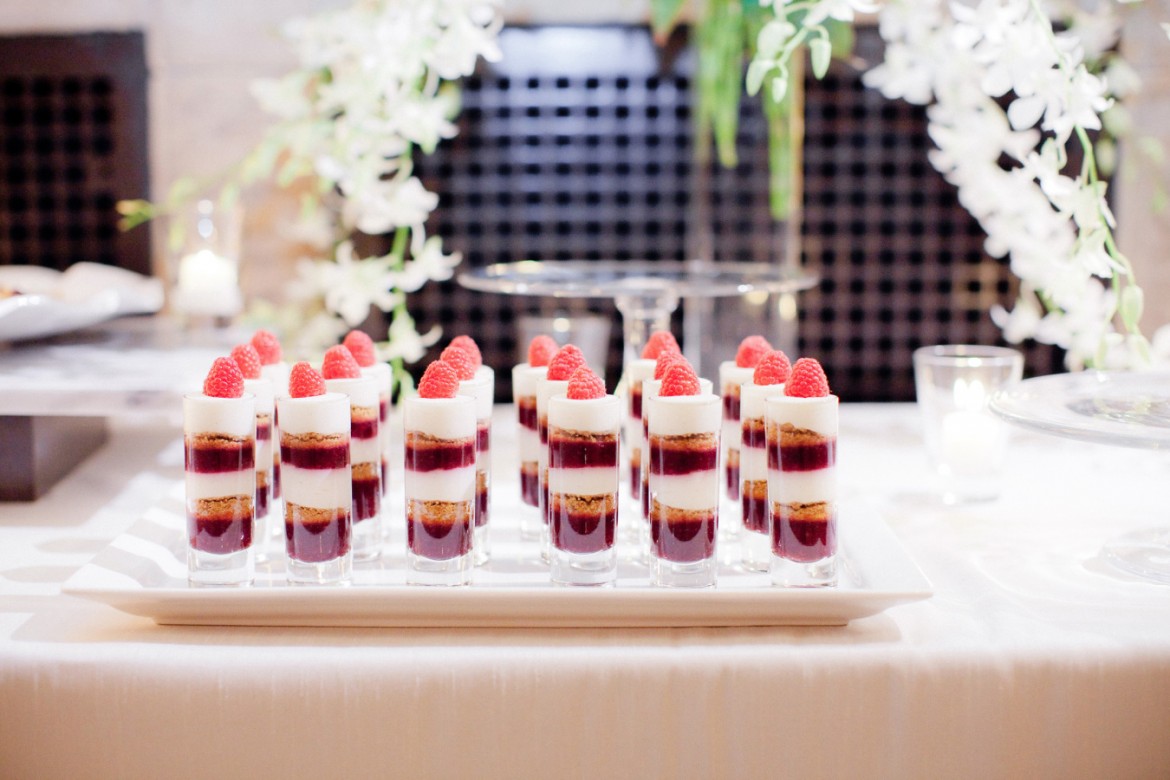 Layered Dessert Cups
Layered dessert cups are a beautiful way to add flair to your reception. An aesthetic display of mousse or tiramisu is the perfect statement centerpiece. This delicacy is sure to be loved and remembered by all.
Photo credit: Lori Paladino Photography

Ice Cream Bar
Let your guests have fun and make their own creation at an ice cream sundae bar! Find lots of fun toppings, sprinkles and candies to set out, and let your guests partake in making their own creation! This idea is fun and easy, and lets your everyone make something that they love. The two of you can create your own sundae as a couple and share a delicious frozen treat to celebrate your special day.
Photo credit: Ruth Eileen Photography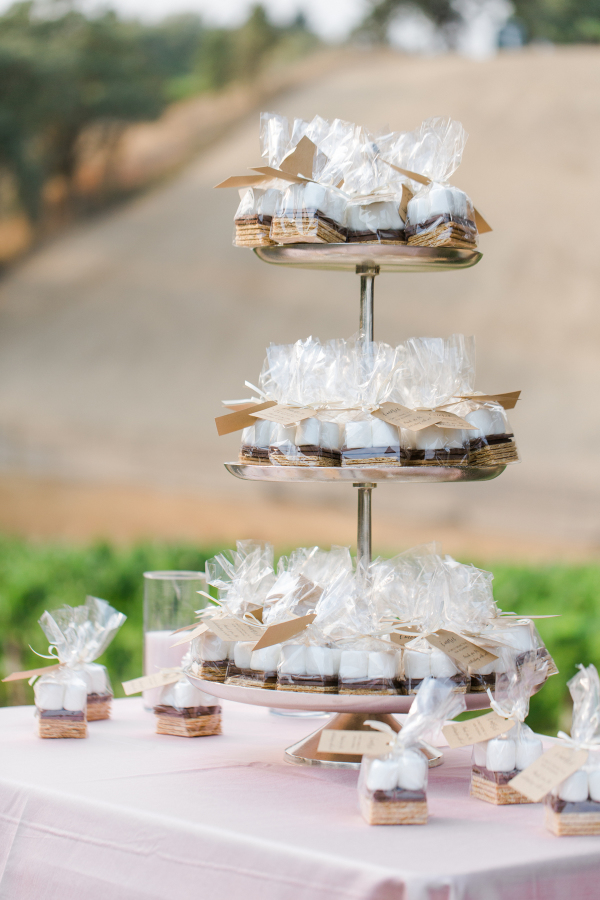 Smore's
There's s'more love to go around with this classic treat! Who doesn't love the classic taste of chocolate and marshmallow? You can even let your guests partake in the fun of creating their own treat with different flavors of chocolate and graham crackers. Take a classic campfire treat to elegant by making a beautiful display at your wedding. Everyone will surely love your fancy spin on a classic treat!
Photo credit:Elisabeth Millay Photography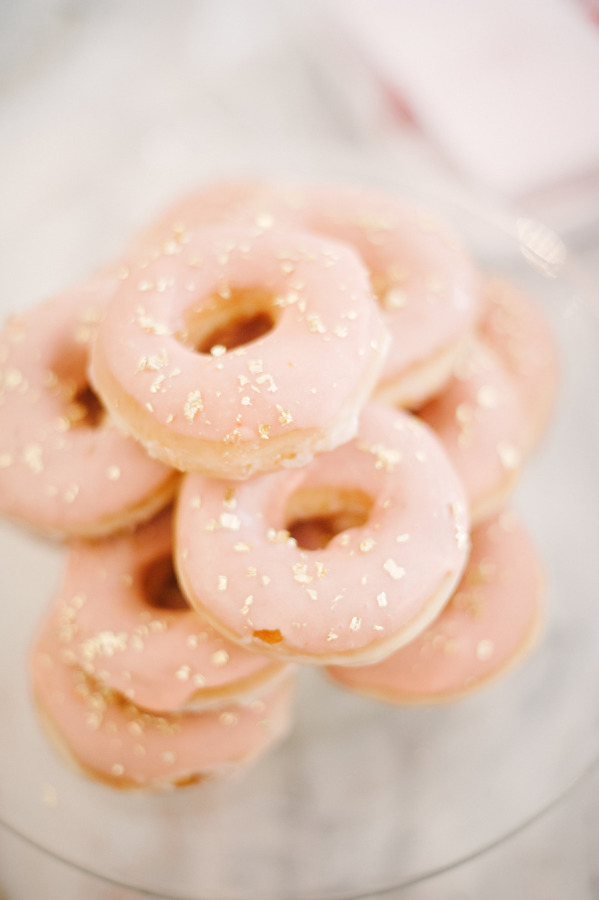 Decadent Donuts
Take a classic breakfast treat and make it a sophisticated dessert at your wedding! Whether you choose to go with classic glazed donuts and make the display gorgeous with flowers on a cake tier stand or go with colorful glitter and an extravagant display, this is surely a treat worth remembering.
Photo credit: Heidi Lau Photography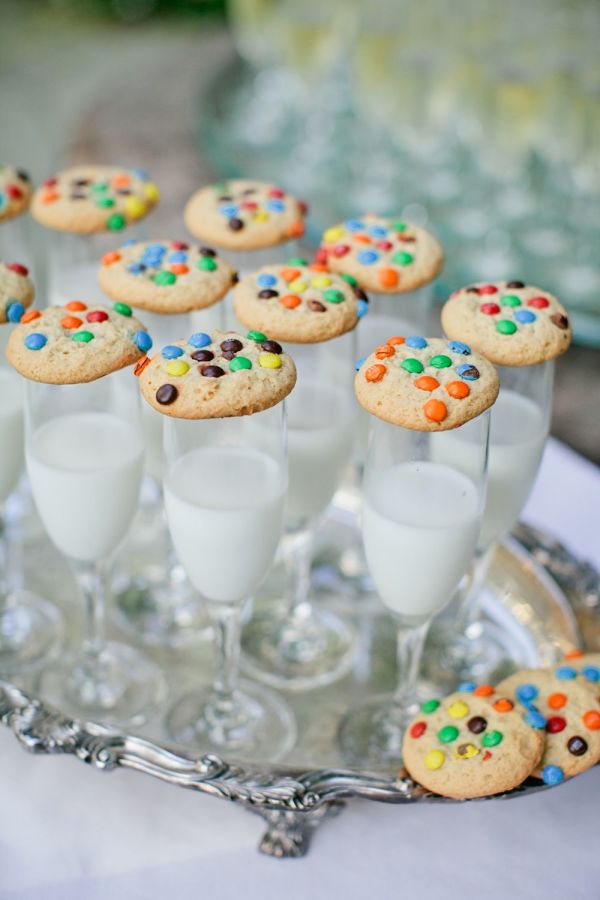 Upscale Milk & Cookies
This is an elegant take on a classic treat that everyone loves. Whether you choose peanut butter, M&M, or chocolate chip, this is a perfect dessert to make a statement. There is no treat more classic than milk and cookies, and it's something all of your guests are sure to fall in love with.
Photo credit: Kristyn Hogan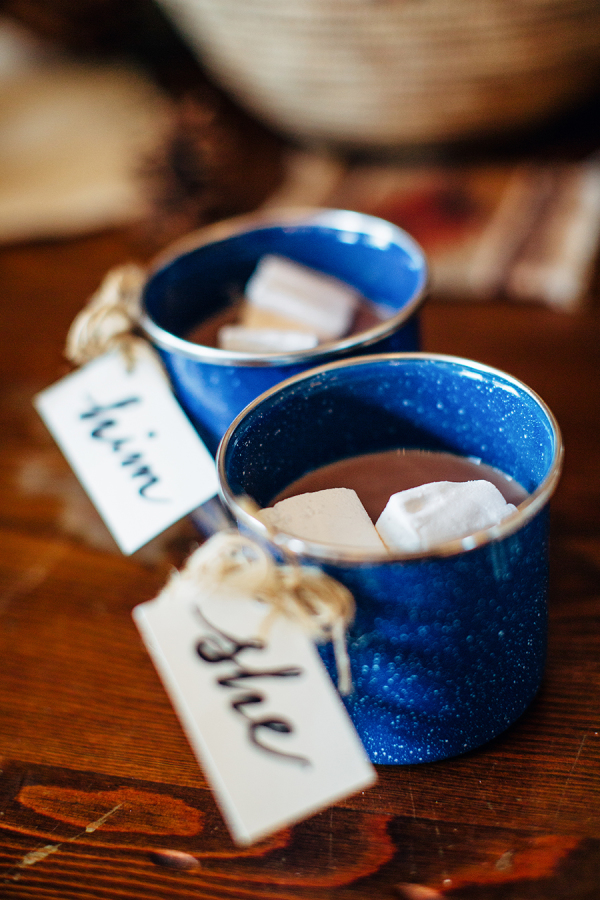 Hot Chocolate Bar
Perfect for a winter wedding, feature a tasty drink for everyone to enjoy! Different flavors and whipped toppings are a wonderful way to bring a new exciting dessert drink to your reception. You can even offer fun chocolate stirring spoons in flavors like peanut butter, white chocolate, and peppermint. It's no doubt this will be the perfect addition to any cold wedding night to keep you and your guests toasty warm!
Photo credit: Brittrene Photo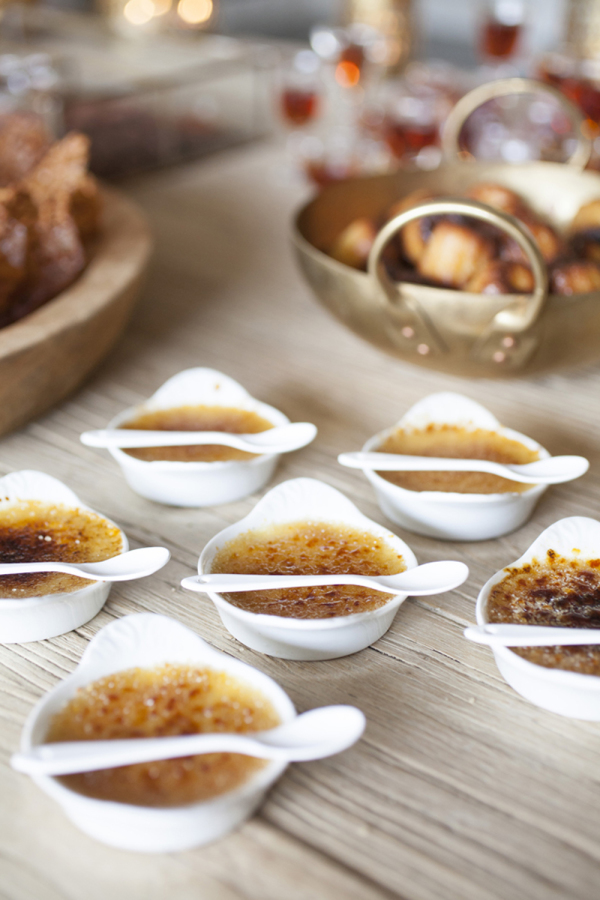 Crème Brûlée
There is no dessert more romantic than a wonderful crème brûlée. A dessert as delicious as it looks, this treat is ideal for the couple who wants to have offer a sweet, exciting treat. Imagine the look on your guests' faces when they crack the top of the delicacy and delve into this rich delight. A wonderful French delicacy is the perfect treat to feature as a centerpiece at your reception.
Photo credit: Les Productions de La Fabrik
Cake Pops
These fun bite-sized treats are a treat everyone is sure to love! Cake pops are a fun way to feature different flavors with less mess than a traditional cake. Feature frosting and flavors to match your colors and theme, and arrange them in a beautiful design that is sure to draw attention. This is the perfect way to keep the taste of a cake, but offer a little twist with the design!
Photo credit: Laura G. Photography