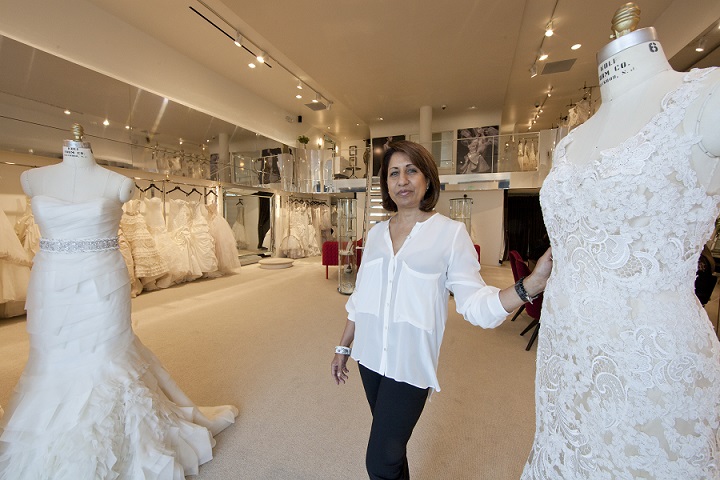 M

eet

Rani Totman

, President and Designer of St. Pucchi.  The creative genius known for her modern and chic avant-garde gowns has dressed the likes of Lady Gaga, Candice Crawford, Tara Reid and Sanya Richards, to name a few.

Rani told us about her global bridal empire, her influences, the A-lister she'd love to dress and more.  Read on to get the details on her new couture collection and her first diffusion line. Click here to see more of St. Pucchi's M I L A diffusion line.

Celebrity Style Weddings  Did you always have a passion for design? How did you get into the bridal business?

Rani Totman  My father owned the largest lace factory in Thailand so design was always a large part of my life. As I was exposed to so many different designers throughout the years, I became more and more enamored with fashion. I got my start designing ready to wear and evening wear, had a runway show and for my finale I had a pink lace wedding dress which got a standing ovation. This was the major turning point in my design career. In 1985, I designed 15 St. Pucchi dresses for a Dallas show, most in color at a time when people weren't using color in bridal. The massive response made me realize I had found my calling.

CSW  How do you manage to stay inspired each season? What inspires or influences your designs?

RT  I am very inspired by the poetry of Rumi – it's so romantic and elegant. I also travel frequently and gain inspiration during my visits overseas. Being around lace throughout my youth has definitely influenced my love of textures and fabrics within my designs.

CSW  Who is the St. Pucchi bride?

RT  St. Pucchi is known for our opulent, avant-garde gowns that are both modern and chic. Our brides are not afraid of the spotlight and in fact, embrace it. They don't shy away from drama, extravagance or even color. But in the end, every bride is looking for that gown to make her day unforgettable.

CSW  What kind of advice would you give a bride looking for her dream gown? Where should she begin?

RT  It's important to start early – give yourself enough time to find exactly what you're looking for. When shopping, bringing the right people is key. You want someone who will respect your wishes but also let you know when a gown just isn't the right fit for you. You should also keep in mind the location of your wedding and the time of year to make sure you have a comfortable, weather-appropriate gown.

CSW  Your flagship salon is located in West Hollywood.  What steps does a bride go through when she enters your salon, to have her dress designed by you?

RT  Yes we've been at our flagship salon for a little over a year and it's very exciting. Typically when a bride comes in we look at previously designed gowns and decide whether she wants to design a completely new gown, alter a previous gown or go with one already made. I like to sit and talk with them to learn a little bit about their likes and dislikes. From there we look at fabrics, textures and possible color choices.

CSW  If a bride doesn't want to wear white on her wedding day, what color should she consider wearing?

RT  Stark white gowns rarely look good on anyone. There are no rules when it comes to your wedding day. If you want to wear pink, blue, red or even black, it's your decision. If a bride is hesitant about wearing a colored gown, look for champagne and off-white tones. This will complement your skin tone without veering too far from tradition.

CSW  Have you ever had any over-the-top requests from brides? What was been the most memorable?

RT  There have definitely been some over-the-top requests in my years. There have been brides who think they will lose weight and order dresses that are several sizes too small only to find that they could not fit into the size chosen. For these cases we have had to be creative and either create a corset back, or change the entire bodice in a rush. There have also been brides who have shipped their gowns overseas for destination weddings only to find that their dress was lost in route. In this case, we had to quickly work via Skype and have her pick and choose a dress off our floor, make quick alterations and ship express.

CSW  You designed a stunning gown for Candace Crawford. What was it like designing for her?

RT  Candace Crawford was a delight to work with. She was actually a long-time fan who came to us with a torn out picture from a magazine of a St. Pucchi dress. It was truly a pleasure working with her.

See Also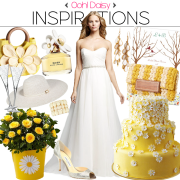 CSW  Your designs have been featured on the red carpet and on television. Is there a celebrity you'd like an opportunity to dress?
RT  I think it would be really exciting to design for Angelina Jolie. She is such a beautiful, glamorous and inspirational woman. Everyone has been patiently waiting for her and Brad Pitt to finally get married, I know it will be a spectacular gown.
CSW  How has the bridal industry changed since you first started?
RT  Throughout the years, the bridal industry is getting more and more daring. Designers are embracing color and texture. They are dreaming and creating some spectacular gowns. I've personally loved the introduction of the short wedding dress. There's no reason a wedding dress has to be floor length. It's all about letting your personality shine.
CSW  When you are not busy designing and running your bridal business, what do you like to do in your free time? Do you ever get to take a break from it all?
RT  I'm always sketching and creating; my mind never takes a break! Even during my free time, there's so much inspiration around me that I can't help but keep sketching. I also love to travel overseas and spend time outdoors.
CSW  What's next for St. Pucchi? What else are you passionate about? Are you working on any special projects you could tell us about?
RT  New York Bridal Week is quickly approaching and I definitely have a lot planned! I will be debuting a new St. Pucchi Couture collection as well as my first diffusion line, M I L A. This collection is really special to me. It incorporates the signature St. Pucchi style at an affordable price point. We also recently launched a sample sale section on our website that has over 60 gowns to choose from at significantly reduced rates and have never been worn by a bride. We also stay very busy at our salon with events and trunk shows.