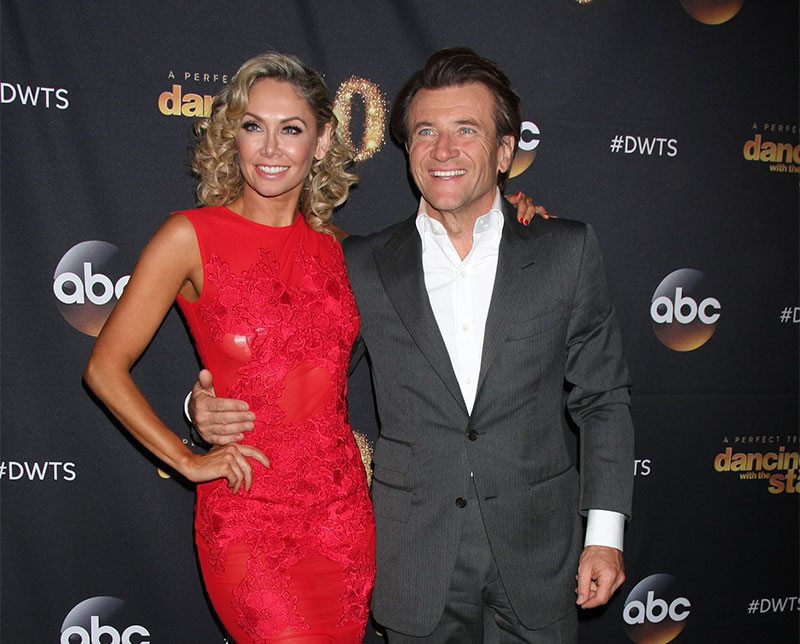 https://www.instagram.com/p/BC-r3sBs0i6/?taken-by=kymjohnson5678
https://www.instagram.com/p/BDECw4as0qa/?taken-by=kymjohnson5678
Dancing with the Stars' beauty Kym Johnson has been engaged for only about a month now, to the well-known shark Tank investor Robert Herjavec, but people are already talking about how incredible their wedding is destined to be. Based on how Robert popped the question, we can be pretty assured that the wedding will be very extravagant.
The couple met when Herjavec 53 and the pro dancer Kym Johnson 39 were paired on the 20th season of the well known show, "Dancing with the Stars." Herjavec of course being the star and Johnson being the pro dancer. The couple quickly developed a friendship born in the fires of competitive dancing that eventually turned into a wonderful romance. Though Herjavec was the one to propose (by putting the ring – a 6.5 carat emerald cut diamond surrounded by rose petals, on an inflatable swan in his pool for Johnson to pull in and open), he himself said he'd be fine being the one proposed to – joking that one leap years it's the woman who is meant to propose.
Regardless of who proposed and how adorable their engagement party was, the couple is certainly very happy and excited to begin planning their wedding.
Herjavec himself seems very excited for the wedding, though he knows that when it comes down to it, the only thing that really matters to him is Johnson. He's (adorably) been marked down as telling Johnson after she asked what wine they should serve at their wedding that "any wine is fine. I'm not picky. As long as you're there." Robert Herjavec is certainly deeply in love with his wife to be. Having had a previous marriage with three children, Robert certainly knows the ropes of a marriage.
Kym Johnson herself has never been married before like her husband-to-be, though she has been engaged once to the Australian cricket star, Shane Watson. Being engaged before but never having a wedding must be making this bride-to-be itching for planning out the perfect wedding, and Johnson has certainly been seeming pretty active on the wedding planning front. Her first hints towards planning came from instagram where the dance pro posted a picture of flowers with a bridal magazine, captioned, "Let the wedding planning begin!"
Kym has been pretty active recruiting advice and thoughts from her many instagram followers, posting pictures of shoes and dresses with captions like "so many decisions!" It's clear this wedding is going to be incredible, and we can imagine there will be no spared expense making it the dream wedding for the two of them, especially since their engagement was so romantic – surrounded by family and friends flown in as Kym pulled in the inflatable swan to find her ring.
The couple is certainly very excited for their marriage, and their fans can't wait to see what their wedding will look like. Unlike a large number of celebrity marriages that are kept very lowkey and under wraps, it seems that Kym and Robert are going to be keeping their fans in the loop – both being very excited to share this amazing time with their fans and each other.
https://www.instagram.com/p/BC-vudmM0qC/?taken-by=kymjohnson5678
Happy wedding planning Kym Johnson and Robert Herjavec! We'll be excited to see what's in store for you two, we can wait to see pictures from the wedding.