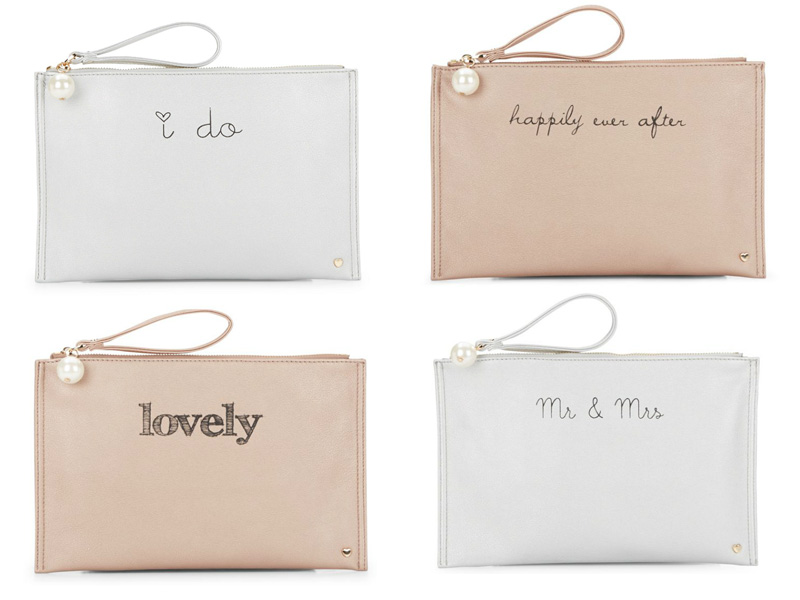 There's nothing more satisfying on your wedding day than knowing that everything you need is at an arm's reach.
You'll be surprised how easy it is to forget the small things on your wedding day only to realize when you're already in the limo or out, on your way to your wedding ceremony.
That lipstick, powder, foundation and those really important small things need a small pouch, the new Dl Bleu romantic zip pouches are just so right for avoiding those frightful moments when you suddenly remember you forgot your emergency kit!
They are compact, stylish and really easy to carry. Dl Bleu's romantic zip pouches are a dream come true for brides who are looking for a pouch to hold their makeup, accessories or emergency kit on their wedding day. Available in 2 shapes, the pouches come in a variety of colors and carry wordings that only a bride can understand – emotional, sweet and nostalgic. Each pouch is covered with 'Lovely', 'Happily Ever After', 'I do' or 'Mr & Mrs'.
To get your hands one of these pretty pouches, for a limited time you can find them at Saks Fifth Avenue OFF 5TH for only $14.99 (usually $35 and $40).