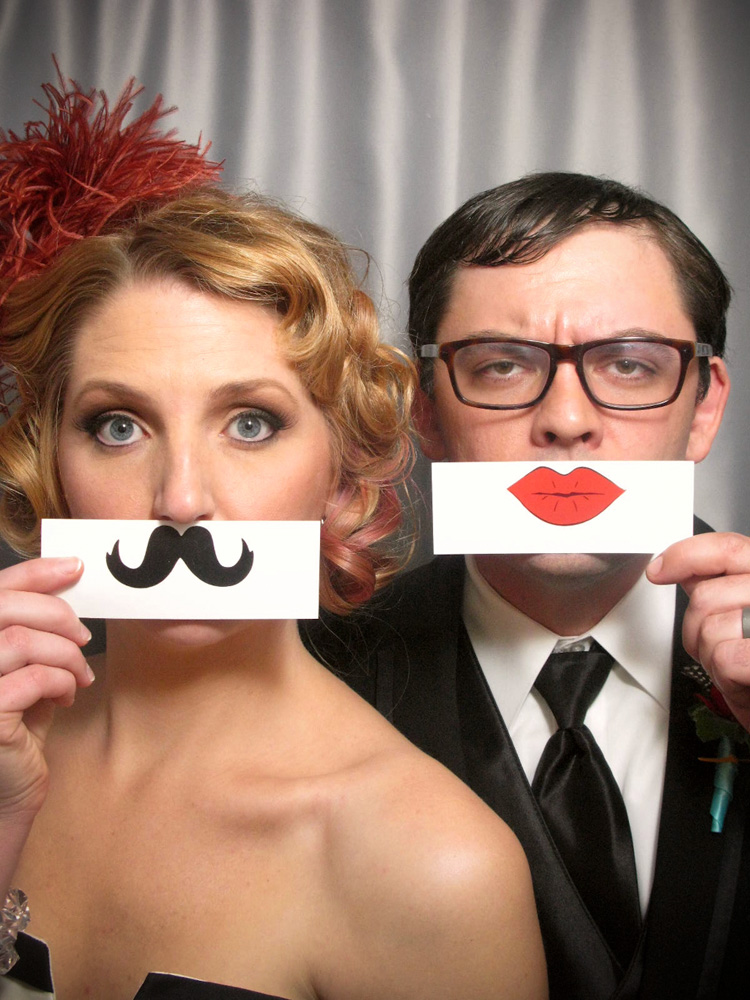 Every wedding needs a photo booth, think of all the beautiful memories having one could give you in the years to come. It's fun, chic and a really great way to capture the true personalities of your wedding guests – right in front of that very personal flash bulb.
We wanted to hear from the horse's mouth about how to rent one so we interviewed Jacob Stewart, co-founder The Traveling Photo Booth®. Read on to find out how to rent one for your wedding.
Celebrity Style Weddings  Tell us about your business:
The Traveling Photo Booth  The Traveling Photo Booth has been renting one-of-a-kind photo booths to one-of-a-kind events across the country since 2005. Our love of photo booths, expertise, and unique add-ons help create adorable photos guaranteed to be treasured for at least a lifetime!
CSW  What areas do you cover?
TTPB  Sacramento, San Francisco, San Diego, Los Angeles, Reno Tahoe, Denver, San Antonio, Austin, Dallas, Fort Worth, Houston, Brownsville (TX), Des Moines (IA), Madison (WI), Minneapolis, St. Paul, Milwaukee, Chicago, Detroit, Pittsburgh, Virginia Beach, Columbia (SC), Miami
CSW  What makes you unique?
TTPB  We offer the Greatest Photo Booth in the Galaxy because it fits both small and large groups attractively, quickly prints real photo strips, and has features you won't find anywhere else. Plus, our retro-rific photo strip filters, real-time sharing mobile app, and gorgeous photo booths make us the perfect fit for the perfect event.
CSW  How far in advance should a couple contact you for a booking or meeting?
TTPB  The sooner the better. Certain dates book out earlier than others so the sooner we can help the couple determine if we're a good fit, the better.
CSW  Do you have any wishes or expectations for each couple?
TTPB  We understand how important "the big day" really is and how important it is to capture the guests enjoying the reception. We expect each couple to hold us to the highest standard, to remember that they're the boss, and to demand from us nothing but the highest quality images imaginable and a flawless, enjoyable rental experience.
CSW  What inspires you?
People that break the rules (in a good way), seek perfection and uniqueness, and enjoy the journey as much as the destination. We're fortunate to work with couples that LOVE breaking free of tradition (the photo booth isn't traditional…at least not yet!), have extremely unique events (why not have an open bar during the ceremony?), and have nearly as much fun leading up to the event as they do staring in the event.
CSW  Your 5 favorite things?
TTPB
My Family.
My Camera + Vintage Camera Collection.
My Baby Blanket.
Jelly Beans.
Espresso.
CSW  What are your style tips for brides and grooms?
Personalize, Personalize, Personalize. Again, it's okay to break the rules. It's your big day. Make sure that YOU stand out more than the dress or suit.
CSW  Favorite celebrity wedding?
Emily Maynard and Tyler Johnson.