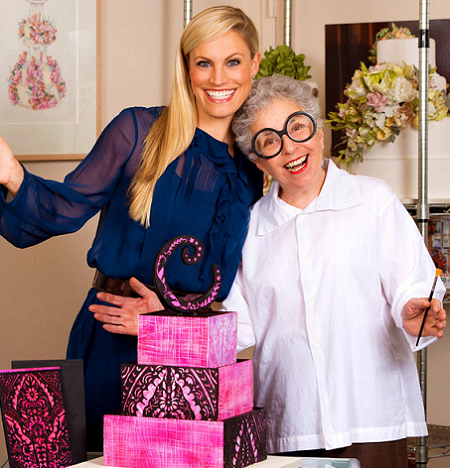 Known to many as the "Leonardo Da Vinci" of wedding cakes,

Sylvia Weinstock

has been creating her works of art for over 30 years.
Sylvia began getting national recognition for her fabulous cake designs when they were featured in Martha Stewart's first book and then in the press. Her celebrity clients include the Clintons, Catherine Zeta-Jones and Michael Douglas, Oprah Winfrey, the Kennedy family, Jennifer Lopez and the Trumps, just to name a few. Recently, CSW caught up with the iconic (and very busy) cake designer to the stars.
Celebrity Style Weddings  What are some wedding cake trends you foresee for 2013? Do you foresee any Pantone Emerald-themed cakes?
Sylvia Weinstock  I see better quality delicious flavors and designs working more on (matching) the pattern of the dress. For emerald green, I would see more botanically-correct colors on the cake.
CSW What was the most unusual flavor of cake you've ever had to make?
SW I mean, what is unusual, really?  Is salted caramel?  I think it really is in the eye of the beholder. We've made cakes using Indian spices before.
CSW Was there ever a wedding that the groom was more involved in the cake design process?
SW Grooms are so involved!  Frequently, the groom is involved in the food, attends the cake tasting…they're very interested in the taste. The bride is more concerned about the design.
CSW We know that you've shipped cakes all over the world. Can you describe how that works?
SW The cake flies in separate boxes, comes with a "doctor repair kit" to repair anything minor, just in case. Then, the cake is decorated on site. It's all very time sensitive and complicated.
CSW You've been in the business for over 30 years now, what do you think has changed the most in the cake business?
SW The proliferation in the amount of people who think they can produce a beautiful, delicious wedding cake. The fact that so many are using chemicals and artificial flavors in their cakes. We never use fondant, only the finest ingredients. We want you to not only see the beauty of what we do, but we want you to eat the most delicious cake you've ever had.
CSW What do you feel is the most rewarding part of your work?
SW I think contributing something joyous to the celebration and the beauty of the product, and of course the feedback and the wonderful thank you note.
CSW  Your cakes are so beautiful! What would you say to brides who think that Sylvia Weinstock cakes are for only the celebs or the rich and famous?  What would brides expect to spend?
SW  A lot of people on their second wedding wished they had their own Sylvia Weinstock cakes. They're at their daughter's weddings and their daughter has a Sylvia Weinstock cake. Then, they tell me they wished they had done the same for themselves. My cakes are for people with discerning tastes. The range is unbelievable. It depends on how many guests you're inviting, the venue, the design. Our cakes are very affordable. Our cakes frequently cost less than the gown and definitely less than the ring.
CSW  What is it like to work with a great event planner like Preston Bailey?
See Also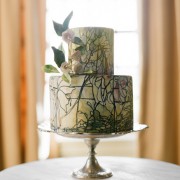 SW  He's wonderful to work with. He has a great vision: you're working with his designs in mind. He's very down to earth and very real and humble.  He listens to people. Professional event planners like him gives a strong sense of direction – they're very professional. They already have what they have in mind planned down to every detail such as where the cake is going to be placed, etc.
CSW  What's next for your studio? Are you in collaboration with someone or expanding into other services?
SW  Yes!  We're trying to expand around the world such as Asia and Europe, and to work with people there so that more people get to share and experience what we have to offer.
Tip From Sylvia Weinstock: When deciding on your wedding cake, "Be aware of your guests' palette. Serve them something they would enjoy."
Call for a personal appointment for tasting and designing your cake:
Sylvia Weinstock Cakes
273 Church Street
New York, NY 10013
(212) 925-6698
[email protected]
Sylvia Weinstock Cakes is a member of the Celebrity Style Weddings Vendor Guide.
Photo: Sylvia Weinstock with Ceci Johnson, by Fred Marcus Photography.