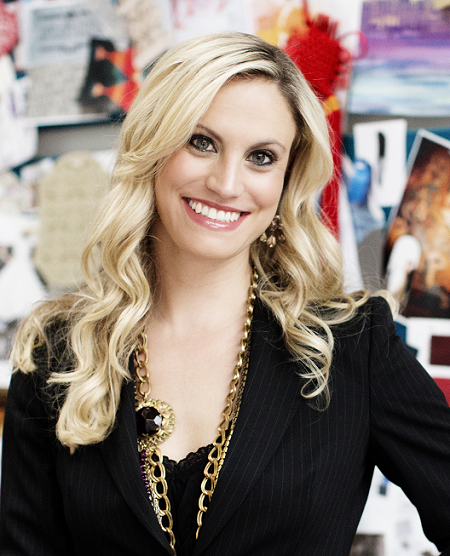 Celebrity Style Weddings We love Ceci New York. You're famous for chic and fabulous wedding invitations and stationery, which is what every bride wants for her wedding. How did Ceci New York begin?
Ceci Johnson Thank you! It all started with an invitation I created for a coworker's wedding combined with the realization that nobody was offering a truly customized, luxury design experience in wedding invitations at that time. It started with a creative spark that propelled me to innovate a field that did not yet exist.
Before I knew it, my name was getting handed out to friends of friends and everyone kept telling me the same thing. "You should really start a business doing this. There is NOTHING like you out there. I've been looking everywhere for someone like you!"
I got serious about researching the wedding industry and soon realized it was a world of templates and picking from a big book of blah designs. That was the push I needed to start Ceci New York because I knew I had something different.
Armed with a clear desire to create the best invitations in the world, I started on my business out of a shared office space NYC – just me and my Mac. Six months later I won the trendsetter award by Modern Bride magazine (considered the Oscars of the wedding industry!) as well as New York magazine's Expert Stationer award and haven't looked back since! Almost nine years later my love of paper, design and innovation still drives me every day to create something beautiful and completely original.
CSW Tell us about the Ceci Collection and Ceci Couture range.
CJ At Ceci New York, we have two levels of service our brides chose from: Ceci Collection and Ceci Couture. With Ceci Collection you can make custom changes to a variety of our invitations that I designed and make them your own. You have the flexibility to choose your ink colors, fonts and even the placement of artwork. That's the beauty of the Ceci Collection, your custom colors and personal style choices make the invitation uniquely yours!
Ceci Couture is a very special, creative collaborative process where the bride works directly with me and my team and I dream up an invitation that is exclusive, never been done before and completely personalized for my clients. I like to say, "I brand their event through great design".  Unlike other stationery companies, you are not required to sit down and sift through thousands of books to pick your exact font, design, and colors before ordering. The beauty of the Ceci Couture process is that I will come up with a unique design concept just for you and my team will expertly guide you every step of the way during your creative process. At the end of your experience, you will receive a statement invitation suite truly unlike any other.
Of course, each service includes the full Ceci New York experience: all design, printing, production, finishing, testing, proofing and unlimited access to our project manager and professional expertise.  You have an entire experienced team working for you to guarantee complete satisfaction with your invitation suite!
CSW Wedding invitations set the tone for the bride's big day. How does Ceci New York work with a couple to incorporate their vision and personal style into their wedding invitations?
CJ I love to figure out my bride's style. For me, it's easy and fun. I try to eliminate the stress of having to know an exact invitation design before starting the process. That's our job!
The design consultation is all about asking a lot of questions and doing a deep dive into who my brides are and what makes them tick. We consider what kind of person they are, what their home looks like, what they wear, what they love individually and together as a couple. Once we define the bride's style, I start brainstorming ideas for their unique invitations. It's the ultimate luxury to turn yourself over to a talented designer's hands and let them do what they do best. The results are always something you could have never dreamed of yourself.
CSW The rave about Ceci New York wedding invitations and accessories is amazing. What sets Ceci New York apart from other wedding invitation and stationery designers?
CJ I guess I would say that we are truly artists and designers. Innovators of our field. We create invitations that stand out and tell a story. Not only is the design top notch but the execution is flawless and the most luxurious on the market. Plus, I am very proud of our customer service. To me, I believe 50% of my job is to deliver incredible design and the other 50% is to give my clients the best experience they'll never forget. We're here to make their lives easier and let them enjoy the process!
CSW Tell us about celebs you've designed for. What did they order and what was it like working with them to bring their visions to life?
CJ I wish I could share all the details but with most of my celebrity clients I have to respect their privacy and can't reveal details. But I can say I had fun working with Katherine Heigl and loved designing Reshma Shetty's (actress on RoyalPains on the USA Network) Indian inspired invitations. Also, Rosie O'Donnel was a riot. She really is a kind person and fun to collaborate with. I once had Billy Crystal in my office and he laughed at my jokes. I felt pretty good about that considering he is known for making the world laugh in his movies! The Princess of Saudi Arabia was wonderful. She was really down to earth and so kind. At the end of the day, we're all the same – just desiring to look great on our wedding day.
CSW Is there any wedding invitation trend that you like at the moment and why?
CJ I'm obsessed with Rose Gold – It's my prediction as the new "it" color for weddings this year. I love to use rose gold foil stamping and pretty papers in my work. And laser-cut is still going strong. It's incredibly chic, intricate and so luxurious.

CSW Everything you design looks amazing. It takes a genius to keep coming up with one fantastic luxury design after another. What keeps you inspired?
CJ Inspiration is everywhere in my world. I find it all around me and especially in my travels. I love to get out and explore cultures and new cities. I want to dive into their art, fashion, design, food….everything! I'm definitely an artist who needs to explore and learn. If I am kept indoors for too long I go crazy! Plus, every single one of my clients are an inspiration too. Just getting to know them and learning about what makes them unique or where they're from or what they love also gets me inspired and then I mix it with my loves and wonderful things happen.
CSW When a couple contacts you for the first time, what is the process for ordering their wedding invitations and other stationery? 
CJ We always start with a consultation – either by phone or in person – to get a general direction and start the creative process.
CSW Since you started designing wedding stationery, what has changed with wedding etiquette?
CJ I see more and more brides thinking it's OK to send email invitations. But I have to say this is not OK. We must uphold tradition here and not cut corners. I always joke when people ask me is it OK to send email invitations. My response, "Would you wear sweats and Ugg boots to your own wedding?" To me, it's the same thing. Invitations set the tone for what's to come. If you're sending an email that people receive tons of every day, how does that speak to your event?
CSW For couples who don't know when to order their wedding stationery after setting the wedding date, what advice can you give them?
CJ My best advice is to order your save the dates and invitations directly after you have booked your wedding date and venue. It's a common misunderstanding on how long it truly takes to get your invitations sorted. There are so many details and information to organize that it's best to order early. Plus you have to account for long lead times with design, printing, calligraphy and mailing.
Save the dates are ordered right after you book your wedding date and mailed out 6-8 months before your wedding date. Invitations are mailed out 1.5-2 months before your wedding.
For specific help, you can try out my timing calculator. If you plug in your wedding date, it will give you exact date guidelines!
CSW What is your advice for brides who are looking for inspiration?
CJ There are so many incredible resources out there now for inspiration. Pinterest is a big one. I think it's one of the most popular places for wedding inspiration online. Also, CeciStyle is a helpful and fun resource. I send my subscribers inspiration every week delivered straight to their inbox. CeciStyle is free and full of time saving advice. Your readers can have it too – just subscribe here!
See Also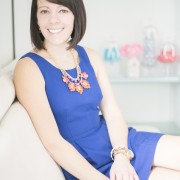 CSW What is the most unusual design request you're ever received?
CJ I had a bride who wanted to "walk on water"  down the aisle. So I thought how cool would it be to incorporate that into her invitations. I figured out a way to make her plexi glass invitations submerged in water sealed with a nice material so it wouldn't leak of course. I also once custom made aluminum paperweights in the shape of beach pebbles for a wedding in the Hamptons. They were engraved with the logo I made for the couple and sent in hand made velvet boxes. All hand delivered! Unusual is my thing. I thrive in creating the unique!
CSW The new CeciStyle online magazine looks inspirational and carries your trademark chic style. Tell us more about it.
The story of CeciStyle's creation is not that unlike that of Ceci New York. When online marketing and social media became popular people kept telling me, "You have to jump on this." While I was definitely listening, I was constantly thinking about how I could offer something different – and, of course, make it relevant, stylish and on brand. I didn't want to create just another blog, but something that was educational, aspirational and inspirational.
I'm proud that CeciStyle now boasts over half a million viewers from countries near and far – and is a true extension of my own personality and brand. Each issue shares my latest passions and discoveries, not just in invitations, but also in the worlds of art and design, entertaining, fashion, beauty, home décor, travel and more. We also feature expert advice and insights via editorial features, inspiration boards, and Q&A's. It even boasts fantastic tools such as our "Great Escapes" section where you can go and find your wedding venue or honeymoon spot (or just a great vacation getaway!). Since my clients are getting married at the most spectacular places around the world, this list is top notch. You can also find color inspiration with our Color Wheel tool and so much more. Check it all out at www.cecistyle.com.
CSW You got married to your handsome husband Alan Johnson in March 14, 2009 and your wedding invitation was absolutely gorgeous. What was the inspiration behind the design and color scheme?
CJ Ah, yes, that was the best day ever. My inspiration was a combination of my husband's love of old world history and my passion for Spain and the romance of the Spanish culture. We embraced the 15th century historical vibe of our venue, El Convento, in Old San Juan, Puerto Rico and I painted a mural dedicated to our new lives together. It was full of hidden symbolism that represented us and anchored by a peacock and our wedding crest. All representing the warmth and elegance that our guest's we're going to experience at our wedding. The liner and the back of the invitation boast my jewel-toned watercolor painting which was a nice contrast to the ivory card with pewter letterpress and hints of gold metallic for opulence luxurious touch. [Click here to see more of the wedding invitation and stationery from Ceci's wedding, plus photos of her wedding to her handsome husband, Alan Johnson].
CSW What is the average day like at work for Ceci?
CJ We joke in the office that we don't even know what average is here at Ceci New York. Every day is something new, fun, challenging and exciting. Always full of design meetings, brainstorming, creativity, problem solving, lots of design, pretty papers, inks and color.
CSW You're one busy lady, tell us about any projects you have in the works that you're really excited about.
CJ I'm working on some big exciting things coming out later this year. But for now, mum's the word. If you follow me on twitter or Facebook,I am always posting updates of my latest happenings and you'll get first notice.
To order Ceci New York's stunning wedding invitations and stationery visit the website: www.cecinewyork.com