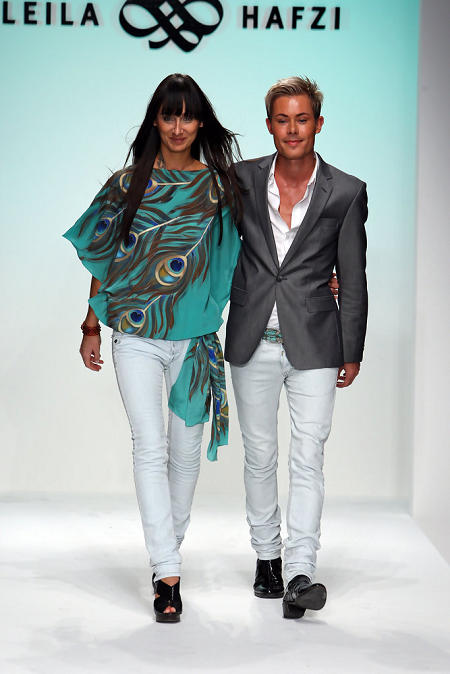 We stole a moment from award winning designer, Leila Hafzi, who has dressed many brides plus gorgeous celebs that include the likes of Maria Skappel, Linn Ullmann and Dawn Olivieri, to name a few. We had a chat with her about her breathtaking collection plus the secret behind her success.
The talented ethical and eco conscious designer didn't hesitate to tell us all about her sensational bridal gowns and the inspirations behind them. Prepare to be dazzled, and better yet, look like a Grecian goddess if you can get your hands on one of her fabulous gowns.
Celebrity Style Weddings You have been designing since 1997, your gowns are so gorgeous.  Tell us what made you decide to design for brides and when it all started.
Leila Hafzi Since 1997 my team of tailors in Kathmandu and I have come a long way technically and it's actually out of demand that I started creating specific bridal collections and established the Royaye Sefid (Bright Dreams) series,  consisting mainly of bridal and evening gowns. After over 40 brides ordered my evening line in bright and soft colors if was only natural to create a bridal line.
CSW The wedding gowns you design obviously capture the hearts of many brides, the soft luxurious and eco-friendly fabrics you use for the gowns are amazing. How do you do it? What is the inspiration behind your collections?
LH When it comes to wedding gowns I'm a humble servant of the brides – the woman herself, her dreams and wish for her wedding day. I also look into myself and try to find a mood of what I would dream of when celebrating love. I'm also true to my signature of Greek goddess inspired gowns and details from my travels and the cultures I visit.
CSW Your designs are said to be recognized by their romantic and feminine qualities, combined with an innovative fusion of themes from different cultures and draw inspirations from Norway, Greece, Persia and Nepal. Is this true?
LH Yes, indeed I draw inspiration from the cultures of my origin, the clear weather of Norway and the crafts of Persia and I do have a passion for ancient Greece. Add the feminine strong woman into it and you have the simplicity of my signatures' recipe.
CSW What trends do you foresee for the brides of 2013?
LH The vintage look is more visible and a touch of old Paris. I think you will see less of the "cake" shaped dresses made of stiff satin with a lot of embroideries.
CSW Do you think that what brides want has changed a lot since you started designing wedding gowns?
LH I started designing bridal gowns because the brides requested my dresses in bridal colors. It was due to their choices, yes. And more and more brides want a comfortable gown for their wedding and wish to be more dressed down from what we have seen earlier. I think we are back to the ages when our mothers got married in the 60´and 70`tees. Some brides event want to re-stitch their mothers' old gowns to renew and use them for their own weddings.
CSW Tell us about the concept for Royaye Sefid III – "Mayalu", your Sustainable Bridal and Evening Collection for 2013. And what is the inspiration behind it?
LH The idea behind the dresses is to celebrate love in fusion with the bride. The bride herself is in the center, not the gown. The gown is meant to bring the bride forth and make her personality bloom.
CSW Which is the most wanted and most important silhouette in wedding dresses right now?
LH Charleston-like and Greek goddess inspired drapes seems to be more and more popular among brides. Simplicity and elegance is key. We use a lot of empire lines that gives the bride a touch of comfort during the day.
CSW Do you have any celebs in mind when designing the wedding gowns? Tell us which celebs you would like to dress and which of them currently wear your gowns.
LH I don't have a specific celebrity in mind when designing wedding gowns as it is the bride that is the focus. However, I would love to dress Cate Blanchett and Nicole Kidman. But we are patient with our movement on the red carpet. Recently we dressed Dawn Olivieri from House of Lies for the Global Green Pre-Oscar Party.
CSW How does it feel to know your creations play a very important part in many women's big days?
LH It's a wonderful part of my job to dress intelligent and wonderful women for her wedding day. It's our 3rd season with the bridal line and it just gets more and more exciting. I'm blessed helping brides' dreams come true every year here in Norway – having them come in for trials and fittings. This makes me learn more about their dreams and needs for their special occasions.
CSW What should a bride expect to spend on the average Leila Hafzi wedding gown?
LH Our bridal gowns have an average of $3,000 [USD], with a few more couture-like gowns costing from $5,000 – $19,000 [USD] at the most.
CSW You're said to have been heralded as the first high-end ethical & eco conscious fashion brand to empower women in developing countries & inspire the fashion industry into a global shift. This is obviously the passion that drove you to be beautifully different, where does this passion come from?
LH At the age of 4, the war in Iran made a strong impact on me and I guess I have always had a strong sense of justice among humanity. Meeting the poor country of Nepal just made my urge for contributing to justice stronger, and my mission since 1997 was clear – to contribute to the change of the daily life of craftsmen by giving them work and increasing their craftsmanship.
CSW Do you have any upcoming fashion shows and when and where will they place?
We just finished a round of shows in Berlin, west coast of Norway and Oslo. Now we are going into production and next time we show is during the launch of our 2014 bridal collection at Sposa Italia, in Milan, Italy, this June.
CSW What's next for Leila Hafzi? Tell us a bit about your next collection and the process of creating it.
LH Can't say too much yet, I work on establishing a knitting project in remote areas in Bangladesh, where missionaries have trained 60 skilled women from a tribe in a village there. At the same time we visit and encourage silk farmers to farm and spin the silk yarn using the right techniques for our products (both in Nepal and step by step in Bangladesh). This is the part of my job I love the most and I have been waiting a long time to be able to dive deeper into the whole farming and supply chain, by using our taste and knowledge to guide the local people to better quality.
CSW What would you say to a bride who wants to order a Leila Hafzi wedding gown? Tell us how the ordering process works both for our US brides and brides in other countries, plus how many weeks in advance they will need to place their order.
LH We are working on getting LH into the right boutiques in the US. Find our retailer list on the leilahafzi.com website. As a responsible, eco conscious and ethical brand we cannot grow too fast, but will make sure that every bride that seeks to get married in a LH gown will get her wish fulfilled.
Thank you for taking the time out of your busy schedule to talk to us.
Photo Credit: Frazer Harrison/Getty Images. Leila Hafzi pictured left, first photo.