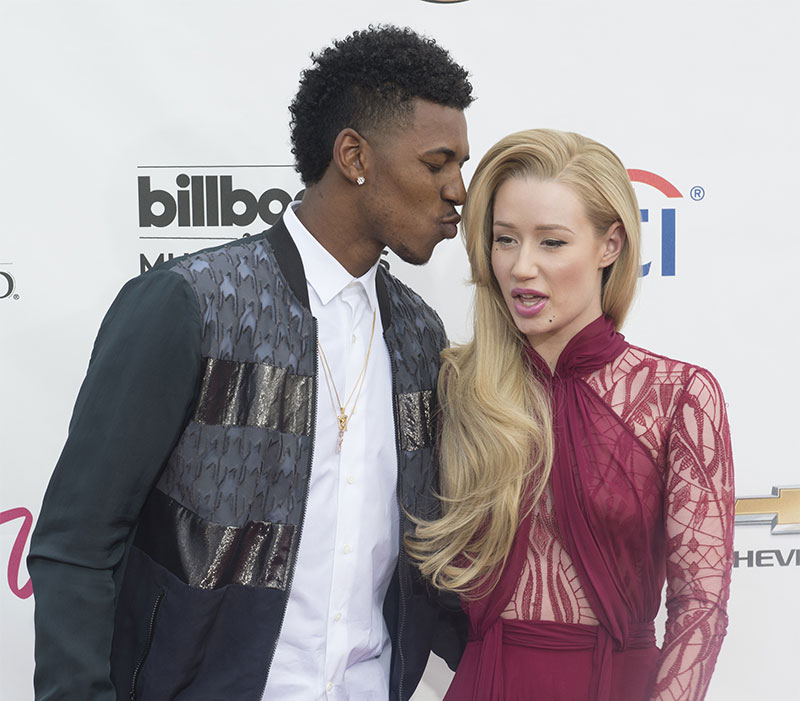 Iggy Azalea has postponed her wedding until, purportedly, the end of the next basketball season. The reason for this? Her fiancee is NBA star Nick Young. Working around Nick Young's schedule and having her own tour to go on, it's understandably hard to plan a wedding.
Azalea and Young started dating back in 2013 after meeting through a friend, and on June 2nd 2015 the pair got engaged at Young's 30th birthday party; As documented through Azalea's Instagram photos. Nowadays they have a house that they bought together where the couple lives when they aren't out on business – which is probably a rare occurrence for them to be able to relax at home. The pair needing some time to prepare their wedding when the winds around them have died down a bit is understandable. And as far as we know, they hadn't given out invitations of any kind, so there was no major breach of wedding time etiquette.
Speculation may (and has) occurred that the couple is having issues, though these are very likely to be false beliefs. The couple seems very happy, and very in love. The couple's steadiness is nothing but helped by the fact that their relationship has maintained a very low-key status. The news isn't as focused on Azalea and Young as they may be with Taylor Swift and Calvin Harris, which is something that's good for them with the strain and pressure media can put on celebrity relationships.
And it's clear they do love each other, otherwise NBA star Nick Young would likely not have bought a 10.43 carat diamond ring, consisting of an 8.15 carat yellow diamond  and a white diamond halo set into white gold, from jeweler Jason Arasheben of Jason of Beverly Hills. It's reported that Young put over two months of effort into designing and preparing this ring for his soon-to-be fiance.
Their wedding was intended for the end of this year, giving the couple enough time to plan for something extravagant. Maybe they chose this date with a more optimistic mindset on the busyness of their lives, but it's clear that the date they had in mind is no longer to be their wedding date. The singer stated that while it was unfortunate they had to move the date, they are okay and understanding that it's something they need to do.
Sounds like a solid celeb couple – understanding their busy lives, not being constantly scrutinized by media – and a very strong one at that. Their relationship is on course to maintain a steadiness needed in a celebrity marriage, a feat that is not so easily done in the pressing media and social networks of fame. Iggy and Young may not be the notorious celeb couple that Taylor Swift and Calvin Harris is, but they maintain a privacy in their lives in the process – something that Swift and Harris couldn't avoid whether they like it or not.
The celebrity life is never an easy one, and no marriage is easy with the world watching like they do with celebrities. But we hope for our celebrity couples to be happy and healthy like any other couple deserves to be, and wish them the privacy that they deserve.
Good luck planning your wedding Iggy and Nick! It'll be a great one.