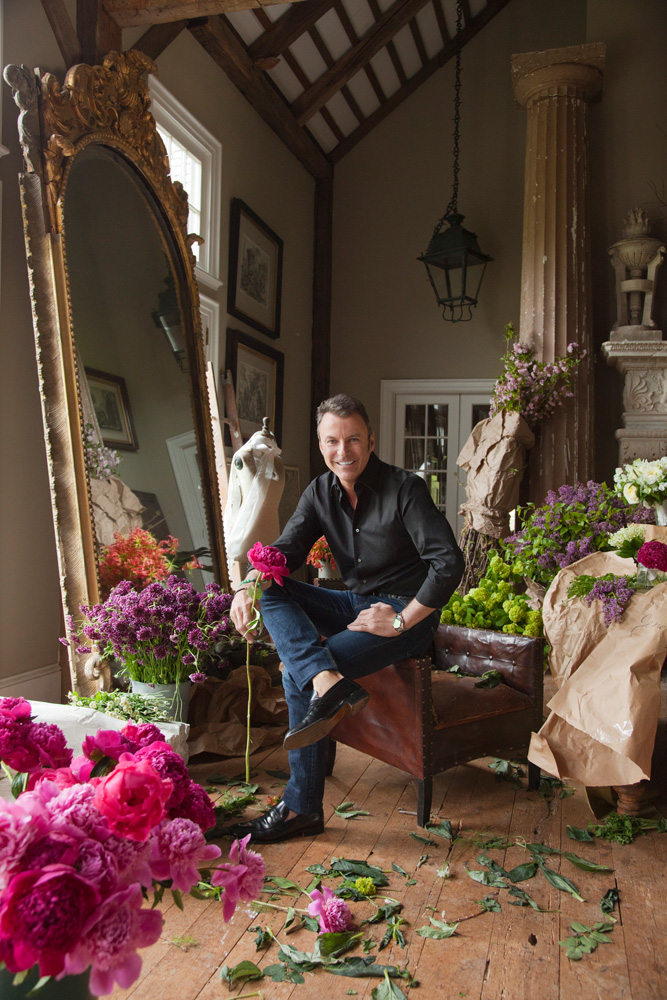 He's sophisticated, creates excitement with intricate designs and brides and celebrities alike covet him. HE is Colin Cowie, iconic lifestyle guru, party planner to the stars, television personality and writer.
The successful party planner's down-to-earth personality makes him the ultimate party planner for any bride and groom to work with. When he's not planning a fabulous wedding, you'll find him travelling the world, planning everything from intimate birthday celebrations to corporate events.
It's no wonder the Zambia born and South Africa raised design genius is the party planner of choice for celebrities such as Jennifer Aniston, Tom Cruise, Jennifer Lopez, Oprah Winfrey and Kim Kardashian. We interviewed him recently to find out more about his love for design and to get some really useful style advice that could make your wedding sparkle. We also ask him what it takes to have a Colin Cowie wedding.
Celebrity Style Weddings  You're a wedding and event planner loved and sought after by celebrities and the rich and famous. How did your amazing career begin?
Colin Cowie  I left SA at the height of apartheid in 1985 because I did not believe in the political system. I arrived in LA and started a small catering company. From there is just grew and grew and I got to live the American Dream.
CSW  What do you enjoy the most about working with brides?
CC  Each bride is a new opportunity. I focus on the DNA of the couple, the location, time of year and then add to that what you smell, touch, taste, feel and hear. This makes it exciting since every set of circumstances is different. That's why my work looks so different.
CSW  Which is the most spectacular wedding you've ever planned? We'd love to know about the celebrity weddings too!
CC  I usually say its the next wedding that I am planning because that's where my energy is focussed. That said, I would probably say the wedding for the Heir Apparent for Qatar. It was by far the largest production of any wedding I ever produced.
CSW  Is there any wedding or event that you dream of planning?
CC  I always had a desire to do the second wedding of Princess Diana – I guess that will never happen. I guess you could add Brad and Angelina to that list. They seem like a very interesting couple. Its all about the personalities that make it interesting and challenging.
CSW  What advice would you give couples on low and high budgets? What should they be focusing on to make the most of their money?
CC  The most important thing is to focus on creating the big picture. It costs nothing to dream. Once armed with a vision it will help shape all your creative decisions along the way. This applies to large or small budgets.
CSW  Buffets in or out?
CC  Out – I am never a fan of big buffets. I prefer a series of 4 or 5 or 6 food stations with each station offering a limited selection of foods, maybe 3 dishes based around one ingredient. Then pair that station with a particular wine. i.e. Pasta and risotto with a Pinot Grigio wine, Steak or chicken with a red wine, seafood with sauvignon blanc, etc etc. You can find amazing quality wines at very good prices from South Africa, New Zealand, Chile and Spain.
CSW  At the end of the wedding, some brides feel like the wedding could have gone better. How should they really measure the success of their wedding?
CC  Don't focus on what did not work. Be appreciative for what did work. You are not being judged. This is your wedding and more importantly its a celebration of love. Don't lose sight of what its all about. Enjoy it for what it is.
CSW  Are there any trends that you absolutely love or would love to see brides leave behind?
CC  Trash the dress, putting cake on one anthers faces during the cake cutting, long receiving lines, anything that keeps you from having a great party.
CSW  How do you get the ideas out of brides in order to create their dream wedding?
CC  I am a good listener. I like to understand where they do on vacation. Do they have a favorite color, How do they like to entertain? In a conversation I ask about a dozen questions that give me a window into her mind. The key is to take all these ideas and tell a story with them. I also ask every bride to bring a book of images she likes and images she does not like. I ask her to go to www.colincowieweddings and start a My Collection. A picture is worth a thousand words.
CSW  You have written quite a few amazing wedding books that we love, such as Colin Cowie Wedding Chic and Colin Cowie's Wedding Planner & Keepsake Organizer. Do you plan on writing more in the future?
CC  I am currently working on HOW TO BE, a modern day etiquette guide that is the A-Z on How To Be
CSW  What is a regular day for Colin Cowie like?
CC  A very busy one. Start with exercise and I am a big fan of SoulCycle. Head to the office and take appointments from the time I arrive till the time I leave the office. Breakfast and lunch are usually at my desk and I rarely go out for lunch. On Wednesday's we have review meetings of all the companies and parties and it allows me to updated on everything 'Colin'. I go out for cocktails almost every night to meet people that I never had the chance to meet during the day. I love my life and I am extremely grateful to do what I do on the scale that I do, with the people that I do. Blessed!
CSW  What's your favorite part of your job?
CC  Being creative and inspiring my team. We are in the business of making dreams come true.
CSW  …And the worst part?
CC  […]dealing with budgets and difficult clients or having to accept the word 'NO' when it is unreasonable and in the way of success.
CSW  5 things you can't do without?
CC
Soulcycle
Working with my great team.
Connecting with my amazing family
Tequila
My sense of humor
CSW  What would you say to a bride who needs your help with planning her wedding? What should she expect to spend?
CC  It's not really about the money, its about the connection. We have two ways of working together. Team Cowie is my team who I work closely with. A Team Cowie wedding is 20% of the budget starting at around $125K. Working with me personally involves a design fee and the 20%.
256 W. 36th Street,
4th Floor
New York, NY 10018