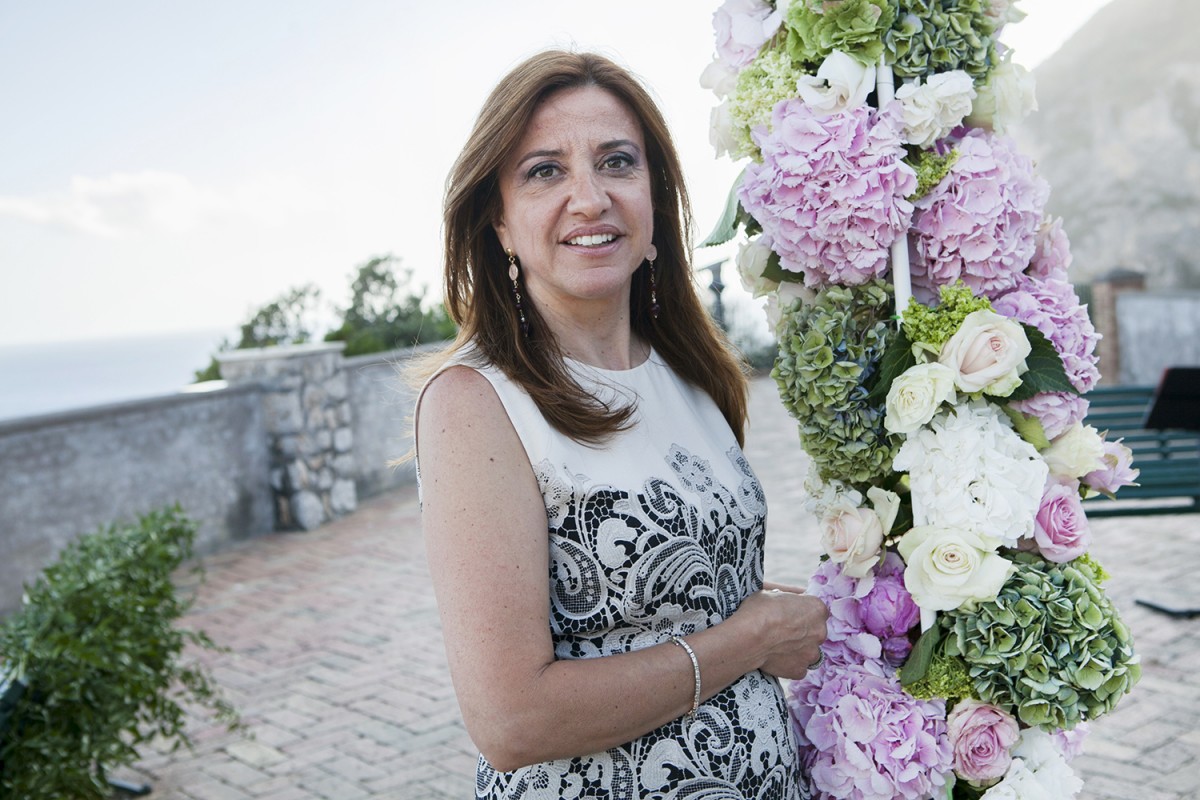 Lake Como, a truly beautiful place and an inexhaustible source of inspiration for artists and poets. Stashed in the beautiful Lombardy region of Italy, the upscale resort area is an ideal location for a stylish wedding. We caught up with Elena Renzi, a reknown event designer who is coveted for her stylish events.
CSW  Tell us about Elena Renzi.
Elena Renzi  E.R. has been organizing weddings for many years – nearly 20! – with the same passion, enthusiasm and care for details that's always been her trademark.
Many years of experience and continuous updating (courses for manual activities and floral arrangements, trade fairs and exhibits) have allowed her to select the best suppliers available to tend to bride and grooms' needs.
CSW  What makes an Elena Renzi wedding unique?
ER  The care for every single aspect of weddings, not only regarding the organization but also by assisting the guests during their stays. Last but not least, creating the exact atmosphere the bride and groom wish for, including that bit of fun that they and all their guests will remember in time.
CSW  What locations do you cover? (In Italy and abroad if you can also plan events outside of Italy).
ER  I carry out my profession mainly in the Lake Como area (which is also the most requested by the clientele), on Lake Maggiore, on the marvelous island of Capri and on the Amalfi Coast; I've also collaborated in organizing numerous weddings abroad.
CSW  For brides who are planning to have a destination wedding in Italy, what is your booking process?
ER  Couples who wish to marry in Italy usually visit the area a year prior to their wedding; once both wedding and reception location have been chosen the whole organization is conducted via e-mail.
Bookings are formalized by signing of  the contract and remitting a down-payment on the expenses.
Whenever necessary, we hold Skype calls to perfect details.
In some cases, location visits are held when the couple arrive, a few days before their wedding.
CSW  Do you have any wishes or expectations for each couple that you work with?
ER  My biggest wish is to make their dreams come true, my biggest satisfaction when, at the end of the reception, they tell me they wouldn't have imagined anything better.
CSW  What inspires you when you're planning a couple's wedding?
ER  The bride and groom-to-be, their personalities and their choices allow me to understand their styles and tastes.
Inspiration varies according to the couple; for one of my latest weddings, I was inspired by the bride-to-be's wedding gown's tulle skirt to I use tulle in the floral decorations.
CSW  Tell us your 5 favorite things.
ER  My favourite 5 are:
 Highly emotional moments to remember such as
preparing surprises (for guests, bride or groom).  For example, a groom had rose petals launched down from a seaplane; a Photobox session with the  guests after the cake- cutting; a yoga session before the wedding; a photo of the couple's dog waiting for them to return home; fireworks; a video illustrating the couple's lives, from childhood to engagement; a cigar-table for the groom's friends.
CSW  Favorite celebrity wedding?
ER  I consider all my brides-to-be as princesses. Each and every one of them becomes a friend, a person to remember in time. I usually deal with important English, American, Russian business -men and -women who prefer a bit more privacy for their often very famous guests.
My favorite celeb-wedding was that of the well known leader of a famous American IT company, which was also the very first  foreign wedding I've ever organized – and all in 45 days, in a marvelous location on Lake Como!
CSW  What are your style tips for brides and grooms?
ER  Every bride's got her own peculiar style but I believe that a wedding planner, as any florist or any choreographer, has her own distinguished touch: all my weddings , from the simplest to the VIP, are known for their refined elegance.