What a delight! This pink infused dessert table is one to drool for.
From the sweet pink and white colours right down to the smallest admirable details, this table will surely deliver.
Designed by Jenna Marfori Lang of the fabulous blog Eat Drink Pretty, guests would be delighted to help themselves with every sweet little treat and sips of the nicely presented champagne.
See Also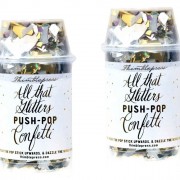 See more of this pink delight on Style Me Pretty.