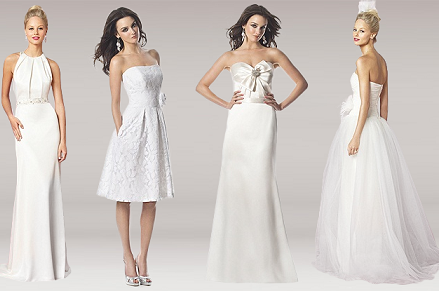 Your wedding dress is one of the most important things that you'll ever have to buy and like any bride, you want to wear what you want especially that dress you fell in love with at first sight, regardless of how it fitted. Choosing your wedding dress is a big decision and choosing the wrong one could see you cringing for many years to come. If you think that you'd still love the dress when you look at your wedding photos at the age of 50, then you've found 'the one'. To help you choose the best wedding dress for your shape, we show you a few helptul tips with dresses from our partner, The Dessy Group. They make some fabulous timeless wedding dresses that we decided to use their dresses to help guide you in making your choices.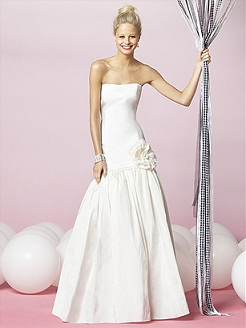 Mermaid Dress (Model: After Six Bridal Style 1035)
The mermaid or fishtail shaped wedding dress offer a silhouette that contours to the body from the chest to the knee or just above the knee, and then flares out to the hem area. It is a dress for the confident bride who knows that this dress will accentuate in all the right places. Also referred to as the modern day Cinderella ball gown, it is a very sexy dress and takes very well after its name in deed.
Pros
If you're after a subtle dramatic look that would make a glamorous statement as you walk into your wedding reception, then this dress is for you. Think Hollywood and the red carpet. It's fabulously shaped and will put you on the spot just where you belong on your big day.
Cons
Because the mermaid dress is fitted, you'd want to make sure that you can move freely when you're wearing it, especially when you have to sit down in it. Some of them do come boned or have a bra shelf to help support the bust area. If this is not the case then you would want to purchase a good bra to support your busts. Also if you're a very pear shaped bride you should know that this dress is likely to emphasize your waist area and all the way down.  The rounder brides and brides with thicker waist lines would not get much out of this dress as it would hardly flatter their figure.
The A-Line Wedding Dress (Model: After Six Bridal Style 1039)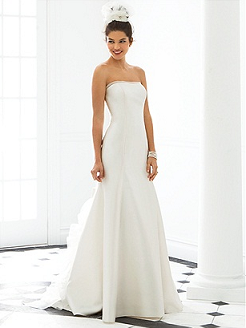 The A-line wedding dress shape is popular because it is very complimentary to all figures. It is not as full as the traditional ball gown and works for all figure types especially if you're pear shaped or a fuller figure bride. With a fitted bodice and an A-line skirt, this dress hugs you in all the right places. In hugging the waist it creates a slimmer waistline and flatters the bust area.
Pros
Although this dress would suit almost anyone, it is best suited for the petite, full-figured and brides with shorter waists. It can make the petite bride look taller and also make the full-figured bride appear slimmer than she really is.
Cons
Brides with larger waistlines may end up looking straight and effectively, the dress will end up losing its 'A-line' fit thus emphasizing the waist.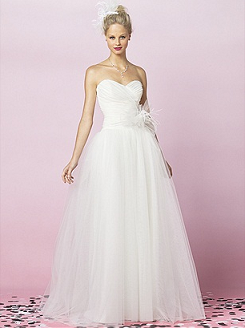 The Ball Gown, Full Skirt or Ballerina Dress (Model: After Six Wedding Dresses Style 1038)

There is no doubt that the bride who chooses this dress is a romantic bride who's probably dreamed of being one since the age of 5. It's a very dramatic dress and brings nothing but the story of Cinderella and all things fairytale to mind. It's fitted through the waist and flares out through the bottom. Ball gowns are often stuffed with fabrics such as tulles, satin or anything that can give fullness to the dress.
Pros
The ball gown will suit you if you have a slim-hipped figure and fuller in the bust area. The full skirt shape will balance out the top and bottom of the dress perfectly, and give you that "fairytale" look that you're looking for.
Cons
Petit and fuller figured brides may want to stay way from the ball gown as they tend to accentuate areas that are not necessarily one's best asset. Petite girls would often disappear in ball gowns because of all the fabrics that make up the dress. You may also want to avoid a ball gown with too much beading as this adds too much detail to the dress thus accentuating the dress more than its wearer. Every bride wants a beautiful dress but not one that will upstage them on their own wedding day.
Empire Line Dress (Model: After Six Bridal Style 1033)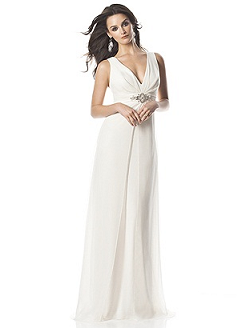 The empire dress is defined by the raised waistline that sits just below the bust, from which the rest of the dress flows all the way down to the hem. Like the A-line, the empire style is very versatile.
Pros
The bustier brides may want to stay away from the empire waist dress as it accentuates the bust and sometimes just too much.
Cons
Petite brides look best in the empire wedding dress as it elongates their torso and doesn't make them look short. It also works for the slimmer bride as it gives the illusion that they have curves.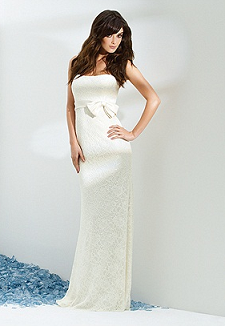 The Column Dress (Model: After Six Bridal Gown 1025)
Also known as the sheath dress, the dress is characterized by a narrow shape and flows straight down from the neckline to the hem. It tends to hug the body, therefore accentuating it beautifully. This style is popular with brides who are planning a destination wedding and you can very easily see why. It's very comfortable, clingy and can work with or without a train.
Pros
Because this dress clings to the body it would most suit the slim shaped and petite bride. It would make you look taller and give you the supermodel or catwalk look without a doubt.
Cons
Because of theclingy nature of the column dress, it may not be suitable for the full figured or the bride with a thicker waist.
Whatever you end up choosing, choose a dress that is so you and will make you feel like the lady of the day that you are. Have fun and enjoy shopping for your wedding dress.