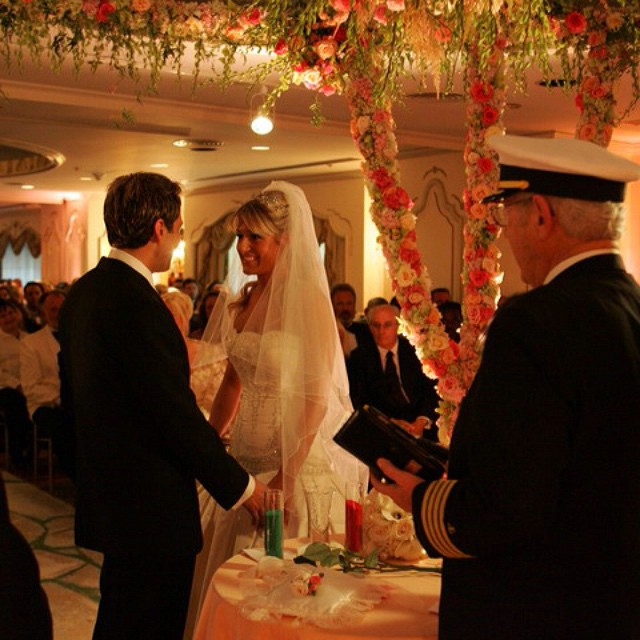 Deciding who will officiate your wedding ceremony is a very important decision. You need just the right person to make exchanging your marriage vows memorable–an Officiant that is willing and able to assist you in creating the perfect ceremony that beautifully captures your personalities, values, and emotions–an Officiant who is mobile and will join you in the air, at sea, or on land. You need the expertise and extensive experience of Captain Arnold and Nautical Wedding Bells.  Captain Arnold has been an active US Coast Guard Licensed Captain for nearly 40 years.  He is also the ONLY Captain who is also an ordained Chaplain registered with the City of New York as an official Wedding Officiant.
Here's how it all started. Once known as a "Wedding Crasher" himself, Captain Arnold enjoyed the party but was more interested in the actual words spoken during the ceremony. After witnessing one repetitive ceremony after another, he decided to compose his own signature "Ceremony of Love" personalized to every couple wed.  The Captain has now had the honor of performing the scared ceremony for close to 20 years. His greatest reward out of what he does is found in the act of uniting a couple deeply in love.   We wondered how many weddings Captain Arnold officiates yearly. We found out that in a year he averages 200-250 weddings.  He has performed as many as 2 to 6 ceremonies- just in one day!  As we mentioned, Captain Arnold will perform his ceremony almost anywhere. He told us the most unusual ceremony he performed was in a helicopter circling New York City. The couple, from Vienna, simply "did not want a crowd" while being married.
Dreaming of a wedding at sea? Captain Arnold is also the official and exclusive wedding Officiant for several major cruise lines such as Royal Caribbean, Norwegian, Celebrity, Princess and Disney Cruise Lines. Need some guidance in planning your big day? Let Nautical Wedding Bells take the guesswork out of planning your dream wedding. Captain Arnold and Nautical Wedding Bells can help make your dreams a reality with one of two signature wedding packages. Imagine reciting your vows in one of New York City's top wedding locations-Central Park. If an enchanted ceremony set against breathtaking landscapes such as Strawberry Fields and majestic Belvedere Castle is what you crave then The Central Park Fairy Tale Wedding Package might be exactly what you are looking for.  How does an intimate wedding and reception cruise on the luxurious Skyline Princess yacht with New York City's iconic skyline as the backdrop sound? You'll love The Romantic Wedding/Reception Cruise Package.
Do you need help with personalizing your vows? Enlist the Captain's help in choosing the right words. Do you want to add a special touch to your ceremony? Consider having him perform one of his special wedding enhancements such as the Unity Candle Ceremony, Sand Ceremony, Rose Ceremony, or Child's CeremonyDiscover what thousands of happy couples from all over the world already have–Captain Arnold performs beautiful, unique, and memorable wedding ceremonies. Reserve your wedding date now!