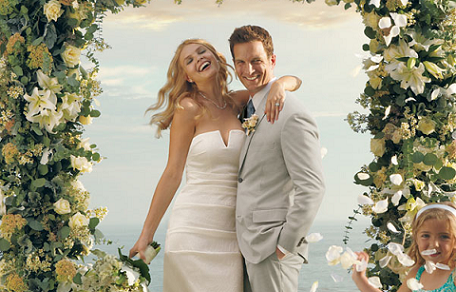 As omg announce that a Bridget Jones threequel is on the way, we look at some beautiful designer bridal dresses of today that will help you achieve some of Renée Zellweger's popular red carpet looks.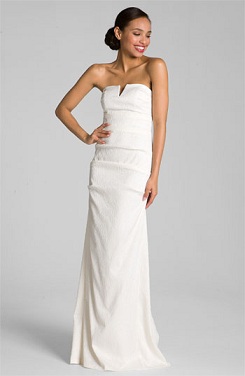 This fabulous wedding dress by Nicole Miller from Nordstrom bears striking resemblance to Rene Zellwegger's wedding dress at her May 2005 nuptials in St. John, U.S. Virgin Islands. The timeless piece shown here is perfect for you if you're looking for an elegant wedding dress. We like the notched neckline and the beautifully textured fabric. It's gorge!
Dress Pictured: Pintucked Jacquard Fishtail Gown, By Nicole Miller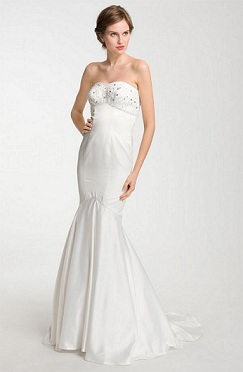 In February 2010, Renee hit the red carpet for the premiere of the Chinese film Tuan Yuan in an unforgettable strapless satin blue gown. She looked fab in the gown and we loved the mermaid skirt and sweet bow detail on the back of it. This satin gown by Tadashi Shoji embraces a very similar look which is very well known to be loved by many brides. We like the jewels and sequins that form patterns against the bandaeu-style bust and the fact that the the dress is made of light catching satin fabric. It's very sophisticated.
Dress Pictured: Embellished Bodice Mermaid Skirt Satin Gown By Tadashi Shoji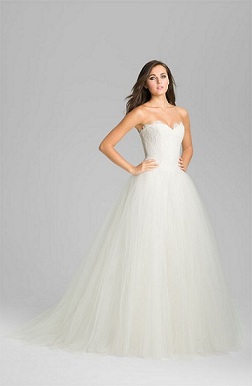 In 2011, Renee Zellweger took Hollywood with her to Berlin's  Golden Camera Awards, where she was the belle of the ball in a sparkly silver gown . We liked the shape of the dress that took after a stunning bridal gown. The dress (pictured) by Theia will give you a similar look if you're having a fairytale theme. The great thing about this dress is that it does not take after a heavy traditional look that you find in most classic fairytale style dresses, here the designer has clearly given us a modern cinderella ballgown that oozes elegance on every side.
Dress Pictured: Strapless Lace & Tulle Ballgown By Theia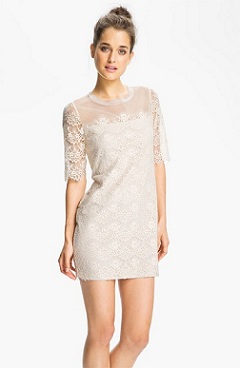 We fell in love with this unique mini lace dress by Max & Cleo. It reminds us of a classy strapless black Carolina Herrera mini dress with a blue-grey long-sleeved lace overlay that Rene once wore on the red carpet. The tiers of scalloped lace make this dress a classic. If you have the legs to pull it off, want a dress that is unique, then this could be the dress. The affordable dress is also perfect if you're going for a boho chic look or just add a few elegant accessories for a more pronounced vintage look.
Dress Pictured: Max & Cleo 'Lillian' Scalloped Lace Minidress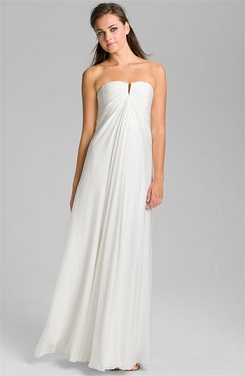 At the Oscars in 2001, Zellweger wore a fabulous vintage canary yellow Jean Desses gown that created a buzz on the red carpet. This wedding gown (pictured), by Nicole Miller will give you a similar vintage look if you are opting for a classy look at your wedding. The silk chiffon used to make the dress allows it to flow beautifully, giving you an alluring silhoutte. The dress also has a built-in corset with boning. It's fab, it's old style hollywood meets modern times, we like!
Dress Pictured: Nicole Miller Strapless Silk Chiffon Gown
All the designer dresses featured can be found at: Nordstrom