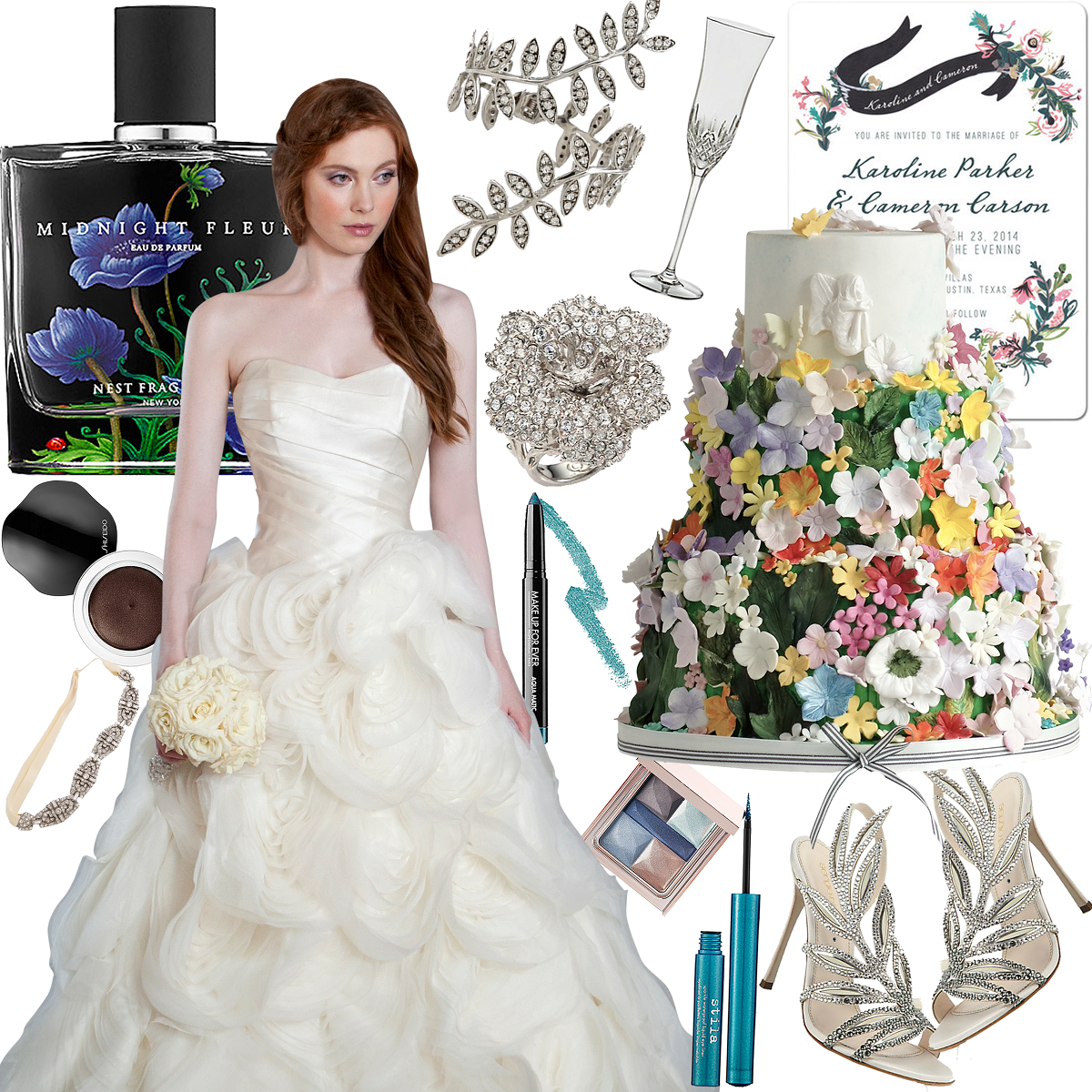 View Gallery
Source: <span style="text-decoration: underline;color: #ff1493"><a href="http://www.cakesbykrishanthi.co.uk/bespoke-wedding-cakes-london/" target="_blank"><span style="color: #ff1493;text-decoration: underline">Cakes By Krishanthi</span></a></span> Three Tier Midsummer Nights Dream, $ 500.
Fall in love with this Couture Belle of the Ball themed mood board. Derived from the Old French 'bele' and ultimately from the Latin word 'bella', Belle means 'fair; beautiful'. In the 17th century, 'Belle of the ball', was 'a lady who is the reigning beauty of a place', and who better is this lady other than a bride? So we thought we'd bring you this whimsical mood board with a couture twist.
Every bride loves a fairytale wedding, it's forever on-trend and gets re-invented or modernized on the catwalk every season. If you're planning on having a fairy tale-inspired wedding with over the top decor, a ballgown and all the opulence that comes with the grandeur of this theme, you are going to love this mood board. With a couture twist, the whimsical wedding theme gives a bride every excuse to wear a lavish gown, flaunt the most beautiful shoes, entertain guests in a palatial venue decorated with grand floral arrangements. And as if that's not enough, she gets to marry her prince charming and gets the "happily ever after" treatment, with style.
How To
You could turn almost any venue into your very own fairytale castle for your big day. A garden, private estate, winery venue is a good list to start with. One of the most important primary elements you need to achieve this whimsical event is a really good floral decoration – fit for a princess. Stuff them in vases, in your hair, place them on table menus and much more. You want to create a romantic atmosphere and let your guests charmed with stylish the fairytale touches.
Like every wedding theme, the Belle of the Ball wedding theme can be designed to suit the needs of the bride and groom. Feel free to add a modern twist or go vintage. Take elements from current trends, the runway, your life together, a celebrity wedding, or like us, take elements from haute couture.