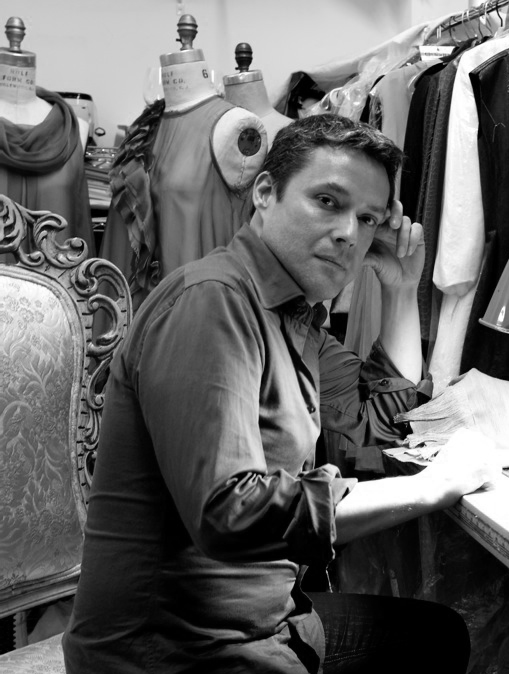 Meet Gilles Montezin. He's a French fashion designer well known for both his haute couture bridal and ready-to-wear collections.  You may have seen his designs featured in films such as Sex and the City and Confessions of a Shopaholic. He's also a favorite of the A-List having designed for stars such as Sara Jessica Parker, Madonna, Monica Bellucci, and Catherine Zeta-Jones.  Read on to discover his influences, the stars he would love to dress, his passion for helping women in the arts, and the signature element of his bridal collections that brides love!
Celebrity Style Weddings  What influenced your latest bridal collection?
Gilles Montezin  I think the best influence I could get is the constant comments my clients make when they come visit me or during the fittings. I love hearing what they are hoping to see, how they want to feel, what they are looking for, and what they don't want.  I try to use the maximum amount of information my clients tell me in the next collections so the dresses are always modern, young, actual, updated …They are the real designers, if you read between the lines haha!
CSW  Do you have a favorite dress from this collection?
GM  I always love the dresses my clients love because they give life to the dress. A dress that is not worn doesn't mean anything, it is just fabric on a hanger, sitting there. But a bride who chooses a dress for her wedding, gives it life, it becomes beautiful on her.  That dress, I love !
CSW  Not only are your dresses beautifully designed, but they are meant to function. Brides love a signature slenderizing feature of your dresses called "Le Cinch".  Can you tell us more about "Le Cinch"?
GM  I found out that brides, most of the time, can bear to be cinched at the waist a little and it contributes so much to enhance the silhouette…so every dress I make comes with the option of a mini corset inside the dress that helps define the waist a little more.
CSW  Do you have any styling tips for brides that you'd like to share?
GM  So much has been said about choosing the right dress for your figure, but I think if a bride knows what she wants to wear for her wedding, it is a great step ahead.  So… it is always good for a bride to see dresses, either online or in stores so they get to know more what they are looking for. If there are doubts about what style of dress to go for, we can always suggest a couple of shapes as a starting point.
CSW  You work with an international clientele with different fashion sensibilities. In your opinion, how do European and American brides differ? How are they similar?
GM  In general, every bride wants to look their best for their wedding. Now culture, time, and budget are the differences.  American brides in general are more daring and dashing.  They want to be out there and be remembered for how they looked in their dress. A wedding gown is a big thing here in Europe…especially in France where brides tend to choose a more simple and discrete dress, more like a "beautiful white gown".  American brides see their wedding as a "party".  In France, they see their wedding as a "celebration"…but this changes constantly too!
CSW  You've dressed A-List stars such as Sara Jessica Parker, Madonna, Debra Messing, and Monica Bellucci. Is there a celebrity you'd love the opportunity to dress?
GM  Since you ask… I must say Daphne Guinness, Lady Gaga, and Katy Perry are dream clients for designers: They don't have limits for their style…so there is no limits for creation….not only for bridal but for fashion in general. They are the ones who make fashion evolve.
CSW  You studied at the prestigious l'Ecole de la Haute Couture in Paris while working for Loris Azzaro and Christian Lacroix. What was it like working for these master couturiers?
GM  Mr LaCroix is a real artist: he would make a point of using what other artisans would bring him so he gives a little work to the community couture suppliers. It is important to keep it alive and renew itself season after season.
CSW  Now that you're based in New York City, do you ever miss Paris? What do you miss about it? Is there anything you don't miss?
GM  I think of Paris every other day. I miss my friends the most than the culture. There is always a reason why we move from a place.  Whether we are looking forward to something, or to forget something. I guess I came for the next step in my personal evolution.
CSW  Besides designing, what else do you like to do when you find the time?
GM  I wanted to help more than one woman at a time , so I created a website dedicated to helping women artists to get international exposure: "Women artists of the world" www.womenartistsoftheworld.com. I cannot stand the thought of seeing an artist give up their dream because they cannot make a living with their art so I decided to give them a platform where they can be visible through the entire planet. There is also a non-profit foundation where we organize exhibitions, performances, fairs , tours and all sorts of things.  Once again to help promote support, educate, and unite women artists internationally.
CSW  Your designs have been filmed for television shows and feature films such as "Ugly Betty", "Sex and the City",  and "Confessions of a Shopaholic". Can we expect to see more of your designs on the big screen any time soon?
GM  Oh, there are a couple of projects in the air but it is too early to confirm now…Suspense, suspense!…
CSW  Thank you so much for taking the time to chat with us!
GM  Thank you for all the fun questions and compliments, I hope it was interesting for your readers!