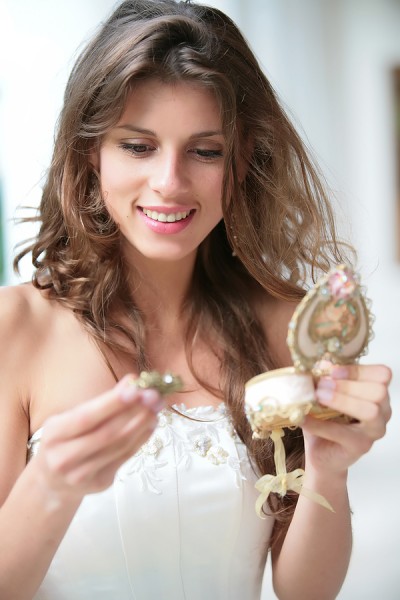 As newlyweds you have much to look forward to. Besides wedded bliss, you have a honeymoon to enjoy.  Surprise your other half with a special honeymoon gift.  If you are buying for your wife, a tasteful piece of lingerie is a romantic gift.  A lovely piece of jewelry like a personalized locket or a bracelet with a special message has sentimental meaning and will be cherished for years to come. A gift basket filled with her favorite toiletries, perfume, or champagne is a great gift too.
If you are buying for your husband, gift baskets work here too.  Fill it with his favorite liquor, chocolates, or a luxurious robe. An MP3 player loaded with his favorite music is a thoughtful gift. A personalized gift such as a money clip with his initials on it, cufflinks, or a specially engraved watch are nice gifts too.
As for something you both could enjoy, a gift basket filled with massage oils, bubble bath, and candles can stir up some honeymoon romance.  Do your research before you travel. If your honeymoon resort has a spa on site, surprise your spouse with a his-and-hers massage. Check out if any romantic experiences on the water are offered such as a sunset dinner cruise.  Research restaurants and make reservations for an intimate dinner for dinner two.
Consider your honeymoon location and give a gift that will create a memorable honeymoon experience for both of you.