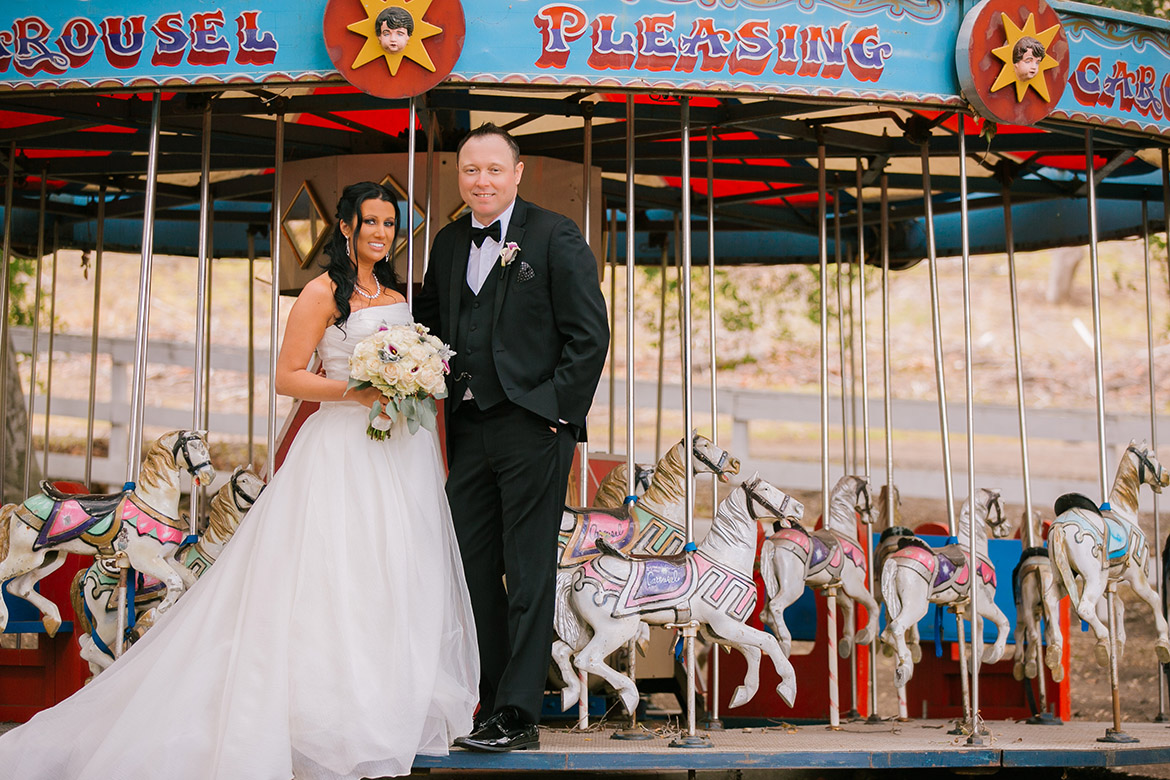 Photo credit: Wedding Nature
If you're a fan of MasterChef USA, you probably know that talented chef Shaun O'Neale was the winner of MasterChef USA Season 7. But that's not all, he also tied the knot with Katie Provost in a beautiful outdoor setting, at Saddlerock Ranch in Malibu. In July when Season 7 aired, we first published a story on their wedding, and how it was officiated by none other than the famous British chef and host of Masterchef USA, Gordon Ramsay, before 101 guests, at one of the most beautiful locations in Malibu.
Classically beautiful and down to earth, Katie 37 looked stunning in a Vera Wang wedding gown. And the photos from her 'ethereal meets theme park' themed wedding tell a rather sweet story. From Gordon Ramsay asking the couple's permission to officiate their wedding, to Stanley the giraffe who walked around behind their ceremony in his handsome bowtie, the setting could not be any more fitting for the loving couple.
Celebrity Style Weddings caught up with the bride recently to get the scoop on how Shaun O'Neale proposed, who the bride wore, plus the wedding budget. Browse the couple's beautiful wedding photos and read our interview with her below.
Celebrity Style Weddings  Tell us about the moment Shaun proposed.
Katie Provost  I have a full-time job but double as Shaun's booking manager. I had booked him an event in San Francisco one weekend in which he was performing a demo in Macy's as part of their Culinary Council so I decided to go with him. The day after the demo, Shaun and I decided to walk around San Francisco and ended up at Palace of Fine Arts, where there coincidentally happened to be a wedding taking place. A few minutes after walking around there, Shaun stopped me and popped the question. It was perfect! Some guys end up popping the question during a holiday or birthday…or even by planning an out-of-the-ordinary fancy dinner. But this was special to me as it was natural and unexpected and real…just like our relationship.
CSW  If you had to put it into words, how would you describe your big day, from the most memorable moment to styling.
KP  MasterChef had control over the theme and the styling but Shaun and I tried to put as many personal touches into it as we could. On our wedding programs, we put a silhoutte of the Las Vegas skyline to represent our love for our city #VegasStrong. On my garter, I put a charm of Shaun's DJ/Chef logo (which also doubled as my "borrowed" item). During the ceremony, one of our favorite readings was our personal adaptation of "A Lovely Love Story" by Edward Monkton which is about two dinosaurs who have their own personal quirks but the dinosaurs love each other's quirks and grow old together…the reading was also a guest favorite in that we had a 6″6′ man with dreads perform the reading. One of the highlights from the wedding was Stanley the giraffe who lives at Saddlerock Ranch and walked around behind our ceremony with his bowtie on. And obviously the most memorable moment for Shaun and I was having Gordon Ramsay approach us and ask if he could officiate our wedding. I mean, who else can say they were married by one of the most beloved chefs in the world?!
CSW  What do you feel was the most unique part of your wedding?
KP  Again, having Gordon Ramsay officiate our wedding was definitely the most unique part of our wedding. It was so special for both of us but especially Shaun. Shaun was extremely close to his father who passed away before he ever got to see Shaun's successes in the culinary world. Since Shaun won MasterChef, he has always looked up to Gordon as a father figure and role model and he was very emotional introducing Gordon during the ceremony. It was a special moment for everyone and made such a unique part of our wedding a sincere, heart felt moment instead of a star-struck, fan boy/girl moment of "OMG it's Gordon Ramsay"
CSW  What was your wedding budget?
KP  MasterChef paid for the wedding venue, flowers and food so it's hard to say what the total wedding budget was. Shaun and I were responsible for tuxedo/dress, photographer, hair/make-up, musicians, invitations, wedding programs, wedding favors, reception venue, reception food and photo booth for which we ended up spending around $15,000.
See Also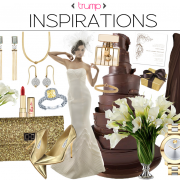 There was a part in the script in which Gordon says to me "now Katie, hand Tiffany your flowers" and in my rush to get to the aisle, I had forgotten my flowers. It ended up being one of the funniest moments for me…
CSW  Your reception: what was the most amusing moment of the night?
KP  As with any wedding, there was a script that was written and needed to be followed. Because there were so many changes from the original officiant to timing restrictions, I practically had the script memorized from reading it so many times. Ten seconds before it was my turn to walk down the aisle, the production crew was taping a microphone to the inside of my thigh so it ended up with me having to run to the aisle to make it in time. I started running through the script in my head and as soon as I turned the corner with my father, my heart sank. There was a part in the script in which Gordon says to me "now Katie, hand Tiffany your flowers" and in my rush to get to the aisle, I had forgotten my flowers. It ended up being one of the funniest moments for me as when Gordon read the line, he paused and looked at me and said "Katie – where are your flowers?" and I just looked at him with a nervous laugh and said "I forgot them". Needless to say he made a big joke out of it and made Tiffany hand me her flowers and me hand them back to her. He also may have cursed (in a typical non-offensive, hilarious Gordon way) and made a comment about how thankfully this was for TV and could be re-done.
CSW  What's one thing that most surprised you on the day or in the lead up to the wedding?
KP  There were two things that surprised me the most leading up to the wedding. The first, was how we had so many family and friends agree to travel across the country, in the middle of the week and on 2 months notice, to come celebrate our wedding with us. Most of our guests were coming from the east coast so we were surprised and honored that so many of them were able to attend. The second thing that surprised me the most was how much Shaun helped in planning the wedding…I think he might have even planned more than me! I suppose just seeing on television and hearing from other couples, I assumed that as the bride, I would be in the planning process alone. But Shaun was so engaged and helpful in planning…he even tried to find a hair and makeup artist for me!