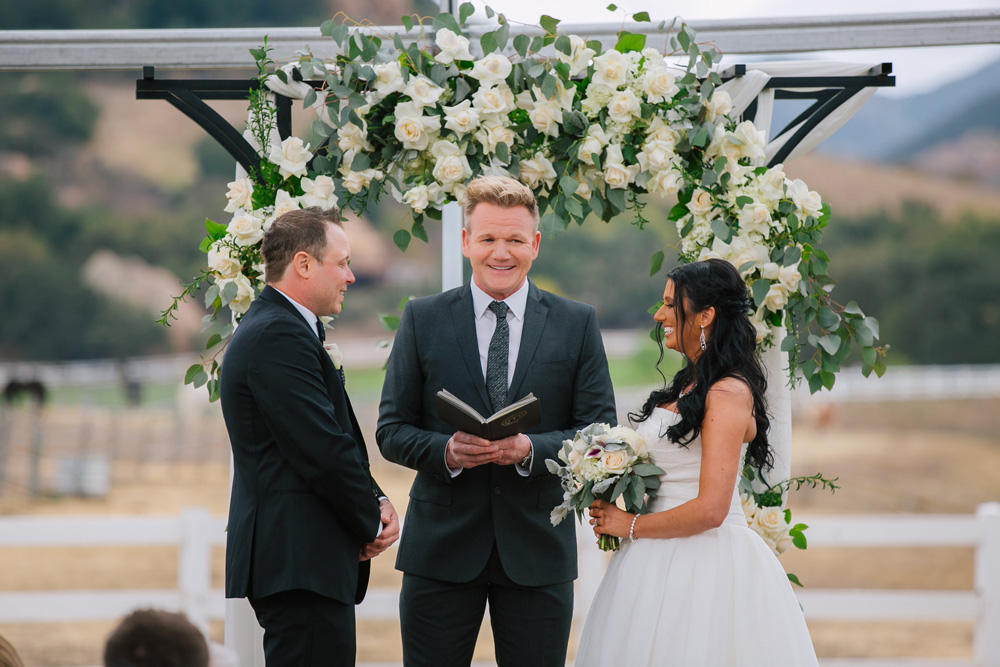 USA MasterChef won the love of millions of viewers when it debuted with golden British chef Gordon Ramsey in July, 2010. In today's episode of USA MasterChef, Shaun O'Neale, winner of USA MasterChef Season 7 won the hand of Katie Provost in marriage and Gordon Ramsey got to officiate his first wedding ever.
Shaun O'Neale and his bride Katie Provost have tied the knot on MasterChef on FOX as part of the popular cooking show. And guess who officiated their wedding? It was none other than the golden TV chef himself, Gordon Ramsay.
Katie and Shaun who was the winner of USA MasterChef Season 7 are the only couple to have been married by chef Gordon Ramsay. The beautiful couple tied the knot in an episode of Masterchef aired today. The nuptials took place under a beautiful white rose arch at Malibu Wine Safaris, with 100 of their closest friends, family, and Stanley the Giraffe in attendance. As you'd expect, the contestants served delicious meals at the 'ethereal meets theme park' themed wedding. Browse the beautiful wedding photos of the episode of Shaun O'Neale and Katie Provost's wedding from MasterChef US Season 09, Episode 8 A Gordon Ramsay Wedding.