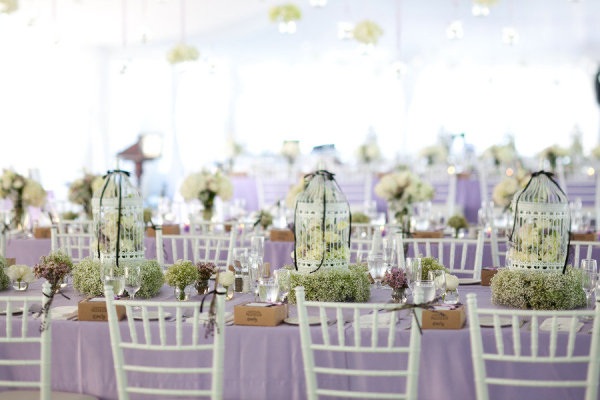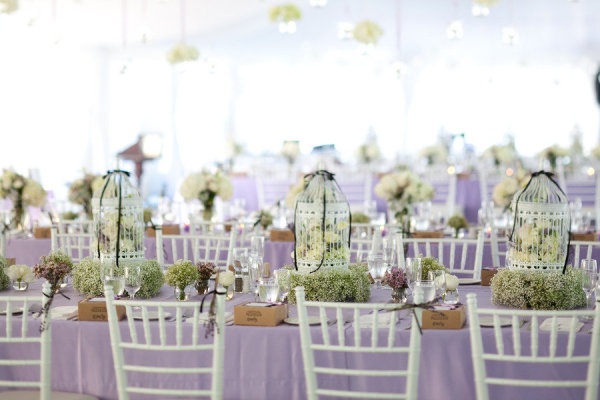 We at Celebrity Style Weddings are always looking for unique ways to make each wedding and wedding reception memorable, so when we stumbled upon these birdcage centerpieces from the Muskoka wedding by Melissa Andre Events, we knew we found something special.  As an alternative to normal floral centerpieces, a bird cage adds a tasteful element and projects a sense of order and refinement.  Bird cages come in various shapes and can be painted to match the wedding theme if necessary.
In this example, the bird cages were surrounded by a "nest" of white Baby's Breath, also known as Gypsophila (Gypsophila Paniculata is the most highly-revered variety).  Inside the cages, a small floral arrangement can be placed to fill up the space loosely; but, really, you could do anything you can imagine, such as placing votive candles, wedding favors, a seating card or a table full of advice cards for the new couple.  To take this idea a step further, you could try using bird cages of alternating heights or sizes, but keeping the color uniform in order to hold the overall look together.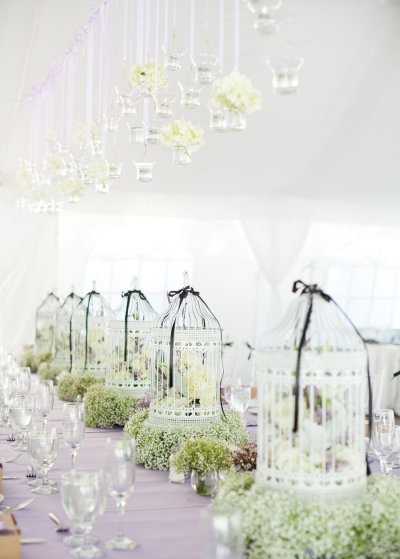 Remembering celebrity brides like Kate Moss, Anne Hathaway and Amber Tamblyn, who went with a vintage style wedding in the past year, the bird cage as a table focal point can reinforce a vintage theme, such as the Victorian Era, The Roaring 20s, the 1940s and '50s, and even the 1960s. You can suggest a nature, environmental, eco-friendly or avian themed reception.  And, with a few films coming out in 2013 such as Great Gatsby, Gangster Squad, you will be on point for a trendy and classy-looking wedding even if you don't go with a vintage gown.
Good sized decorative metal bird cages will vary by price from $9 to $100, so you have to shop around for the look you want and the price point.  However, the inexpensive Baby's Breath filler flowers will only cost about $120-$140 for 10 bunches depending on where you buy them, and that will go a long way with stretching your dollars.  For a budget conscious wedding, it is conceivable to keep your centerpiece budget to spend under $50 per centerpiece.  Do note that the color of your Baby's Breath may vary depending on the climate (sometimes they can be slightly green), also ask your florist for some advice and check out stores who can tint them to match your wedding color scheme. The leading growers of Baby's Breath are California and Florida, but you can find a supply in many other states.  Tip: If you plan on ordering any flowers online, verify whether your desired flowers can be shipped to your state.
See Also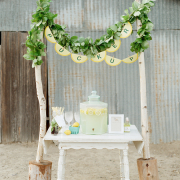 Where to find some good decorative bird cages:
A long row of bird cages at a reception make a striking presentation, and they are certain to be great conversation starters.  These centerpieces will leave an impression that your guests will not soon forget.