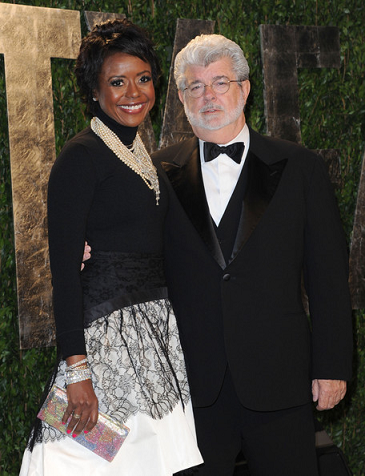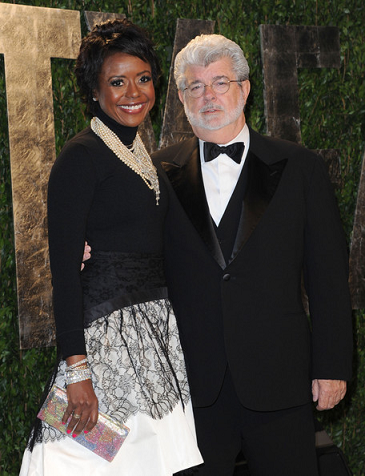 Star Wars creator George Lucas, 68, got engaged to longtime girlfriend Mellody Hobson, 43, who is Dreamworks Animations' chairman, a financial contributor of ABC's "Good Morning America" and an investment firm president.
Thoughts of an inter-galactic wedding may be churning in the minds of many sci-fi fans, but between Lucas' millions and Hobson's financial background, we think they will produce a spectacular wedding that will make perfect sense on terra firma. Based on what we know of the couple, we suspect Hobson's gown will be both chic and sparkly.
Lucas will likely wear a traditional suit or tux.  And, by the way, Lucas does look quite smashing in a tux, so expect to hear about a formal reception.  They can afford it:  they are both worth billions separately.
The guest list will be star-studded, without a doubt. What would be interesting is whether the happy couple will receive a pair of tickets for a honeymoon ride on Richard Branson's Virgin Galactic suborbital vehicle. That would be the icing on the cake for a Star Wars-inspired theme.  Imagine lavish costumes and grandiose, outer-worldly backdrops.
See Also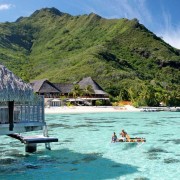 Hobson serves on the board of many other corporations, including Estee Lauder, Groupon and Starbucks.
As the president of Ariel Investments, LLC, a Chicago-based investment management firm, and chairman since 2006, Hobson also splits her time with civic and non-profit organizations, serving as director at the Field Museum in Chicago, the Sundance Institute and the Chicago Public Education Fund.  This will be the first wedding for Hobson and the second for Lucas.  Stay tuned for more updates and details on the wedding.