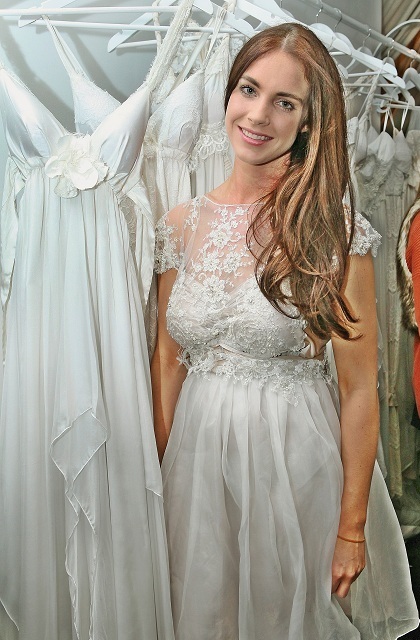 Celebrity Style Weddings How did it all start? What inspired you to start making these beautiful wedding dresses and accessories for brides?
Anna Campbell It started with accessories and slowly grew into formal dresses, then bridal dresses. I love working one on one with clients to create something incredible and bridal optimizes that.
CSW What makes Anna Campbell dresses so unique?
AC The fabrics, laces and bead work that we use are exceptionally beautiful, and many are exclusive to us. We don't follow trends either, we just make what we love, so we aren't going to have similar on trend collections like other designers.
CSW You seem to be an overnight success. Do you have any plans to make Anna Campbell dresses local to brides in many popular countries and cities?
AC It may seem that way, but I have been putting everything I've had into this for the last 6 years! We have developed our stockist partnerships overseas, and are now stocked in Texas, Colorado, London, Denmark, and Ireland. We are really wanting to continue our stockist partnerships around the world, so that brides worldwide can have the opportunity to try on our gowns! Even if brides aren't close to one of these stockists, they are able to order our Ivory Range through us directly.
CSW Do you have a fashion muse? Who is she?
AC Not so much; I respect lots of designers, and women in the spotlight, but there isn't one in particular.
CSW Are there bridal trends that we should look out for this year?
AC Bridal is classic, and photos last for ever, so we feel it's best to avoid trends and move towards classic elegance.
CSW What can brides expect when they book an appointment with you?
AC We want to get a really good feeling and understanding about their wedding and personality, so that we can help them choose the perfect dress for the day. They will be taken through our range, and will be able to try a wide range of styles, colors, laces and embellishments, to see what they love. We have stylists in our boutiques that can assist with matching gowns to any personality or body shape and can also advise on how best to finish off the bridal gown with stunning accessories.
CSW What should a bride expect to pay for the average bridal and bridesmaid gown?
AC It really depends on which range; our off-the-rack Ivory range is currently all under $1500 AU (approx. $1,530 USD) for silk dresses, which I feel is a great price point for off-the-rack gowns (you still order it in new to a standard size).  If working one on one with a stylist, and creating something just for yourself, over a series of fittings and appointments (like our Made to Measure range in Australia) then expect to pay from $2,000 – $10,000 (around $2,050 – $10,290 USD). Bridesmaids gowns are similar; if you are ordering in locally made dresses with luxury fabrics and hand beading, expect to pay from $500 – $1,000 AU (approx $510 – $1,028 USD) per piece; if ordering dresses mass-produced in Asia, you can obviously get these a lot cheaper, but basically you will get what you pay for!
CSW Are you participating in any trunk shows near us (in the US) this year? Are you also participating anywhere else in the world?
AC Not at this stage. We would love to get across to New York sometime for a trunk show!
CSW Can we expect to see your gowns in more US boutiques this year?
AC I would love that. We are very picky with who stocks our label; they must be just as in love with our brides and styling as we are, and have a stunning store and exceptional service. We are certainly looking for more boutiques to stock our range worldwide.
CSW Is there a celebrity that you would love to design a bridal gown for?
AC Rosie Huntington Whitely is gorgeous!
CSW  Are you planning any collaborations with another designer?
AC No we aren't at the moment! We would love to collaborate for a range of shoes or jewelry in the future though.
CSW What's next for Anna Campbell?
AC We are working on a new Made to Measure range (Australia only) at the moment, but what is exciting for US brides is that we are going to be working on a new Ivory bridal range (worldwide) later in the year, and would love a trip to the US to launch it!
Thank you Ms. Campbell for sharing your collection with us.
Excited about trying on an Anna Campbell gown?  Go to Anna Campbell online to view her list of stockists around the world.