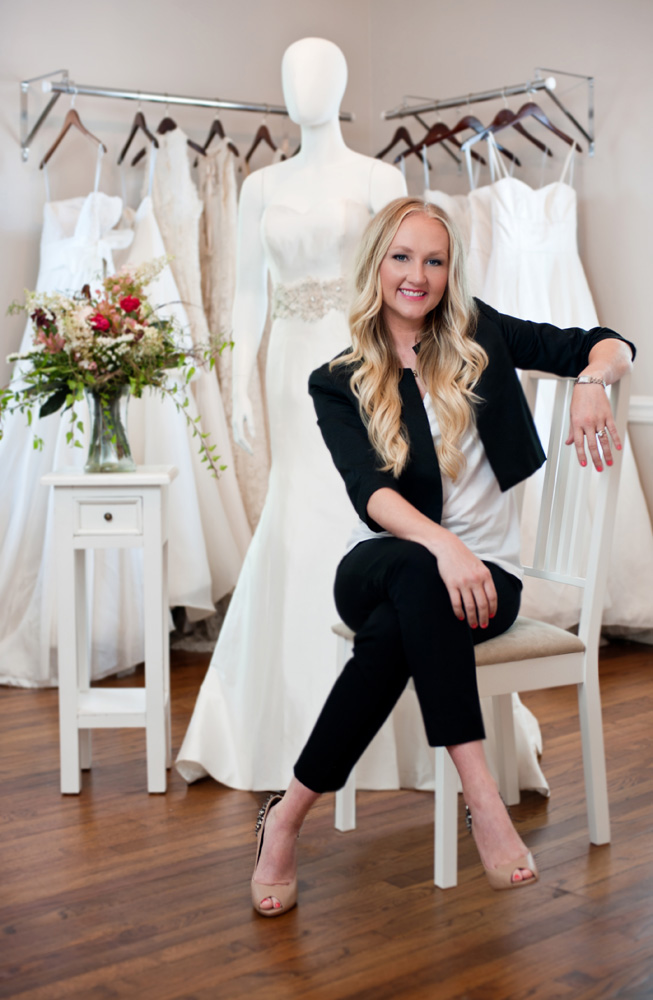 From Project Runway to owning bridal boutiques across the world, Heidi Elnora rose from humble beginnings to become one of the premiere bridal dress designers through the success of her bridal gown company, Heidi Elnora. We caught up with the very busy designer to discuss her participation in the reality TV show, Project Runway, her passion for designing the most stunning bridal gowns, silhouettes and more!
Celebrity Style Weddings  How did you discover your passion for designing wedding gowns?
Heidi Elnora  While I was working for Carters in Atlanta, designing children's wear and had just finished my time on Project Runway, I was actually struck by a drunk driver. I was hit in my car on the way from an embroidery mill and my mom who was a nurse at the time came and brought me home to Alabama. And while I was here I met Jeff Baker, my sweet husband and 6 months later I moved to Alabama. I didn't have a plan and didn't know what I would do since this isn't known as a fashion capital, but I just thought surely something will come up. So I prayed about it and one day I called up a local magazine and said "Hi! I'm Heidi Elnora and I am a designer. I've only designed one gown in my life and I was on Project Runway." They wanted to do a four page spread. So I called my mom and told her I wanted to start designing wedding gowns.
CSW  You're the queen of polished lines and attention to detail. Tell us about your personal style and does it reflect on the wedding gowns you design?
HE  MY personal style is pretty chill and I like the be comfortable. I work best when I am able to move and able to breath. So for my dresses it's the same thing. I like my dresses to be comfortable, because for me the fit is incredibly important. When the fits right, it's going to feel good and your going to feel confident and more comfortable. So that's my main thing when it comes to my dresses is to have an incredible, incredible fit. And I'm really into structured thing and I'm not really a flowy girl.
I like distinct lines and every structured clothing. So most of my garments are clean, the lines are clean, and have an amazing fit. The way I dress and my designs are totally different, except the structure thing, which is really interesting. Designers aren't really fashionable people for some reason. Were always in black and that's what we do. I think it's like that in any art form, your so passionate about what you do it doesn't matter when it comes to you. Like it doesn't matter about me, it matters about the dresses. I'm pretty chill, but my dresses can be fancy!
CSW  What is the most popular silhouette brides request from you?
HE  It's called the CoCo Marie. It's probably our number one selling dress. It's simple and why it sells so well is because of the fit. It's a simple sweetheart trumpet style dress with a low V back. What's cool about this dress is that we have all these different options you can do so you can wear it 35 to 40 ways. And what's neat to the bride is that there are things that she can take off and change the dress from the ceremony to the reception. And it's like ," Oh my God! You have two dresses!" But no one really knows it's a convertible kind of thing and you can change it as you go. The fit is amazing! It makes you waist look tiny, your hips look super perfect, and your boobs look good.
CSW  Who are some of the celebrities you have designed for? And which celebs are your dream celebrity brides to design for?
HE  Well the biggest celebrity I have designed for so far is Sara Evans. I designed a dress for her for the awards. And I have also designed for PGA tour wives. My ultimate girl right now is Emma Stone. I like that she's kind of quirky and I like her spirit and she's fun! And I like she would the ultimate girl to dress for sure.
CSW  What is your favorite and least favorite fabric to use on gowns?
HE  For some reason, I really like silk douppioni because it has some texture in it. And I love organza and the way it flows. A lot of my brides come in and say Heidi I want my gown to "woosh woosh" because when they walk they want their dress to move back and forth! So now I ask, "Do you want the woosh woosh and the brides say YES!" So I love the idea of them floating across the floor. Things I'm not a big fan of are silk chiffon. I'm not a silk chiffon kind of girl, because it's hard to sew and when it gets a run… It drives me crazy! And I'm not a charmeuse kind of girl, because that silky and slinky situation like lingerie is not so much me. I'm much more the structured and fitted and the flowy bottom.
CSW  Tell us about your participation in the reality TV show Project Runway, how has the show influenced your designs?
HE  It was a great experience! I was 25 at the time, I'm 33 now and it's great look back at what I was then and what I am now. I remember thinking, "What the heck am I doing?". I had my ponytail and my blue jeans and everyone else had mohawks and tattoos. I was like what in the world did I get myself into! But now I think, I like the mohawks, that's kinda cool. So for me it was just a great experience to help me grow and be confident in who I am as a designer. A lot of times people look at Alabama and don't think there's a talent pool here, but there is. So for me it's given me the confidence to start my own line and help others to achieve their goals and tell them you can do this! Because if you've grown up in a small town, it doesn't mean you can't become who you want to become. So that's my favorite thing about Project Runway and the life lesson that it taught me.
CSW  What was your most memorable moment on Project Runway?
HE  Meeting Heidi Klum, that was probably my most memorable moment. We were standing outside Parsons all lined up and they were filming the introduction. She walked out and I promise you, I couldn't even breath! I remember thinking, "Wow you are that beautiful!" and I was kind of in awe. I don't thinking I had ever really seen a celebrity before and meeting her…I couldn't even function!
CSW  Your new spring 2014 collection, "Mod" was inspired by your friends in high school. You said the collection is meant to make a bride feel whimsical, romantic, and young at heart. What is the art of interpreting a bride's emotions and personality into a gown?
HE  It's very important! To me, it's always best for a bride not to shop on an impulse and not to shop on trend, but to shop on who they want to be and who they truly are. When we meet brides here in Birmingham, I always tell my sales associates that they have to get to know their brides. So we'll take a good two hours to have them try on things and to get to know their personality. And I think that's what we've been so successful with because I will design a variety of dresses for each collection.
Each collection is cohesive within each designs, but each season the collection changes. Because every bride is not the same and every dress should not be the same. Is it lace on the bottom, but now it's lace on the bodice. I think it's nice to have a variety in the first options to wear. For me when I design, I want to have a full collection with totally different options from high-low to all over lace to beaded bodices, because to me there's so many sides to me and things that I love. And I want to show all the different things that I love to be incorporated thought. I guess the big thing to me is to be whimsical, because the process of buying a dress should be fun and playful. It's a celebration of your marriage and your commitment to your man. You should be fun and think "look at me I'm a princess!". A lot of my brides are happy brides!
CSW  You got married to your husband Jeff Baker in October of 2009. What was it like for a designer like you to decide on a wedding for her big day?
HE  I had four dresses, which is ridiculous! I couldn't make up my mind. Which is a good thing of being a designer. I wore my mom's wedding dress that I actually took the sleeves off and made it a high-low and took the neckline out. I wore my mom's dress for the rehearsal dinner. For the actual ceremony, I wore an Italian silk ivory gown with three peplums in the back and it had ombre buttons from light pink to hot pink. And I wore gloves and a blush veil with a gigantic, ridiculous train.
We had a masquerade ball that evening and I wore a gigantic silk ball gown and bodice with rhinestone draping off my shoulders and a gigantic glitter tool overlay. It was a ditsy wedding dress, but I wanted to be a princess! We had a 18 piece orchestra and that night we had a rock band and I wore a pink mini with lace cap sleeves turtleneck with buttons down the back. I had one more dress to leave in, but my husband said, "Hunny! That's a little too much. You've changed four times already." But I had all these things I want to wear!
CSW  Do you have favorite wedding gowns from your 2013 and 2014 collections?
HE  The Valerie-Lynn, hands down! It's named after my mom and it's beautiful. It's this light purple color and it's hand screened on the bottom with beautiful flowers that are hand screened in Italy. It has beautiful water colors throughout the dress, so no two dresses are alike. And it's actually couture so it was made in Alabama.
Not all my dresses are made in Alabama, so if a bride requests it. It's made here in Alabama. And it is hands down my favorite dress, because it's different, it's beautiful and it is on the cover of my website. And I found that fabric in Paris and when I saw it I was obsessed and I knew I had to have it in the collection. So for me it makes sense with Mod, because it's my hippy "flower child" collection.
CSW  The big question! How can brides get ahold of your gowns?
HE  My website, heidielnora.com. And we are 23 stores nationwide and in 14 Nordstroms. So brides can call a store and if the store doesn't have the dress we can ship it to them!
CSW  What does the future hold for Heidi Elnora? And what should our future brides expect to see in your future collections?
See Also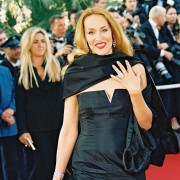 HE  I don't know what the future holds, but everything will be fabulous! Things are super beyond positive right now and the future will be even more fabulous! And the new collection will be inspired by my recent trip to Paris and the eiffel tower and the rivers.
CSW  Lets get personal. Favorite color?
HE  Black and I wear black a lot
CSW  Favorite food?
HE  Cheese, any kind of cheese. I think in a former life I was a little mouse.
CSW  And [favorite]  place?
HE  Alaska, because it's not man made and it's true beauty.
CSW  The best item in your closet right now?
HE  Alexander McQueen scull scarf! I love sculls and just bought a scull rug for my new studio.
CSW  Name three things you can't live without.
HE  The month of October, My family, & My Prada Bags!
Interview by Brooke Butler. Questions and editing by Judith Chi.