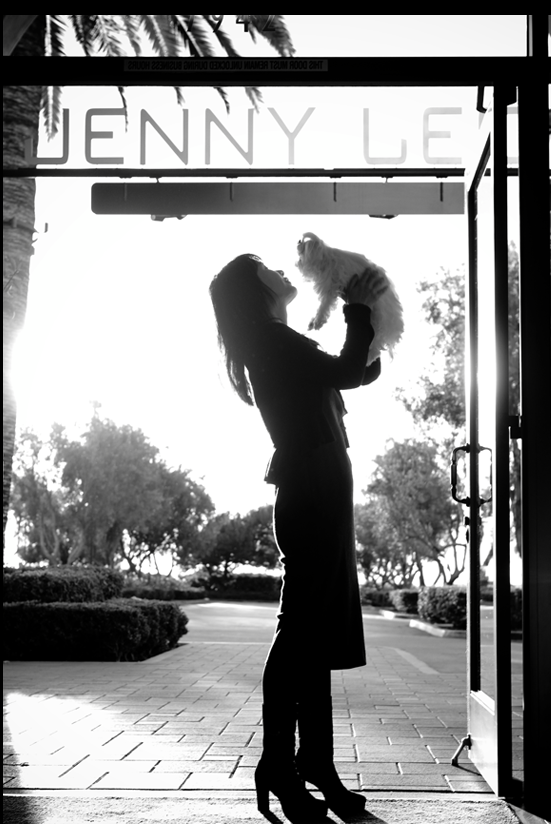 Jenny Lee has become a sought-after bridal designer appealing to savvy and modern brides everywhere.  We caught up with the designer to find out what influenced her Spring 2014 collection and why her gowns are so special.  Read on to find out what she thinks you should splurge on for your wedding day!
Celebrity Style Weddings  What kind of bride did you envision when you designed your spring 2014 collection?
Jenny Lee  I envisioned a confident bride. Someone who has a color and a style of her own instead of following what everyone else likes. Through the collection, I wanted to show the bride's beautiful and unique inner side as well as her stylish appearance.
CSW  What influences and inspires your designs?
JL  For this particular collection, I was inspired by white elegant dresses everywhere. I had this image of a clean, pure design. Another inspiration for me is sexy lingerie top with a romantic skirt. These two styles served as a guide as I created my new collection this season. They will change my identity, as you will see very soon with the debut of my new line.
CSW  Do you have an all-time favorite dress you've designed that you can tell us about?
JL  My absolute favorite is the dress style 1101 from Spring 2011 collection. It has a fitted bodice that emphasizes the bride's feminine figure. My favorite part is this beautiful, handmade arrangement of organza flowers all over the skirt. It's truly unique, and anyone who wears the dress can feel the time and effort we put into creating this dress.
CSW  Your flagship salon in Newport Coast, California offers brides the most intimate wedding gown shopping experience. Can you describe what takes place the moment a bride-to-be walks in?
JL  I'm particularly fond of this boutique because I had the pleasure of designing the interior. It is quite luxurious with a beautiful chandelier hanging in the middle column that was made out of 5,500 Swarovski crystals. I also designed all of the mirrors and furniture. Once the bride-to-be walks in, she immediately becomes a princess in this fairytale setting. And of course, the beautiful dresses resonate this dreamlike atmosphere as well.
Once she enters the store, our wedding consultant talks to her about her wedding theme, styles she likes and tries to get a sense of the bride's personality. Then the consultant gives her an overview of my designs and concepts. A typical bride would try on about seven to ten dresses. Once she finds the perfect design, I begin working with her on measurements and custom fitting. These entire processes take place in an intimate, appointment-only setting, so the bride gets the VIP treatment that she deserves as the star of her wedding.
CSW  Jenny Lee gowns are well known for their impeccable fit. Can you describe the fitting process?
JL  I think the reason gowns fit so well is because of my special drapery and pattern skills that translate into every design I create. The style of the fit is Paris couture that you cannot find anywhere else but only at Jenny Lee. To ensure perfect fit, we pay close attention to measurements. Once the measurements are done, we cut patterns and conduct first fitting to go over the overall style and fit with the bride. Once the dress is ready, we do second fitting, and if necessary, third fitting after making alterations. Basically, we continue to make changes after changes until the bride is completely happy with the dress.
CSW Your gowns are made of only the finest imported fabrics from Europe. What is your favorite fabric to work with?
JL  We import lace from Paris and silk from Como Italy. It's impossible for me to pick one favorite fabric; each fabric comes with its own beauty. But recently, I became obsessed with light transparent fabrics like silk organza, chiffon and tulle.
CSW  How do you want brides to feel when they put on one of your gowns?
JL  Once they put on the dress, I want them to immediately feel how well it fits like a perfect glove and how beautiful the dress makes her figure look when she turns to the mirror. The dress emphasizes feminine line and produces a slimming effect on any type of body.
CSW  Besides a beautiful dress, what else do you think a bride should splurge on for her wedding dress?
JL  Creating a unique style is very important. Brides need to have the right kind of hair and makeup and accessories to compliment the dress. They should all work in harmony instead of overpowering one another.
CSW  You've established an international celebrity following. Is your design approach different when you design for the A-list? What's it like dressing the stars?
JL  I treat all of my brides like A-list stars. Each of them is a star of her own fairytale wedding, and no one deserves to be treated more like a star than others.
CSW  What do you like to do when you get the time?
JL  Cooking is my passion as much as fashion.
CSW  How would you describe your own personal everyday style? Do you have any style icons?
JL  I don't like anything baggy. I firmly believe that women should show their curves that men don't have. Most of the time, you'll find me dressed in a fitted top and black leggings.
CSW  What else is on your agenda? Are you working on any special projects that you can tell us about?
JL  I'm in the process of launching new collections for cocktail and red carpet dresses as well as bridal lingerie. These new lines will make their debut this coming winter.