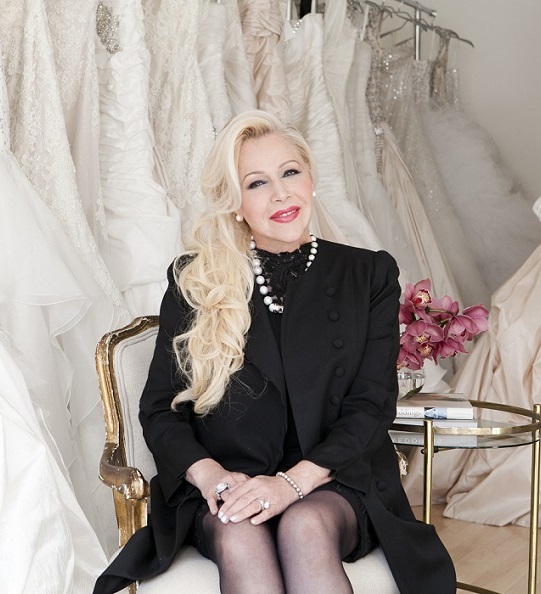 Meet Ines di Santo, internationally renowned designer of evening wear and bridal couture. Her well-known signature touch of unrestrained bridal luxe is a nod to her Italian and Spanish heritage.
Brides from all over the world love Ines di Santo for her glamorous, sophisticated, and original gowns. Celebs like Courtney Mazza, Venus Williams, Kyle Richards and more are also donning Ines Di Santo's gorgeous creations. We caught up recently with the designer and discovered the inspiration behind her Spring 2014 Collection, her tips on finding "THE DRESS", the best way to accessorize your bridal look, what she likes to do in her free time, and her all-time-favorite celebrity wedding.
Celebrity Style Weddings  You're one of the most sought after designers of Bridal Couture. You consistently design stunning bridal collections that never disappoint.  Did you always know that you wanted to be a designer? How did you get into this business?
Ines Di Santo  I knew from a very young age that I was obsessed with designing gowns. I made my first dress when I was 8 and after that moment I had all my friends asking me for dresses. I knew that this is what I wanted to do but I started with evening and then totally immersed myself in bridal. It was the right time in the bridal industry when bridal fashion took a real turn and I was there at the right moment.
CSW  Ines di Santo has a loyal celebrity following. Do you have an all-time-favorite celebrity wedding? If so, what did you love about it?
IDS  I loved the Mario Lopez wedding in December. It took place on a private luxury villa in Punta Mita Mexico called Casa Aramara. We were treated like royalty and we really enjoyed working with this couple because they are so down to earth and truly genuine people. I enjoy designing gowns for celebrities that can still appreciate the little things in life after having so much.
CSW  Brides flock to you in search of the perfect gown.  Who is the Ines di Santo bride?
IDS   A bride who is sophisticated looking for a gown with vibrant femininity, marked by superb fit, originality and inimitable construction.
CSW  Choosing a gown can be daunting for any bride especially is she is unsure of fit and styling that would flatter her figure. Do you have any advice for a bride as far as choosing a gown? Where does she begin?
 IDS  Choose a salon/Designer boutique that represents your style and sensibility and budget. Then try on a variety of gowns that the consultants recommend. They are knowledgeable and can suggest gowns that would suit your figure and special requests.
 CSW  What do you love the most about working with brides-to-be?
 IDS  Brides are at a very happy moment in their lives and the energy and excitement fuels my passion and energy to create a work of art that matches their personality and style.
CSW  Your Spring 2014 Collection has something to offer every bride. Show-stopping ball gowns, illusion necklines, and ornate embellishments, to name a few.  While designing this collection, was there anything in particular that inspired you?
 IDS  Here is an excerpt from our press release that explains this best:
As dreamlike as the Impressionism movement by which it was inspired, Ines Di Santo's latest collection was designed to have the captivating quality of feeling vintage and modern at once. One Impressionist's work, in particular – Camille Pissarro's Avenue de l'Opera (1898) – was the principal piece that set the creative tone, capturing a sunshine covered morning in Paris.
Each gown was named after a region of France, the birthplace of the Impressionism movement.  Like the paintings of Monet, Renoir and Degas, characterized by the artists' visible brushstrokes, Ines' hand is visible in each of her designs, through signature elements like mermaid silhouettes and elegant embellishment.  A soft muted palette of cameo pink, antique ivory and champagne serve as the canvas for exquisite detailing, from Swarovski crystal embroidery to glitter tulle that appears to delicately frost the gown.
Texture is at play throughout the collection.  While the Impressionists created this by building upon brushstrokes, here, fabrics create texture via braided bodices and luxurious laces. Alluring illusion backs have a sophisticated sexiness, while a translucent gown is delightfully daring. Layers of handkerchief hems create an imprecise look that is undone in the most whimsical way.
CSW  Amazing, they couldn't have described it any better! In regards to how a bride should accessorize her bridal look, do you have any "do's" or "don'ts" you'd like to share?
IDS  I would recommend that your look be as natural and you as possible otherwise you stand feeling like you are in a costume. Your gown, accessories hair and makeup should really represent your every day sense of style but elevated by the degree of formality of your occasion. For the bride that loves to perform and dress up I say run wild with your personality and be you. This will make you feel the most comfortable on your wedding day. A bridal gown is a personality and the accessories and styling of hair and makeup should reflect that personality.
CSW  When you are not busy designing your next bridal collection, what do you like to do in your free time?
IDS  I enjoy spending time with family and friends, cooking and entertaining. I love being outdoors at our weekend home and renovating and redesigning my home and décor.