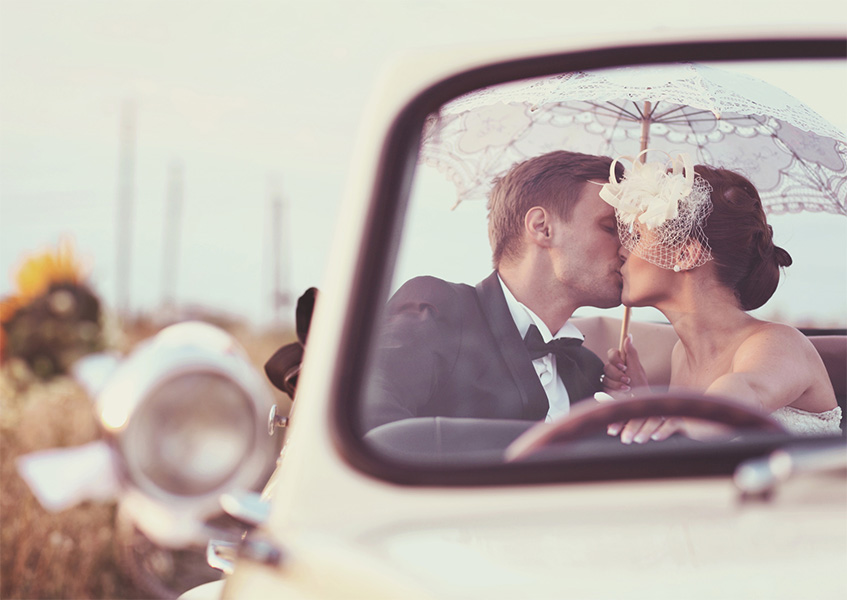 Apps are so popular that it's no surprise that there are now apps geared towards everything and anything wedding related. 
Whether you're looking for inspiration or have a particular goal in mind, like deciding on cake designs or color schemes, chances are there's a wedding app for that.  There are so many great ones to choose from that it can be hard to decide which are worth a try. To help get you started, here is a list of 10 apps useful that can make your life easier and they're so much fun to use!
1. WedPics
WedPics is an amazing alternative to costly disposable cameras. It's a fun and simple way to capture and share all of your guests' photos in an interactive platform.
2. Pinterest
Pinterest is a digital bulletin board which you probably already know about. With their app users can virtually "pin" anything and come back to it for it future reference. You can download Pinterest to your smartphone, where you can follow and "like" others boards, "pin" pictures to your own boards and browse through thousands of amazing images. It's a fantastic way to collect all your ideas in one place and get inspired for your wedding day. Want to know what we're pinning? Follow our boards here.
3. Fun Wedding
FunWedding makes compiling a music playlist fun. It gives you access to music charts compiled direct from millions of actual song requests made at real wedding receptions from all over the world.  The one-of-a-kind-app includes top 200 most requested and top 100 decades from 1950's thru 2010's. You'll also get to check out the top 50 bride and groom, bride and father, groom and mother, bridal party, bouquet, garter, and introduction songs. There are also 4 bonus lists, including most overplayed songs. Want more? You can also listen to song samples, create a request list with your personal favorites, and even find a band or a DJ.
4. Wedding Registry
Wedding Registry  simplifies the gift registry process by allowing you to build and maintain a universal registry that can be shared with all your friends and family. Now there's no need to create and keep up with several registries at several stores. Simply scan the barcodes on any item from any store to instantly add it to your registry. You can also add items from any website. Need to add color or pattern preferences? Notations on your items can easily be added. The app also eliminates the possibility of duplicate gifting by updating with every product purchased.
5. myPantone Wedding & Events
myPantone Wedding & Events helps brides-to-be create the ultimate color styleboard for their wedding. Developed by the color experts at Pantone in conjunction with Dessy, the bridal and special occasion experts, myPantone Wedding & Events makes it easier than ever to create a perfectly color-coordinated wedding. It comes preloaded with 200 PANTONE WEDDING™ Colors and thousands of inspirational images.  Your color palette and styleboards can be shared with all your wedding vendors or anyone that has a role in bringing your wedding day visions to life.
6. Wedding Countdown
Wedding Countdown makes anticipating your big day even more exciting. This fun app is highly customizable. Choose from a variety of font colors, fonts, and background colors. You can even choose from countdown units such as years, months, weeks, days, hours, minutes, seconds, heartbeats, and even kisses.  Add your own photos and favorite song to further personalize your countdown to wedded bliss.
7. iBridalGown
iBridalGown was designed by a bridal salon owner to help simplify and minimize the frustration that sometimes occurs with the wedding dress buying experience. This app puts all the information about your wedding gown contenders at your fingertips.  The app stores a variety of information on potential gowns such as style, design, photos, location, price, and designer. A side-by-side "Flipbook" mode allows you to easily compare dresses. It even includes a glossary to help explain some of the bridal jargon you might come across.  Think of this app as your personal shopping assistant.
8. Tiffany & Co Engagement Ring Finder
Tiffany & Co Engagement Ring Finder is a unique way to find your perfect engagement ring. From the convenience of your smartphone,  you can easily browse different styles, shapes, settings, metals, carat weights, and determine your ring size. There's even a section in this app where you can discover  "The Tiffany Difference" and learn why so many women prefer a diamond ring from this iconic NYC retailer.
9. Wedding Vows
Wedding Vows offers you all the inspiration you need to put into just the right words your wedding vows. There's no sweeter way to declare your love and devotion than writing your own vows.  Sometimes putting together the right words is not an easy task. If you find yourself lost for words, get inspired by browsing the catalog of over 150 wedding vows. A favorites list can also be created from different categories such as Christian, Traditional, Non-Traditional, Vow Renewal, or User Submitted Vows.
10. Best Wedding Cakes
Best Wedding Cakes is an app with a inspiring design gallery of over 800+ quality HD images of wedding cakes and topper designs.  It allows you to easily design your own wedding cake and share it with you cake vendor.