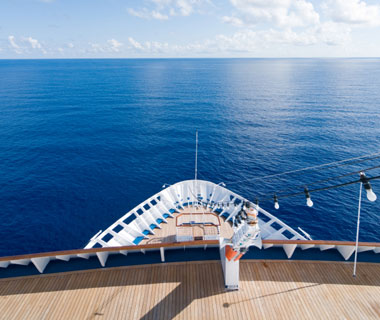 A cruise is a wonderful, hassle-free honeymoon option. Cruise lines are attracting the newly married with their various perks and all inclusive packages. Set sail to one of these 5 top honeymoon cruise destinations.
Hawaii is a dream destination for newlyweds. A cruise is the best way to go island hopping and experience it all. The weather is always great and the natives are very friendly. Whether you want to take an adventure excursion or lounge on its beautiful beaches, there is something here for everyone.
Tahiti is a honeymooners paradise. It's beaches and landscapes are said to be some of the most beautiful in the world thanks to its lush tropical vegetation, multi-colored crystal lagoons, and dramatic geography.  Although it may not be for every budget, it is a great value for making extraordinary memories.
The Caribbean is one of the most popular destinations that newlyweds flock to every year. Its accessible and very affordable.  There are hundreds of beautiful beaches and the waters range from emerald to turquoise. For utmost privacy, choose one of it's secluded beaches.
The Greek Islands are full of romantic myths and legends, after all it is the land of Aphrodite, Goddess of Love.  A cruise gives you the chance to go island hopping, tour temples, and shop.
Alaska offers a vast array of cultural opportunities.  A cruise is the best way to get close to its majestic glaciers and unspoiled scenery.