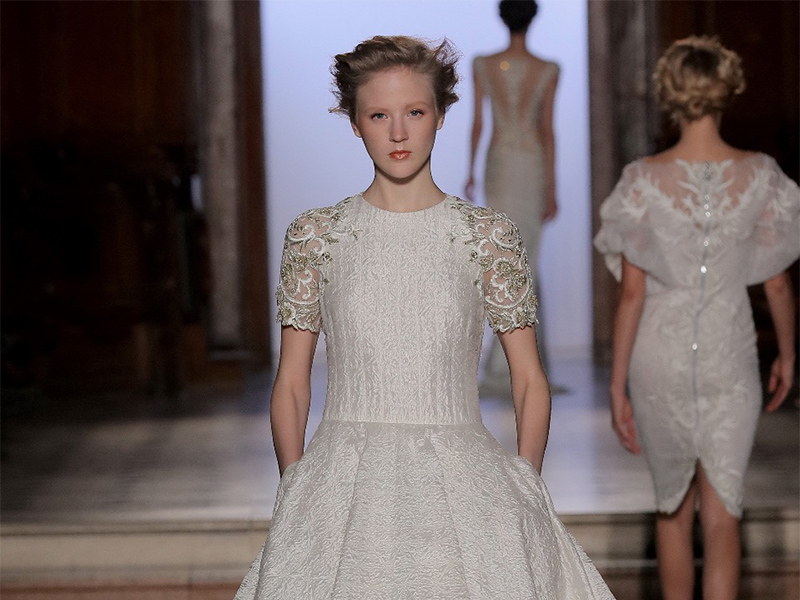 Tony Ward's Spring/Summer 2017 collection has a lot to offer the elegant bride and wedding attendants. Dresses in gorgeous shades of blush, champagne, silvers, and white made for an exquisite collection.
Delicate embroidery and beading added the perfect detailing on dresses of all lengths and shapes. With a variety of A-line and body hugging shapes and the perfect balance of short, tea-length, and exquisite full length gowns, there was no lack of variety in this collection.
It is easy for a bride to imagine herself wearing one of the gorgeous wedding gowns in the collection, while walking down the aisle.
In various colors, textures and silhouettes, the collection delivers grace, strength, and femininity, making it the perfect combination for any bride who wants to display these traits on her special day. 
There is no doubt that many brides will be inspired by the amazing gowns in this collection, the incredible tulle and beading make each gown more than worthy for a bride who seeks elegance bride. The evening gowns in the collection also ensures that everyone else other than the bride can dress in a Tony Ward number, but there is no doubt they would be in competition with the bride.
Take a look at the Spring/Summer 2017 collection from Tony Ward, and let yourself be swept away into a fantastic world of lace as you imagine wearing one of these exquisite gowns.