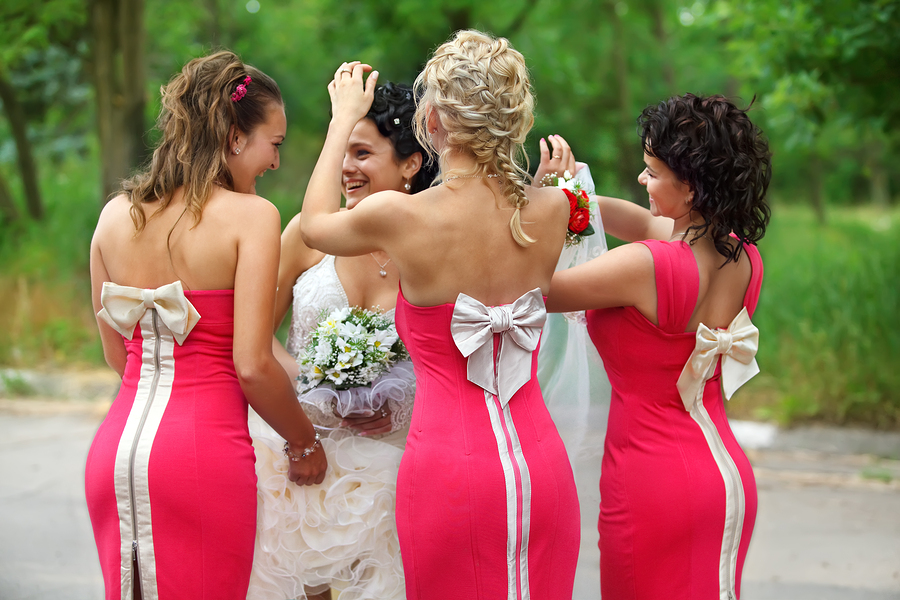 Going out to buy your bridesmaid dresses can be a fun outing with the girls, it's a good way to ward off the stress that comes with wedding planning. There are lots of choices out there with varying prices and sizes. To help you shop with ease, here are just a few tips that will come in handy:
Start Shopping Early
Manufacturers are constantly adding and discontinuing dress styles. They also often increase prices on the more popular carryover styles of bridesmaid dresses. As a result, it is strongly recommended that you shop for and order your dresses as soon as you have made a decision on the dresses you want. Different manufacturers have different lead times. You would also want to leave enough time for alterations, usually 1 month before the wedding, if not earlier.
Get Ideas!
The Internet is a wonderful resource for finding bridesmaid dresses. Use it to track down beautiful dresses at very good prices.
Make a Shopping Date
It is recommended that the bride go shopping with her Maid of Honour and or at least 1 of her bridesmaids and see what styles they like. Make a date to go shopping and have fun! Once you narrow it down, you can then get some input from your other bridesmaids should you wish to do so. It's usually helpful to have a second opinion, especially from someone who will be wearing the dress. However, it is ultimately the bride's decision.

Make an Appointment
Appointments are often necessary in bridal shops, even for bridesmaid dresses. You will want to call ahead to find out if an appointment is required so you don't arrive only to find out that they can't see you without one. You might also want to find out what brands they carry and if they carry the ones you are interested in.
Get Measured
The first thing you want to do is to have all of the bridesmaids professionally measured for their dresses. You can often do this at your first bridal store or department store. This way you can cross reference them with the size chart for the brand you have selected, in order to ensure you order the size that is closest to their figures. Most designers make their dresses in accordance with the measurements of their own size charts and not to each individual's. As a result, do not assume that a size 8 from manufacturer "A" would fit the same way that a size 8 would from manufacturer "B". Also remember that your taller bridesmaids may need to add extra length to their dresses.
Consider Your Bridesmaids
When choosing a dress, it is the bride's privilege to select the color and type of fabric for the bridesmaid dresses. It should complement the bride's dress, but it should also be comfortable and attractive. You would want to give consideration to the bridesmaids' styles, color preferences, their figure types as well as their budgets.
Order All At the Same Time
You would want to order all your bridesmaid dresses at the same time as fabric dye-lots can vary. If you order the dresses one at a time, the dresses might not all be from the same dye-lot so they may not all be the exact same color. This goes for dyed shoes as well.
Leave Plenty of Time for Alterations
Once you order the dresses, be sure to set up an appointment for the alterations. Since most dresses will need some degree of alteration, you should allow plenty of time for 2 fitting appointments. Bridal attendants should bring shoes with the correct heel size to the fittings, as well as appropriate hosiery and slips.
Accessories
Accessories such as shoes, gloves, shawls, purses and hair combs should also be decided on once the bridesmaid dresses have been chosen. Leave plenty of time for shoes to be dyed and picked up. Also consider what color hosiery you want everyone to wear, as well as bras and slips if applicable.