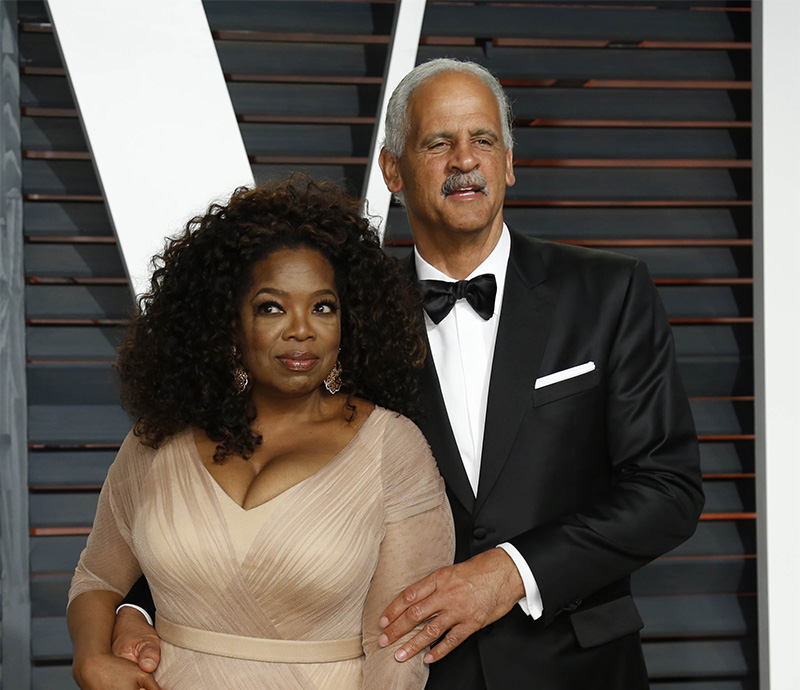 There's no doubt Oprah Winfrey is one of the most generous people in the world, but Oprah went to visit her "How to get Away with Murder" actress friend, Viola Davis, at her February 13th wedding vow renewal, and did not bring a gift for the couple.
This brings into question: What is the etiquette for bringing or not bringing gifts to weddings?
When it comes to Oprah not bringing a gift, Viola Davis – while on n Jimmy Kimmel Live! earlier this month said that she asked Oprah to not bring a gift, but does that mean you really shouldn't bring a gift? We can look at the facts.
First off, this wedding wasn't Viola Davis and her husbands first, but rather a renewal of their vows. In this case, they aren't newlyweds and already have a life set together – they probably don't need the common wedding gifts to help start their new life off. But should Oprah still have brought a present? That comes down to just a personal decision. In this situation, it's acceptable and probably not expected of the guests to bring presents. Though it may be a nice gesture, there's no real etiquette on whether or not to bring a gift for wedding vow renewals, and it's not a big deal if you chose to bring a gift or not (especially if asked not to bring one).
Oprah may get some backlash for not bringing a gift, but the fact is that both of these women are celebrities with a fair (large) amount of money between them; Buying a gift for each other at that point is much like trying to buy a gift for a person who can buy whatever they want – you either have to put time into finding a gift they probably don't have (which can be very difficult, especially if you're trying not to break the bank), or you just have to accept that your presence at the ceremony is the gift they actually want.
So what is the true wedding gift etiquette?
If this had been Viola Davis's first wedding back in 2003, Oprah may have deserved some criticism for not bringing a gift. To bring or not to bring a gift really comes down to one simple thing: How well do you know the couple? If you know the couple well and it's their first wedding to each other, you should bring a gift – some experts say it should probably be in the ballpark of $100 or more. Does it need to be deeply thought out and extravagant? We think not, it can be something that lets the couple know you're thinking about them and are wishing them a great future together. We think it's really the thought that counts and not the price tag, when you give a gift that is thoughtful, the receiver would often 'feel' the message you're trying to convey with that gift.
Something off of their registry is one of the best ways to go because you know exactly what they want, and they know exactly what to expect.
According to our etiquette experts, if you're in a position where you don't really know the couple? Maybe they're someone you knew long ago (a distant relative/an old school friend), or someone you're friends with but not close with? In this case the etiquette is generally still to get a gift, but a cheaper one, maybe $50-75 if you do actually know the person. If you're just someone that's been dragged into the wedding as a date or a friend, don't worry about a gift, the person who brought you should have that under control themselves, and if they don't, well, that's not your problem.
Don't have a gift to bring to the wedding? Don't worry, it's common for people to buy gifts in the year of the wedding, as opposed to bringing a gift to the wedding, and this is fine (and likely something Oprah will do after the backlash she's received) as long as it's done in an appropriate amount of time. A year is a general rule of thumb, but it's really best to get them their present in a month or two surrounding their wedding.
Oprah may not have been wrong in deciding to leave our a gift for Viola Davis's wedding renewals, but it's always a nice gesture to bring a gift. At wedding vow renewals should you bring a gift? That's up to the host. If they tell you not to bring a gift, they probably actually mean it this time since it's not as huge of an occasion.
Oprah will likely be buying Viola Davis some kind of gift in the near future to put press at bay, but she's done us a favor by bringing up the discussion of wedding gift etiquette. It can be a bit confusing on what you should do, but just follow the general rules of thumb and you'll certainly be fine (and uncontroversial) at the wedding. When it comes to bringing a gift to wedding vow renewals, well, that's up to the happy couple and their guests.