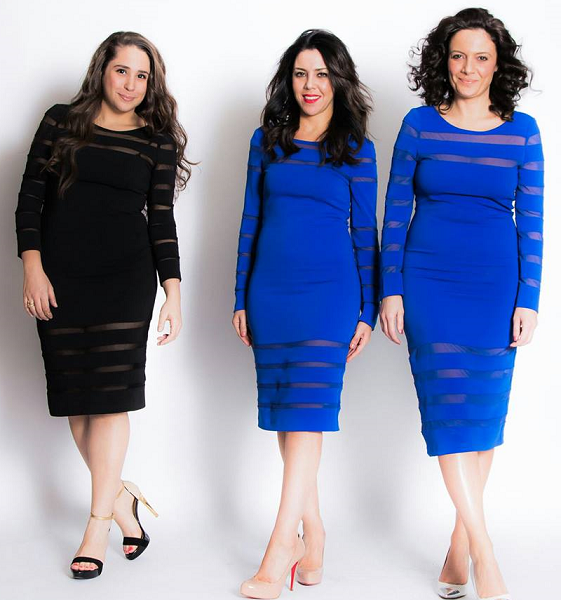 We recently caught up with Susan Di Meo, Yalenis Cepeda, and Nicole Petito, the talented and glamorous women behind Synderela.  Synderela is a special occasion fashion dress label that offers a core collection and first rate custom bridal and bridesmaid dress design services.  Headquartered in the NYC garment district, these women have forever redefined the way brides and bridesmaids shop for dresses.  Never again,  do they have to have to settle for just any dress in a catalog, on a website, or hanging in a department store.  After reading this interview, you're sure to discover what brides and their maids everywhere already have, and you'll agree.  The Synderela experience is truly one-of-a-kind.
Celebrity Style Weddings  Susan, you are the Co-Founder and President of Synderela. You've had tremendous success. What inspired you to start the brand? Is there a story behind the brand name?
SUSAN  Well my girls and I have been together for over 10 years, we worked together at other brands prior to Synderela, and at our last brand after 3 years I was let go – The girls and I had discussed starting our own label for awhile, and we feel the Universe gave us the push we needed when I was let go.  We wanted to build a company where we could be an example to other women to be independent & chase their dreams, a place where women we're free to be One of a Kind, embrace their Originality and ultimately to love the "SYN" they're in.  The name.  S(usan), Y(alenis), N(icole) = our initials.  We're the women who put the SYN in "Cinderella"…a modern day tale, where this character "Synderela" fearlessly chases her dreams not the Prince.  We believe in stories, everyone has a story, every woman deserves to tell her Synderela Story.  Every dress tells a story.  Take a sec to think… your prom dress, your first date dress, your wedding dress, bridesmaid…every woman can remember what every dress meant. The feeling they felt wearing it.
CSW  Nicole, you're the Sales Director at Synderela.  The women of NYC have a love affair with Synderela.  Could you tell us what makes a dress by Synderela so special and so in demand?
NICOLE  Yes!  A dress by Synderela instantly makes every woman feel #Sexy and #Sophisticated.  Our core collection is designed as a mix and match, 6 tops to 6 bottoms.  So if fun & flirty is her thing she can choose that style.  If tailored and fitted is her thing, she can choose THAT style…if she's feeling dramatic she can choose from our selection of ball skirts. No matter what she chooses the aesthetic is always Sexy, Sophisticated & Feminine.
CSW Nicole, When a bride-to-be and her bridesmaids walk into Synderela's beautiful NYC "castle", what can they expect?
NICOLE Great energy, a comfortable relaxed environment & an interesting time.  Susan and I are GREAT at reading people, we believe in astrology – so we typically try to "figure" out a woman's sign, that helps us determine her personality and then we design a dress that reflects her personality and her body type.
CSW  Synderela offers custom dress design services. From the first meeting to the final product, how does the custom design process work? How long does it take?
SUSAN  Yes. Her first meeting is ALL about her, getting to know her, figuring out who she is what she's comfortable with, what her best attributes are, her personal style.  Then Yalenis, our designer, will sketch some options, and once she's chosen a silhouette we go out into the market and choose fabrics & colors & begin the design process.  Then she'll come back for her first fitting.  The process takes 6 to 8 weeks, we can rush an order and have it in 2 to 4 weeks.
CSW  Outfitting an entire bridal party in dresses that flatter a variety of figures,  satisfies everyone, and still reflects the theme of the wedding is no easy task. How can Synderela help to avoid a potential meltdown and any anxiety?
SUSAN  No definitely not easy, it's hard on the bride and quite honestly on her maids too.  Emotions run high, everyone has their opinion.  Since we like "figuring" people out that helps us in how we relate to them and once we get a sense of who she is it helps us to treat / handle her the way she needs to be treated.  There's a saying; treat others as you wish to be treated, I never believed this to be true, because each of us is different – I like to treat someone how THEY wish to be treated.  The 3 of us are very different, I'm feisty and more of a straight shooter, Yalenis is the calm yes woman and Nic is quick like a cat.  So we just make sure to always stay calm, be firm when we need to be and offer solutions.  Women like to be reassured, and we try our best to do that.  Our motto is; Do whatever it takes to make her happy.
CSW  Yalenis, you're the Design Director at Synderela. You bring dress dreams to life for brides and their bridesmaids. You're like their fairy godmother. What do you love the most about designing for brides and their bridal parties? Do you have any inspirations?
YALENIS  I love making their ideas come to life, creating a dress that they will feel great and confident in.  I love that every bride is different.  I do particularly love brides that are fashionable & creating bridesmaids dresses that are mix and matched and color blocked. High fashion, runway is where a lot of inspiration is drawn but also everyday women on the street.  We rummage through our moms closets and old pictures from the 70's and lots of vintage shopping.  I love seeing old things.
CSW  Yalenis, If you could design a dress for any celebrity who would it be and why?
YALENIS  That's tough. Right now today I'd say; Zoe Saldana because she is a woman who knows what she likes and isn't afraid to take risks, her style is also sexy with an edge but classic.  If I could pick a celeb from the past Elizabeth Taylor…I like strong willed female personalities.
CSW In regards to bridal looks, are there any dos or don'ts that the three of you would like to share?
SUSAN/YALENIS/NICOLE  DO embrace fashion.  Don't be afraid of it.  Color blocking is a definite do, whether it be bold or subtle we believe in color block and separates.  Having your maids wear tops that are not attached to the skirt and if you are going to mix & match every maid should be in the same fabric.
CSW  Susan, have there been any memorable, over-the-top, or unusual dress requests you can talk about?
SUSAN  YES, absolutely!!!  We are currently working on a bridal party of 15, a NYE wedding very over the top but in a GOOD way.  We're designing for them an iridescent sequin that is a short sleeve shift dress with a removable silk wool ball skirt.  It's a pale silver, so elegant.  For the ceremony they will walk in with the ball skirt, formal, and then remove the skirt for a fun party dress to ring in the New Year.
CSW  Yalenis is there a bridal fashion trend that makes you cringe? Is there a trend you wish brides would give a try?
YALENIS  So many, haha, but in particular one that we call Tacky Taffeta.  I wish an army of girls in the same terrible fabric, same silhouette would go away.  I wish brides would all embrace a sexier silhouette, and let their maids be SYNers. Our motto:  "Your Bridesmaids are the Runway Show before the Grand Finale"
CSW  Susan, now more than ever, brides are looking to celebrity weddings and the red carpet for their own bridal inspiration. Would you like to nominate a celebrity wedding for "Best Celebrity Wedding Ever"? What did you love about it?
SUSAN  A lot of our clients like Molly Sims wedding, the all neutral color story.  That has been popular.  We designed an all gold sequin for a July wedding that is neutral with a touch of glam to make it different.  As far as a best celebrity wedding – I know she wasn't a celebrity per se, but Carrie Bradshaw.  I LOVED that the girls, Samantha, Miranda & Charlotte were all in different shades and different cuts and glamourous, to me that is how I see a wedding party – that's my ultimate.
CSW  I'm sure the three of you spend a lot of time together on a daily basis due to work. Do you ever hang out together after work? What do you ladies like to do?
SUSAN/YALENIS/NICOLE  We are together a lot, and we're constantly in contact.  When we're not at the office & we're hanging out it's typically dinner & drinks usually at our favorite hot spot in NYC called The Orchard.  A friend of mine is the owner and we go there to unwind, it's our central perk and the food just happens to be delicious too.
CSW  What does the future hold for Synderela?
SUSAN/YALENIS/NICOLE  The future…we want to continue to build this brand, and make it a one stop shop for women and cater to all their dress needs. Every Special Occasion as well as Cocktail, Day to Night (for female entrepreneurs that want fashion in their work wear)…own our own factory in NYC and have a full service start to finish operation, and to teach young girls to run their own fashion company. Mentoring young girls is an important bullet point on our TDL.