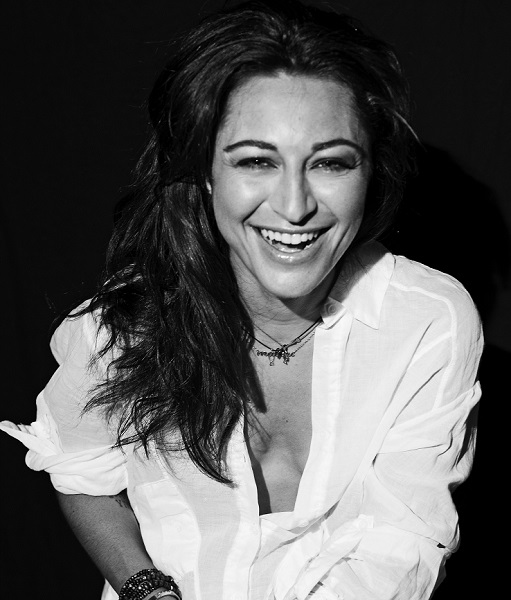 We recently caught up with the amazingly talented Katharine Polk, the designer behind luxury label, Houghton. She shared with us the inspiration behind her non-traditional Houghton Bride Collection, the fashion icons she admires, what she loves most about designing for brides, the celebrities she's worked with, and she's got some style advice for your bridal look!
Celebrity Style Weddings You've had enviable success as a fashion editor, designer, and stylist. Was it just the natural and inevitable next step for you to launch your own luxury label?
Katharine Polk  That is so sweet. Having my own brand was always the dream. When you're in school, I think everyone has the dream of creating their own collection. I'm incredibly lucky to be living this dream. I was very fortunate to have worked for Badgley Mischka as an assistant designer and get that experience. I take every day as it comes and launching Houghton just seemed like an organic next step.
CSW  The Houghton Bride Collection is glamorous with just the right dose of edge. It was one of the most highly anticipated and buzz-worthy launches of 2012. What motivated you to launch Houghton Bride?
KP  Houghton Bride is a natural extension from Houghton. I really decided to officially launch HB after the response to my Fall/Winter 2012 show. Press and our customers received the collection so generously and they loved the idea of a modern bride. I just wanted to offer brides another option. HB is really an extension of Houghton but made to order for my Brides!
CSW  Can you describe the inspiration behind the 2014 Houghton Bride Collection? What kind of bride did you envision?
KP  Houghton Bride and Houghton are always inspired by Katharine Hepburn (her middle name is Houghton and I was named after her, hence where I got the name for my brand) and the Style icons of the 70s,  Bianca Jagger in her white suit when she married Mick and Katharine's love of menswear. The Houghton Girl exudes that free spirit and bit of rebellion. I try to design fun comfortable and sexy pieces no matter the season. I want these pieces to be timeless.
CSW  What do you like the most about designing for brides?
KP  My Brides in-particular seem to be very easy going and no-fuss! Its always a collaboration creating the perfect look for their big day and I love the attitude of the Houghton Girl/Bride. I have my sample room here at my studio so everything is made in NYC, It gives the girls a chance to have fittings and see the process. They come to the showroom, have a cocktail and we go through styles and play dress-up. They seem to have a no fuss mentality and come with their best friend or their mom if she's in town. Its quick and painless! I love that I can have a part in making their big day perfect and if I can take the stress of the dress away that is very rewarding.
CSW  You've become the go-to-designer for modern brides that want a wedding gown that is anything but traditional.  Why do you think brides are taking the non-traditional route?
KP  I think that my customer whether she is 21 and it's her first wedding or she's 55 on her 2nd or 3rd wedding or just ladies tying the knot, don't want to look like a cupcake on their wedding – they want something that's different and off the Runway…more fashion forward. My Brides tend to not want a train cause they want to be comfortable and be able to dance and party all night! A lot of girls want the fairy-tail gown with a bustier and 20 yards of tulle but that's not the Houghton girl.
CSW  Is there a traditional bridal look you wish brides would ditch? What would you dare them to embrace?
KP  To each their own! As long as you feel comfortable thats all that matters. One trend that I notice is ladies love is the strapless gown no matter their size then they end up yanking up their top all night cause its falling down. My idea for a Houghton Girl is zip and go, it should fit perfectly and be comfortable. I think a lot of women step outside their comfort zone and wear these crazy gowns they'd never wear again and end up yanking and tugging to make sure their covered up and stuffed in all night.
CSW  If you could give a bride 5 style tips on her big day, what would you tell her?
KP  
1. Be Comfortable
2. Have fun
3. Go easy on the hair and makeup
4. Wear the correct under garments
5. Have fun!
CSW  You've worked with many A-List celebrities. Who has been the most memorable?
KP  They have all been great and very supportive of Houghton. I love Selena Gomez in Houghton. She looks amazing and has the Houghton Attitude!
See Also

CSW  Are there any fashion icons, past or present, that you admire?
KP  Katharine Hepburn and I also love Bianca Jagger and Jerry Hall from the 70s. Currently, I'm obsessed with Rihanna and Kate Bosworth and Portia De Rosi.
CSW  Creative minds tend to work and immerse themselves in creative environments. What's it like in your design studio?
KP  I have to have music playing all the time, I cant think when its silent. Also, I have to have my baby, Jonesy in the office with me at all times… she's my 4 and a half year old English Bull dog. I think she keeps a sense of calm among everyone. I'm also a night owl and get creative at 6pm everyday, its like that's when the left side of my brain wakes up. I'll work through the night designing and sketching.
CSW  Do you ever get to take a break from it all? How do you like to recharge?
KP  I love my animals and need to spend time with them. Whether its getting down to Florida to see my horses or just walking around NYC with Jonesy. For vacations even though they are far and few between, I love the Bahamas and Caribbean where you have no internet or phone. That's a peaceful escape and always a nice way to recharge.
CSW  You are one multi-talented woman. Is there anything else you want to do? What's next?
KP That's very sweet. I definitely have  a lot of long term goals for myself and Houghton. I'd love to expand when the time is right and offer a wide range of lifestyle items. Right now, I'm concentrating on our sales for Houghton RTW and expanding our bridal business. We take private appointments at our West Chelsea Studio where I meet with the brides and design their dream Wedding day look!