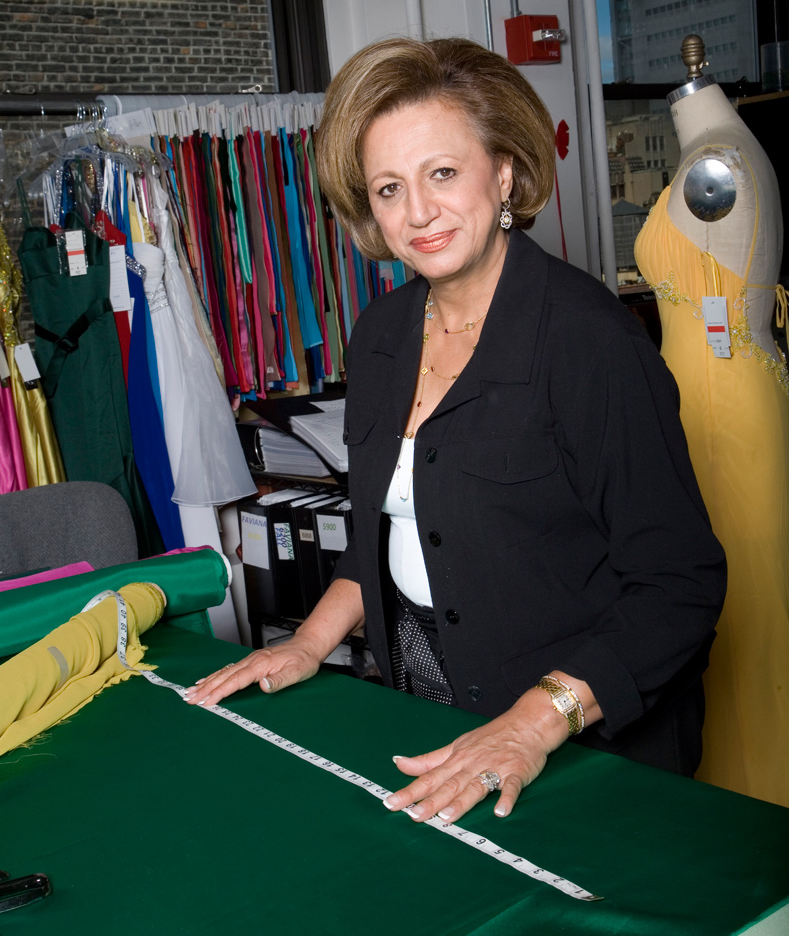 Hollywood, red carpet and formal chic are just some of the words that come to mind when you set your eyes on Faviana dresses.
Fashion designer, Shala Moradi has been designing stylish, sophisticated gowns at Faviana, with inspirations from the runways of Europe and New York, pop culture, movies, music and more.
The 20 year old label owned by the Moradi family counts beautiful celebrity dresses, wedding dresses, bridesmaid and formal dresses as some of its fabulous creations. The popular label recently announced Ashley Benson, star of Pretty Little Liars as the new Face of Faviana. We caught up with Shala Moradi to find out more about the inspiration behind Faviana's ever-so-pretty dresses.
Celebrity Style Weddings  How did you get into the business of designing special occasion dresses?
Shala Moradi  I always had a passion for fashion and I started fashion and pattern design at Faviana in 1988. My husband was always in the industry, and I decided I wanted to work in the industry once my kids were grown up.
CSW  Faviana is well known for interpreting red carpet style. The Celebrity Dress Collection really fulfills the wishes of any girl that wants to emulate the style of her favorite celebrity. Which actress's red carpet style do you admire the most?
SM  Can I say all of them? All of Faviana's Celebrity Dresses are very elegant and updated looks that are on trend and that's what carries Faviana into this category.
CSW  Do you have a favorite celebrity bride? What did you love about her bridal style?
SM  My favorite celebrity bride was Kate Middleton. It was an honor to deliver a variation of her dress into the market, and I was really excited to create a similar look.
CSW The Faviana White & Ivory Collection has become a bridal favorite.  Many of the dresses are absolutely perfect for a destination or summer wedding.  What is the inspiration behind the White & Ivory Collection?
SM  Faviana always tries to offer updated looks in competitive price points for our brides, especially those that have destination weddings. Our inspiration stems from a bride's vision in conjunction with current fashion trends.
CSW  Where can brides buy these looks and about how much do they cost?
SM  Faviana bridal dresses are available in specialty stores as well as Nordstrom, Neiman Marcus and Bloomingdale's. The price point starts at $250.
CSW  For brides who want to sparkle, Faviana offers a stunning selection of embellished dresses. What kind of accessories compliment your dresses?
SM  Faviana's dresses have embellishments, stones and hand-crafted beadwork, so I don't necessarily think we always need accessories. Perhaps a pair of earrings, but we try to keep the look elegant and understated by focusing on the dress itself.
CSW  We know Faviana offers fabulous dress options for bridesmaids too.  Have you noticed any trends that brides are gravitating towards when it comes to choosing bridesmaid dresses? What colors or silhouettes are they choosing? 
SM  Typically bridesmaids dresses depends on the bride's taste but for the most part, they choose a simple style that can flatter many different body types. Color schemes are usually solids in pastel colors, once in a while you will see royals or small embellishments.
CSW  For the first time ever, Faviana has a celebrity spokesmodel. What has it been like working with Ashley Benson, the 2013 face of Faviana? Has she inspired or collaborated on any of the current or future collections? What is it like working with her?
SM  Ashley Benson is very friendly and it was a pleasure to have her involved with Faviana over the past year. She was a perfect spokesperson to reach our target consumer, and we've enjoyed having her on board.
CSW  What do you like to do when you are not designing? Do you ever get to take a break? Where do you like to vacation?
SM  I do take breaks but I never want to stop designing. I do like to travel and see the world, and vacation here and there but I work full time.
CSW  What do you think will be the next big bridal trend? Would you like to make any trend predictions for 2014?
SM  Lace and embroidery are very popular trends right now. Chiffon is always a classic look and proves strong in any season in any time of the year. We offer the newest fashion and trends for 2014 in these categories.