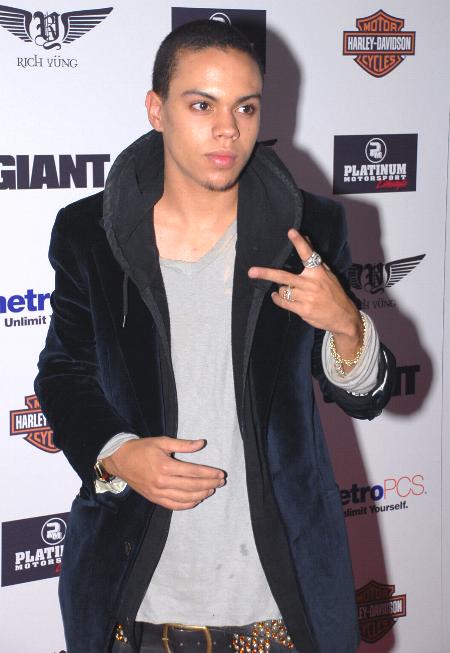 Until now, we could only imagine how gorgeous Evan Ross and Ashlee Simpson's wedding was.
The couple didn't publicly share any photos after their fairytale wedding at Diana Ross's Connecticut Estate on August 30, 2014. Now only a month away from the couple's first anniversary, Evan decided to take a trip down memory lane and brought his fans with him. On Monday Ross shared several intimate pictures with his 164K followers via Instagram from the couple's big day and it pretty much confirms what we imagined it to be all along–absolutely stunning!
In one picture the lovebirds can be seen sharing a passionate kiss. Not only are Ross, 26 and Simpson, 30 about to celebrate their 1st anniversary but they're also gearing up to welcome their first child. The couple is expecting a daughter this summer.
A photo posted by Evan Ross (@realevanross) on
When it came time for the rehearsal dinner, the stylish couple did not disappoint. Ashlee wore a long dress fit for a bohemian princess and wore her hair down in beach glam waves.
Guys, if you're looking for some style inspiration as to what to wear to your own rehearsal dinner, take a page out of Evan's style book and channel his casual cool look.   The Hunger Games actor wore black pants rolled up just right and a white dress shirt perfectly untucked under a black blazer. He topped of his look with a black fedora hat.
A photo posted by Evan Ross (@realevanross) on
In a classic black and white snap, the couple share an intimate moment on their wedding day locked in a loving gaze perfectly framed by french doors and sheer drapes.
In case you were wondering what the blushing bride wore, here's your answer. Ashlee wore a see-through lace top and a long matching lace skirt. She completed her pretty bridal look with her hair effortlessly pulled back and wore a long and narrow veil that trailed behind her while she carried a mix of gorgeous spring blooms.  As for the men in her life, her son Bronx wore a white blazer with dark slacks while Evan wore a black suit.
Ross also shared a picture from the couple's breathtaking reception. The star gave his fans an inside look at the wedding reception held in a tent. Holding up the tent were wood poles adorned with green wreaths. Guests sat in gold chairs and dined on tables covered in matching white tablecloths with a gold design. Red and white roses and long-stemmed wine glasses helped set the romantic setting.
CSW wishes Evan and Ashlee continued marital bliss!
Photo: [Featured] wm/Luke Ford