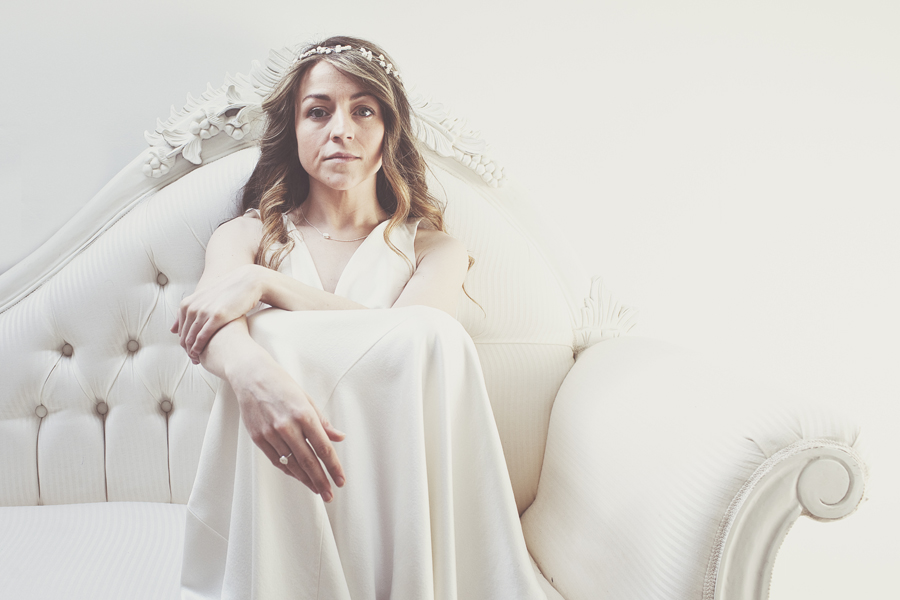 Arriving on the bridal scene in 2009 with the aim of changing perceptions, exploring creativity and celebrating brides' individual personalities and bohemian spirits. The Manchester (UK) based bridal company offers brides a carefully curated collection of wedding dresses bringing leading global brands to their premises – such as Jenny Packham, Charlie Brear and Claire Pettibone. Eve Broadhurst at The White Closet tells us more about how they can help brides find the perfect wedding dress and more.
Celebrity Style Weddings  Tell us about your business.
The White Closet  The White Closet is an award winning vintage inspired bridal boutique set in bohemian West Didsbury in Manchester. We feel that the experience of choosing your dress is just as important and the gorgeous gown you decide on. Our boutique is a stunningly designed space with a slight industrial feel alongside bespoke wallpaper, vintage furniture and white wooden pully-maids which display our carefully selected collection of designers. The industries most sought after dresses are all here within one space for you to see. We work on an appointment only basis and you have the entire floor to yourself to keep your choices secret and personal to you. We are a highly qualified and friendly group of stylists, we love suggesting the unusual and helping you create an individual look for your day.
CSW  What areas do you cover?
TWC  National and International
CSW  What makes you unique?
TWC  We are renowned across the world as have a collection that outshines many others. We have brides from Australia, Dubai, Europe, Africa and America as well and many from London, Scotland and Wales as we have a reputation for offering the atmosphere and creativity that brides just LOVE!
We are relaxed and friendly with no sales-pressure. We have an extra-ordinary collection of accessories as well, we have discovered unknown designers and exclusively stock them. The most recent and exciting is Marie Canning who makes porcelain floral headpieces and jewelry, we discovered her at the Manchester School of Art degree show and she is now stocked all over the world – but exclusively to us in the North.
So there are many things that you will only be able to see and enjoy at The White Closet!
CSW  How far in advance should a couple contact you for a booking or meeting?
TWC  Saturdays tend to book up 3 weeks ahead at least. Weekdays are available within 1 week.
CSW  Do you have any wishes or expectations for each couple?
TWC  Be yourselves, stick to what you want to happen opposed to what everyone else thinks should happen! Enjoy the process and make the most of these opportunities to have time with family and friends. Get stuck in – there is a lot of pleasure in making your own wedding.
CSW  What inspires you?
TWC
Nature – on dog walks in the morning.
Industrial Design – Elle Decoration, artist studios.
Quirky styling – Instagram for various designers – Kate Halfpenny, Paloma Faith.
Illustration/Animation – The Belle Ville Rendevouiz.
People – we have some amazing brides with such impressive lives.
Cinema – Malificent recently.
Travel – we travel a lot and use our snap-happy ways to bring this to our boutique.
CSW  Your 5 favorite things?
TWC
1.Marie Canning Accessories. Hand-made Porcelain pieces of art for our creative brides.
2.Charlie Brear's Instagram Account. And dresses!
3. Our wallpaper.
4. Farrow and Ball paint – our boutique is full of F&B paints!
5. Music – Agnes Obel.
CSW  What are your style tips for brides and grooms?
TWC  Buy into a business that you believe in. This is the one time when cheaper isn't better. Buy into people and experiences that you LOVE. It's worth it.
Don't buy online replica's of ANYTHING from the far east – they are never right and you will buy twice. Take your time and include the people who matter, you will remember this forever. Read the Blogs – they are full of helpful info and inspiration for all – even the none-bridey-brides!
CSW  Favorite celebrity wedding?
TWC  Charlotte Goldsmith and Philip Colbert.