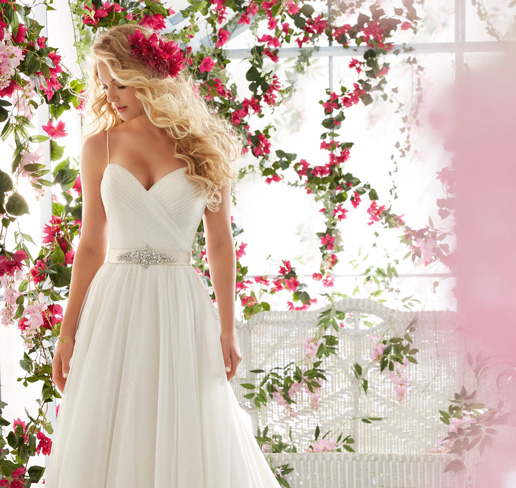 Shopping for a destination wedding dress is a little more challenging than shopping for a dress for a stateside affair.
If you've decided to get hitched in a warm, faraway, exotic location there are some things to consider that will help you pick out your dream dress.
Where will the wedding take place?
Most destination weddings take place outdoors and have a more causal look. If you will be walking down an uneven, rocky, or sandy aisle you might have to pass on the dreamy, super long, billowy dress or a dress with a long train to avoid any chance of tripping over it or having it get caught up in the aisle.
When will the wedding take place?
This will influence how much detailing you want in your dress.  If you are getting married during the day, details such as ruffles, pleats, shirring, and lace cannot be missed. However, if you decide to get married in the evening some of those details, although beautiful, may go unnoticed. If you are having a nightfall wedding, dresses with crystals, sequins, or metallic embellishments will sparkle beautifully under the moonlight.
Will your dress be appropriate for your chosen venue?
If your nuptials will be in the tropics with an ocean view,  skip the elaborate heavy ball gowns and stick to dresses in silhouettes that compliment you and your venue.  Consider airy, lightweight fabrics, such as crepe, georgette, chiffon,  organza, charmeuse, or cotton.  Dresses that allow your skin to breathe, shorter hemlines, and simple cuts  will ensure you won't look out of place.
See Also

Will your dress travel well?
Unless your bridal salon can ship your dress to your venue for you, chances are you will have to travel with it. Consider the weight of your down. The more heavily embellished a gown, the more cumbersome it might be to travel with.
Dresses made of lightweight fabrics that don't wrinkle too easily travel well. To eliminate any possibility of losing your dress, you probably won't want to  include it in your checked luggage. You can protect it by properly packing it in its own garment bag. Check with your airline to see what's possible as far as hanging it in the first-class closet onboard during the flight.