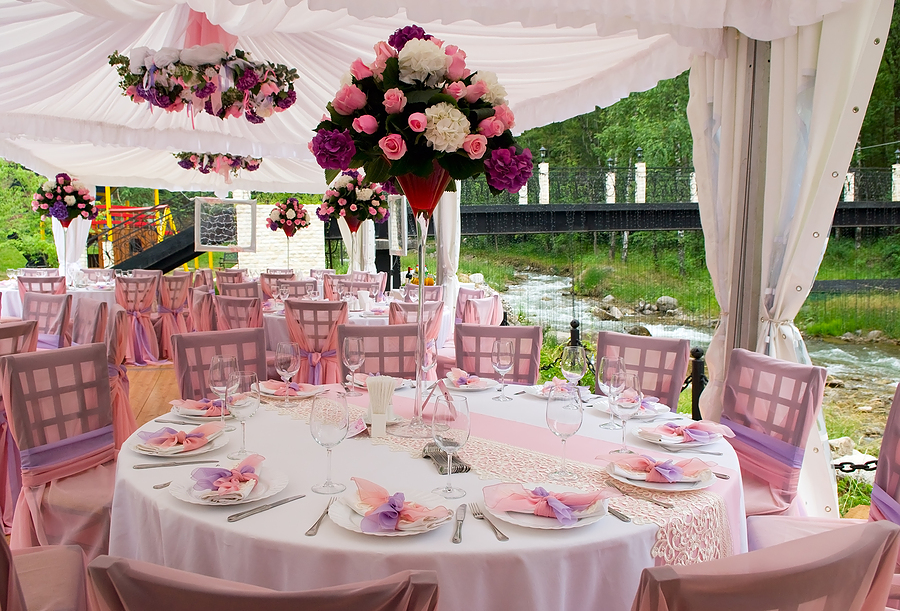 As you might already know, an outdoor wedding reception will provide you with a natural backdrop that may not require a lot of decorating. You also get complete freedom to decorate as you please in most cases. The following checklist will help you plan a great outdoor wedding, making sure you do not leave out anything important.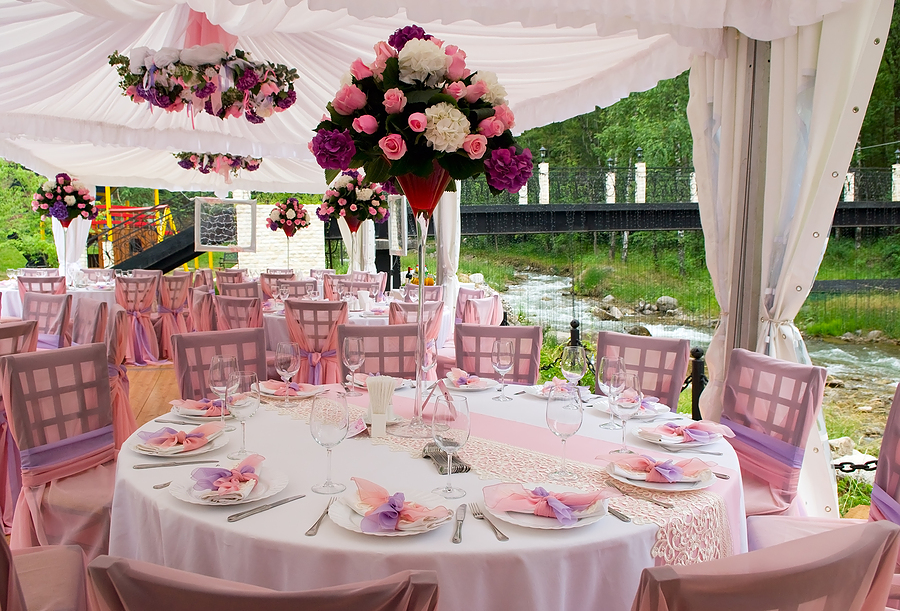 The Outdoor Location
Check that the outdoor reception location is large enough to accommodate the size of your wedding or its attendants.
We recommend that you choose a location somewhat enclosed by trees and other plants, this can make an outdoor reception venue look and feel intimate.
Plenty of level ground is also recommended as this will make it possible to set up the tent and dance floor. Although you would want to make sure it is not located at the bottom of a hill because if it happens to rain during or prior to the wedding reception taking place, the area may become quite muddy and obviously unpleasant for you and your guests.
Make Sure You Have a Plan B: Tent and Other Outdoor Structures
An open air reception is fabulous but sometimes we just can't predict precisely what the weather would be like especially on a wedding day. As in anything else in life, sometimes just when you want things to work out perfectly, it all comes crumbling! You don't want to leave room for the unknown on your wedding day, so be sure to have a plan B for an many things as possible.
Consider renting a tent, gazebo or other good outdoor structures as your plan B for your outdoor wedding reception.
The weather in the spring and summer times can be unpredictable. You don't want any ugly surprises or for your guests to have an unpleasant time. And even if a hot weather is sure, you can still rent a ventilated tent so that your guests can retreat from the heat if they needed to do so.
When you rent your tent or any outdoor structure well in advance, you're likely to get a chance to learn more about them without rush and calmly decide on the best one to go for. We recommend that you shop around and speak with 2 or more rental companies so that you can gather enough information, quotes etc in order to make the right choice. Tents and outdoor structure rentals can sometimes be expensive depending on the size and quality you want to go for. So be on the lookout for good rental companies who will offer you an added bonus for booking well in advance, such as offering you a good discount.
Tables and Chairs
Some outdoor reception venues may supply you with tables and chairs. Some will even offer to do the setting-up for you. But if yours does not offer this option or if you are having the reception in your own backyard then you will need to find a solution. Don't worry, many brides and grooms save more when they rent their chairs and tables and do the set-up themselves. Always remember that some disappointments can be a blessing, and when it's a blessing in your pocket, it's always great especially for your wedding budget!
Setting up tables and chairs is not rocket science, and if you get all the family, friends or bridal party involved it could end up being so much fun do to! Just be sure to allow adequate spaces in-between the chairs and tables and for people to move among them.
Location Benefits
Choose an outdoor wedding reception venue that has access to the types of amenities you will require.
Check that there is ample parking for your wedding guests. You would also want to make sure that your guests know that the parking spaces are free or paid parking spaces, if there is no signage for this in the area. Even if there was some signage, make sure that there aren't any extra inviting corners about that your guests might be tempted to pack in, which could result in their cars being towed. Believe it or not, it happens, even when you have made sure that there was enough parking for everyone. One or more of your wedding guests might accidentally take up more than one packing space resulting in a shortfall. We recommend that you hire parking attendants if you are having a large wedding and want to avoid any dramas.
Make sure there is good bathroom facility that can accommodate the number of guests attending your wedding. The last thing you want is long bathroom queues at your wedding.
Sadly, little yet vital things like checking for enough electrical sockets and/or extensions for lights, music and other entertainment are sometimes forgotten. Be sure not to fall victim, walk around the venue, take notes (and if it's often a bit of a hassle to organise viewings, be sure to take a camera with you for pictures). You don't want something so primary to ruin your perfect day. Also make sure that current is frequent in the area, if unsure then think about renting a generator as a back-up.
For the obvious reasons, we also recommend you choose a venue that comes with a kitchen or a special arrangement for your caterers.
Decorations
The ultimate advantage of having an outdoor reception is that you can let your decorating imaginations run wild! Most indoor venues have rules that can be quite restrictive, which means you are not able to decorate your wedding as you have dreamed.
You can choose to accentuate what the nature around you has to offer, which can also mean spending less. But if you're looking for a wedding like the type Tori Spelling and Charlie Shanian had in 2004 at her parent's 56,000-square foot mansion in Los Angeles, then you will need total transformation. For this type of wedding, execution is key. What they had done at her wedding was totally transform the space with a large white tent and the interior of the tent was made to look nothing like a garden or the outdoors, it looked like a permanent structure draped in white both inside and out.  If you do not have a big wedding budget, you can still achieve a stunning result with inexpensive outdoor decorations such as string lights and other LED decorations, candles, flowers, plants, water features and more. Depending on your wedding theme, you can really create an oasis of charm with your outdoor wedding whether you have a big or small wedding budget. Style is key, it is not always the budget that counts.