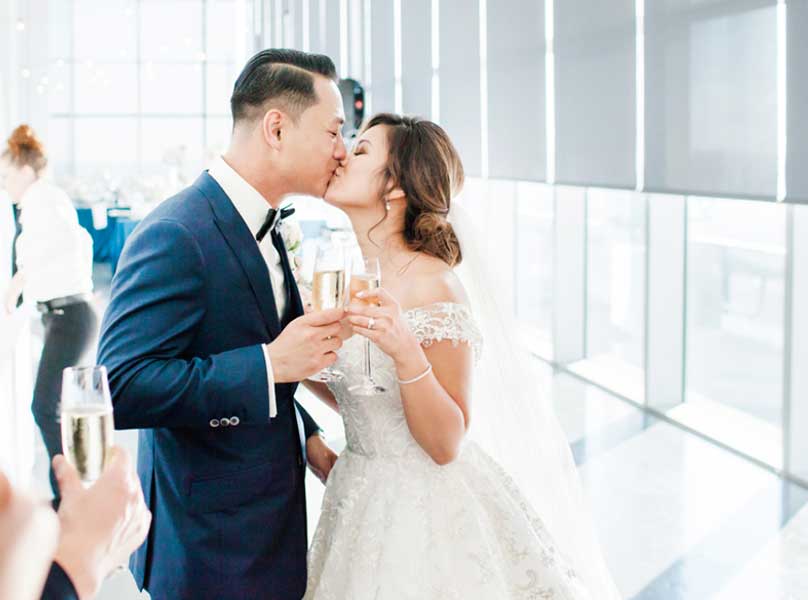 For Abigail Estrella Bello and Jason Kuhn, the first venue they visited when searching for their wedding was the last. This is a couple that knew what they wanted, and made sure what they want is well reflected through all the tiny details in their wedding.
Married on the rooftop of the USC building in LA, the couple was united in their dream of a traditional fairytale wedding with a modern twist.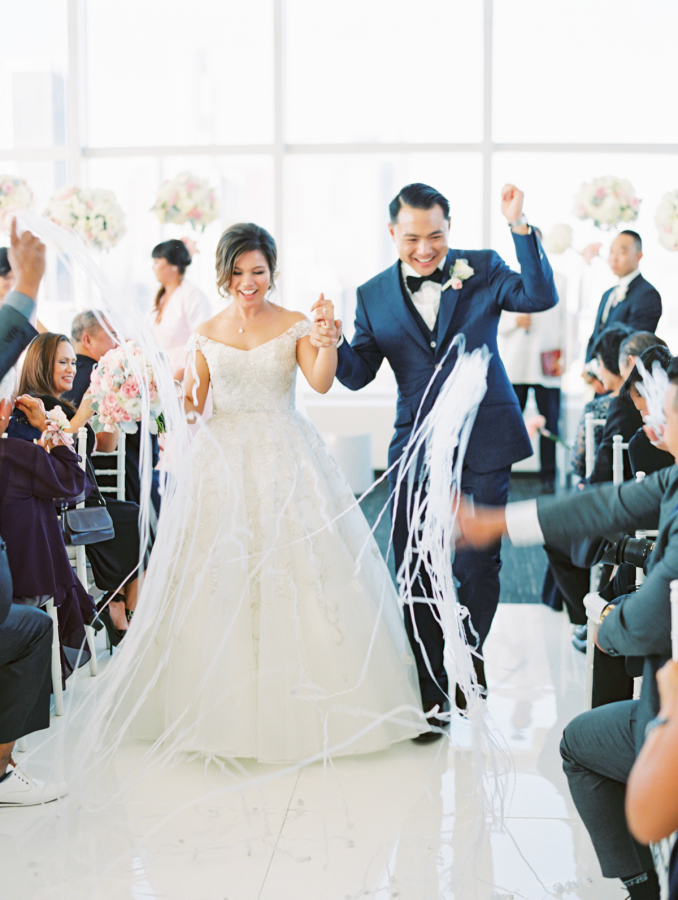 The couple knew from the beginning how they wanted the flowers, the colors, and dessert. Another element they knew they wanted to incorporate was Jason's family business, Sincere Orient, which manufactured Pho noodles. They decided there was no better way to incorporate the business than making escort cards as Pho at a table with a "Drop it Like It's Hot" sign and bottles of sriracha. Since the groom has a love for hot sauce, there was no better way to integrate the family business.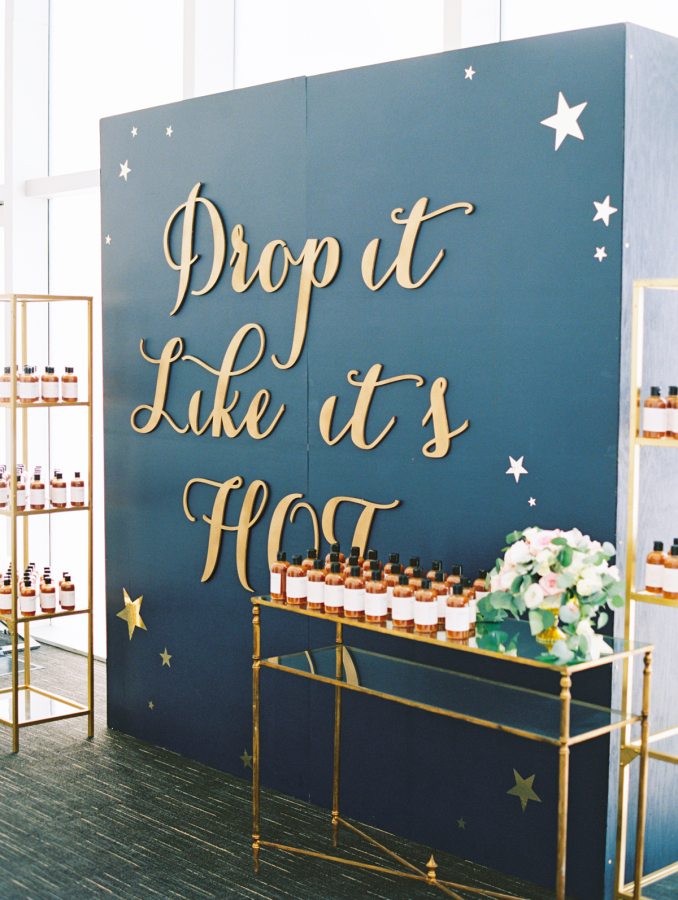 The ceremony was a beautiful blend of the couple's cultures, with Catholic traditions like the veil and cord from the bride's side and lion dancers from the Chinese culture. The bride wore a bright red dress lace dress for a second part of the ceremony with Chinese traditions. Paying tribute to the couple's families and how they were raised in line with who they are today was vital to the couple, and it showed in a wonderful blend during the wedding.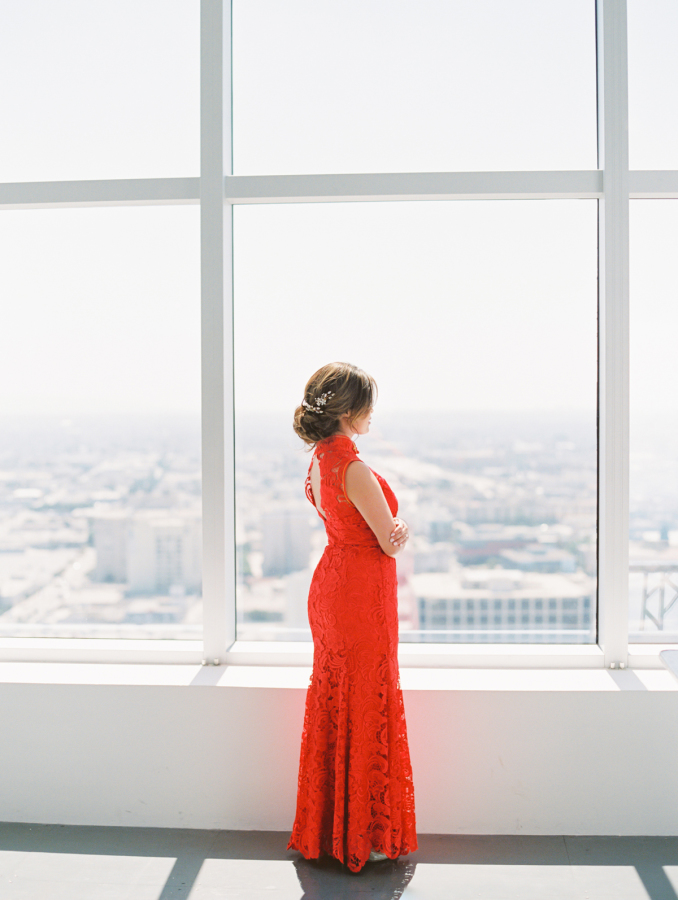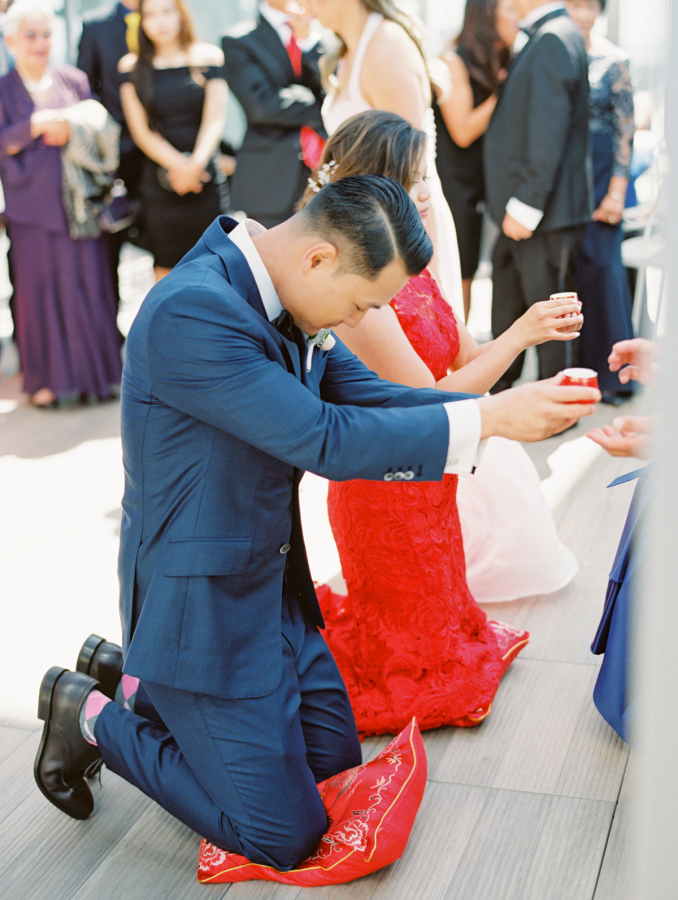 The bride's dress was a beautiful lace gown, with cap off-the shoulder sleeves and a flowing train. Gold sparkle shoes with gems donning the toes were the perfect touch of glamor for the bride. A pinned curly up-do was soft and sophisticated, adding to the romantic feel of the event. Bridesmaids wore soft pink dresses, helping bring out the touch of pink in the mint and white bouquets. The groom and groomsmen wore navy tuxedos, adding a touch of chicness and elegance.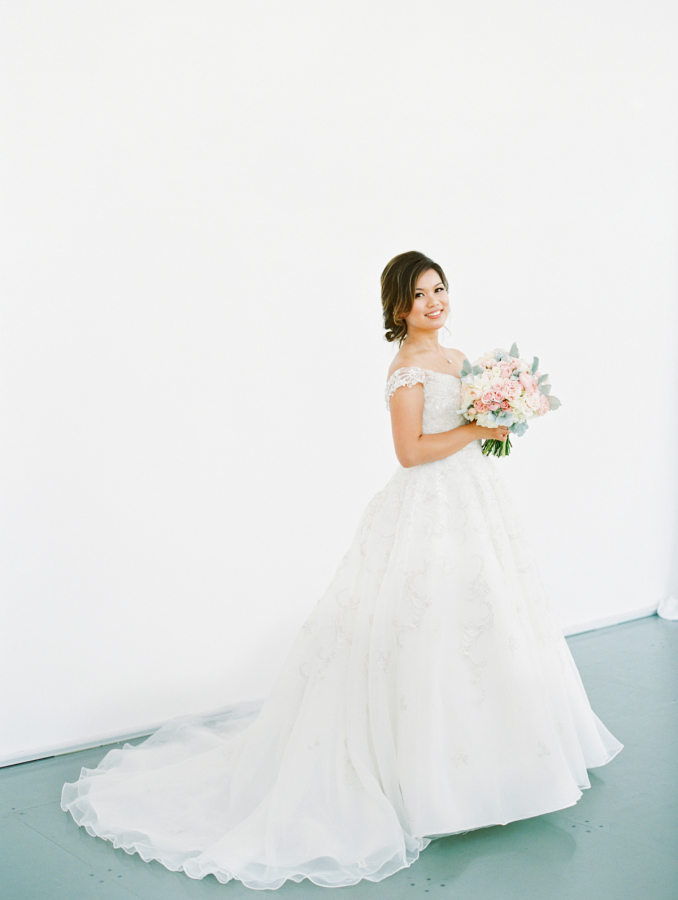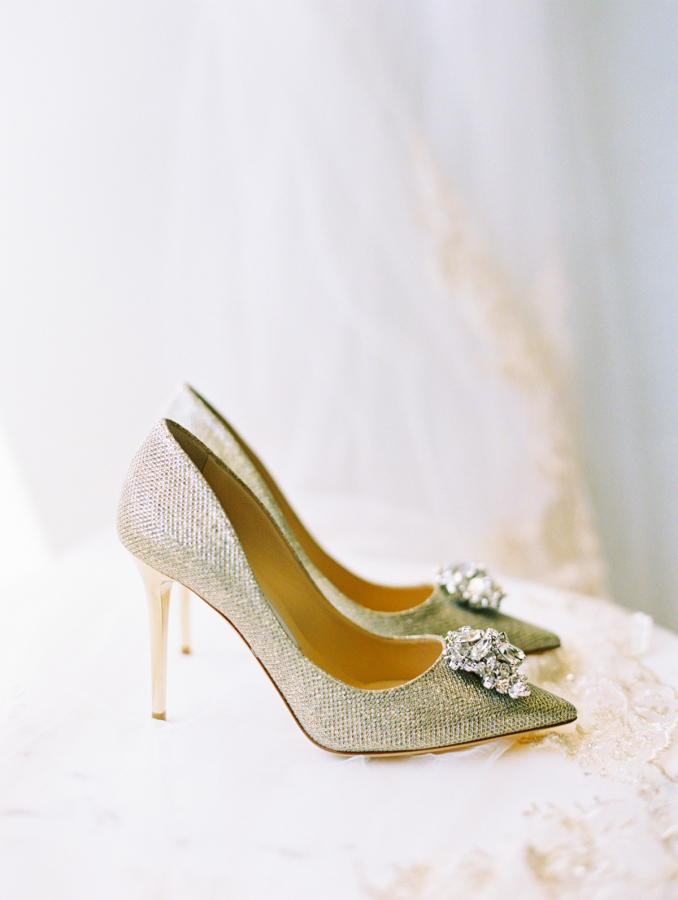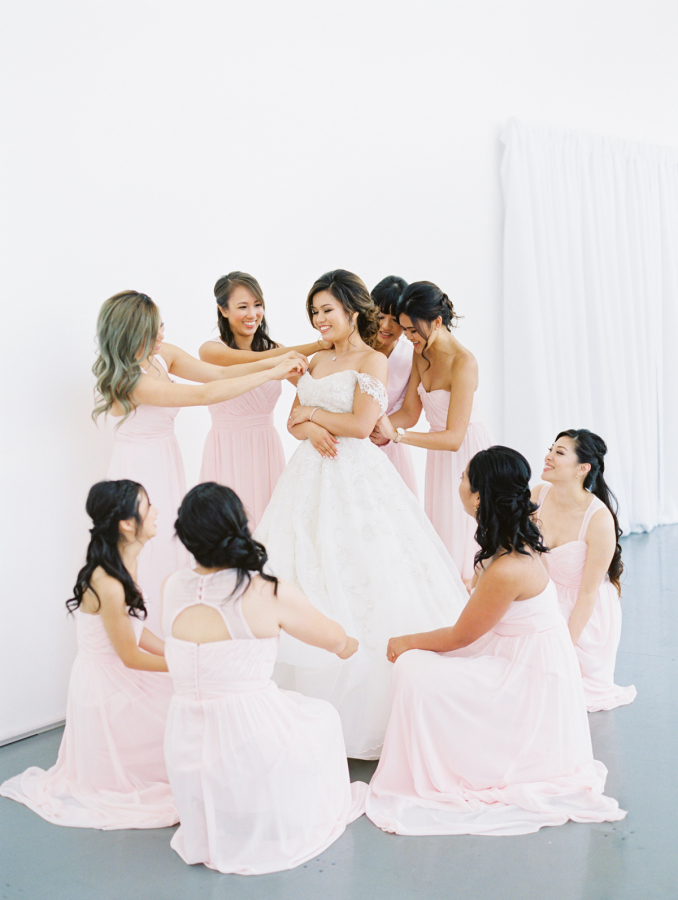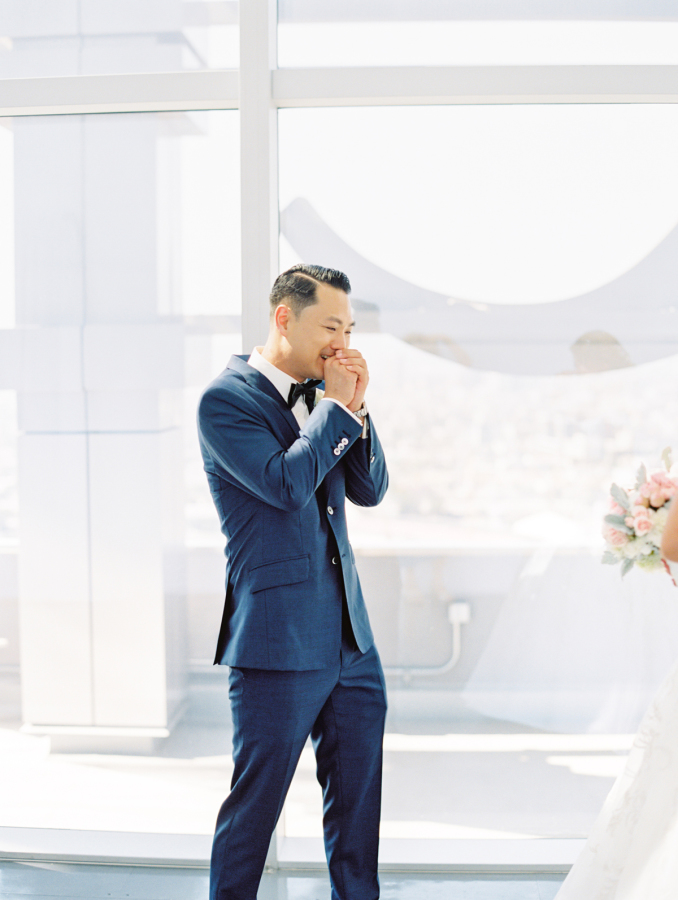 The city skyline was the perfect backdrop during the romantic ceremony. The pink and navy scheme complimented the neutral setting extremely well, setting an air of elegance and sophistication.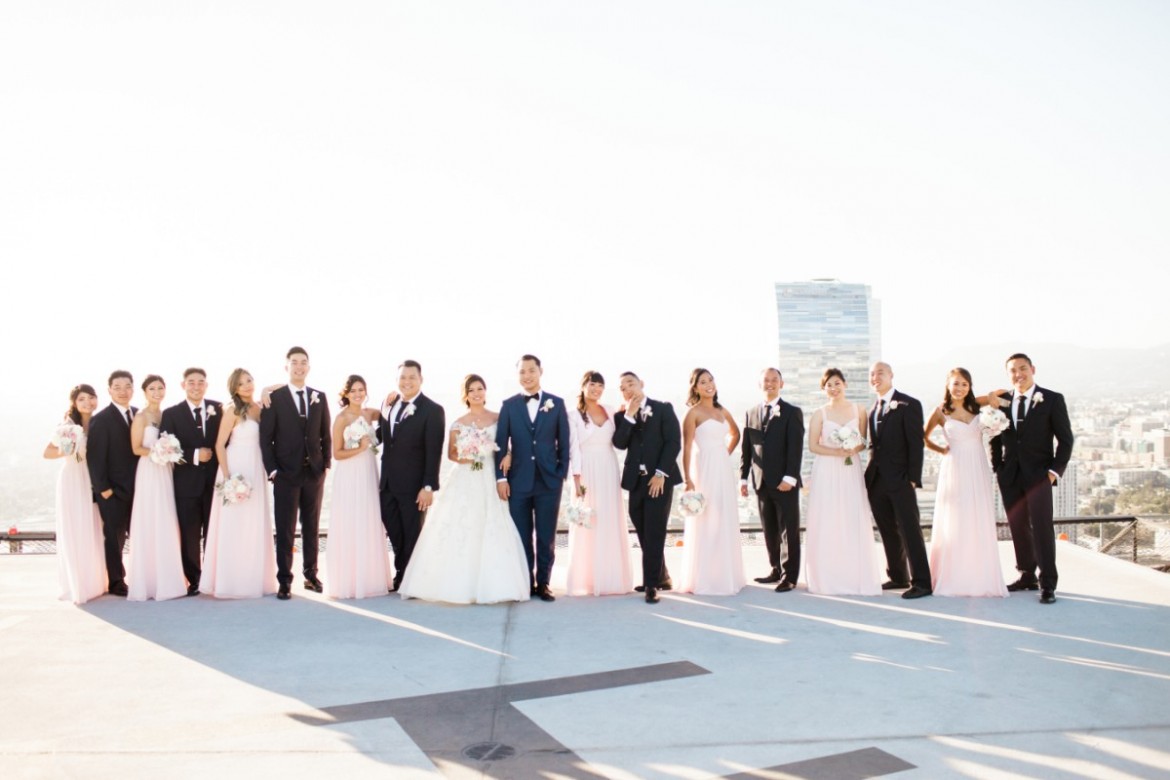 The reception was intimate, with the passing of bowls of Pho making it special for couple. Twinkling lights hung above the tables donned with navy cloths and beautiful bouquets. The couple felt that the event perfectly embodied who they are, and beautifully united the two families with traditions from both sides. From the rooftop of LA, it was the perfect wedding for Jason and Abigail.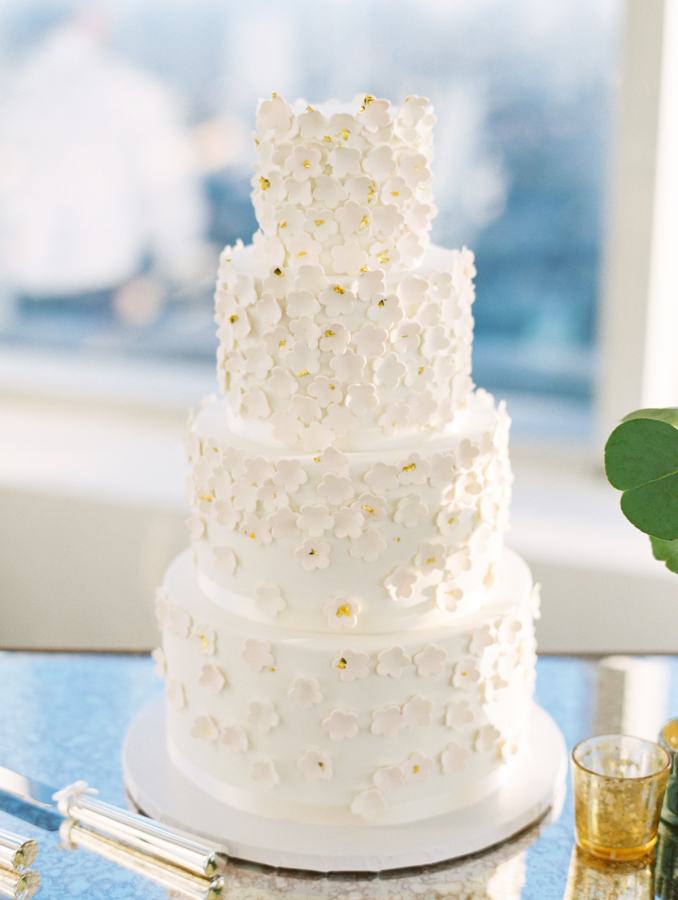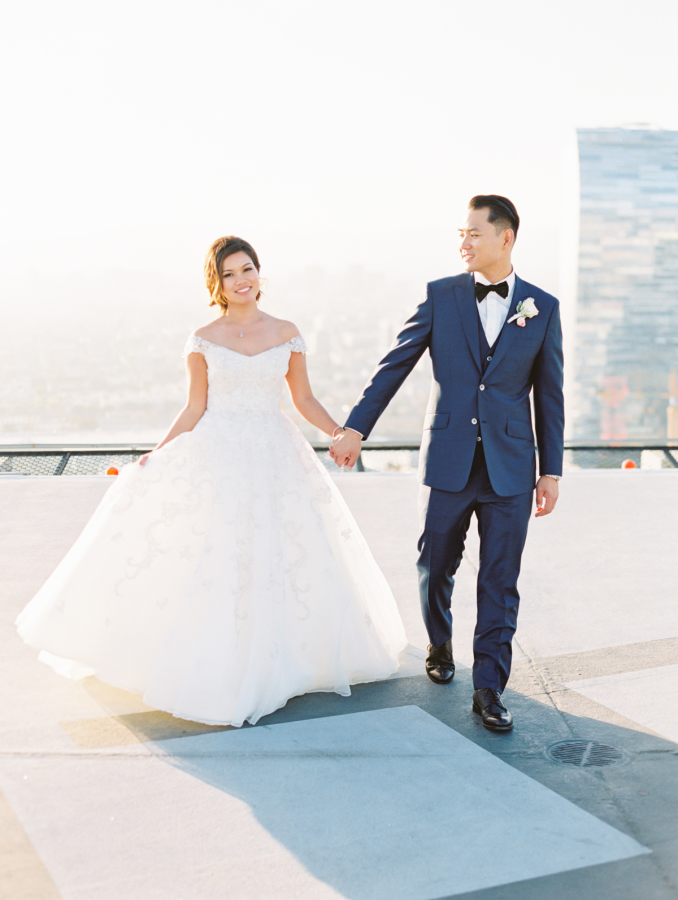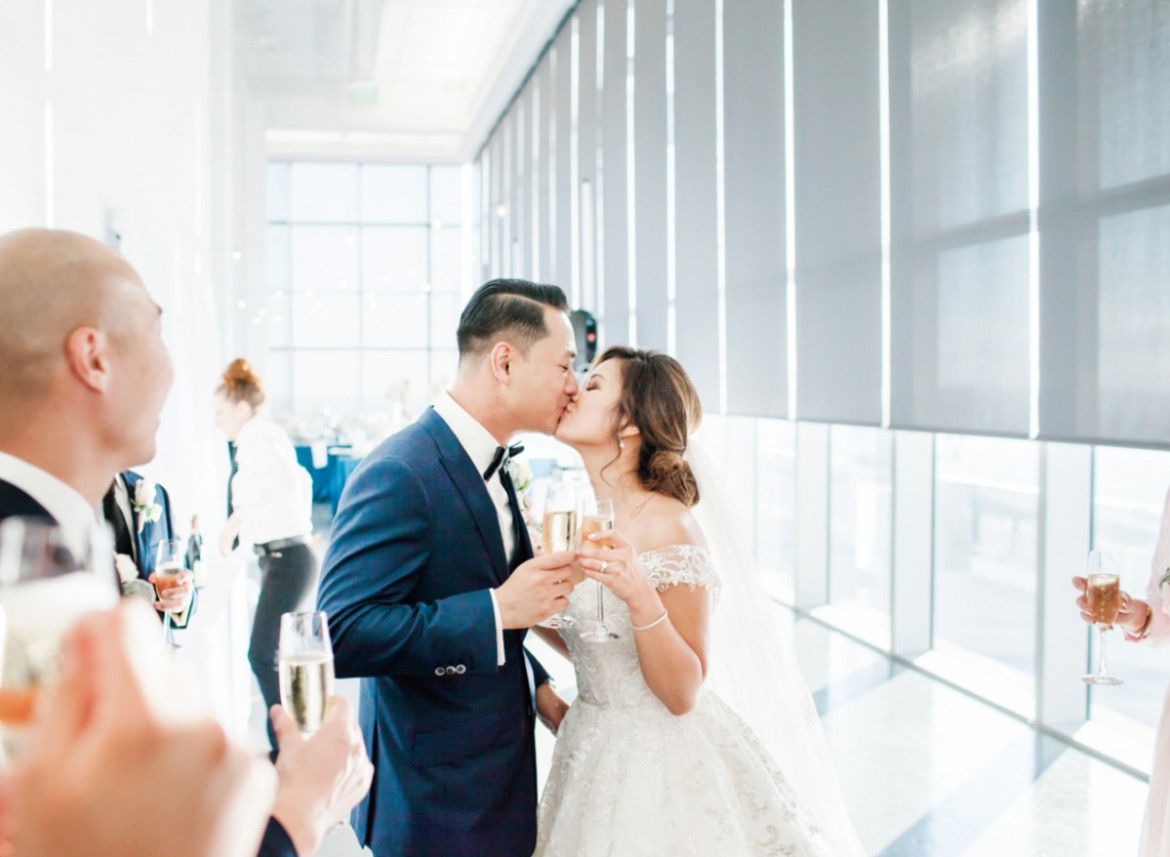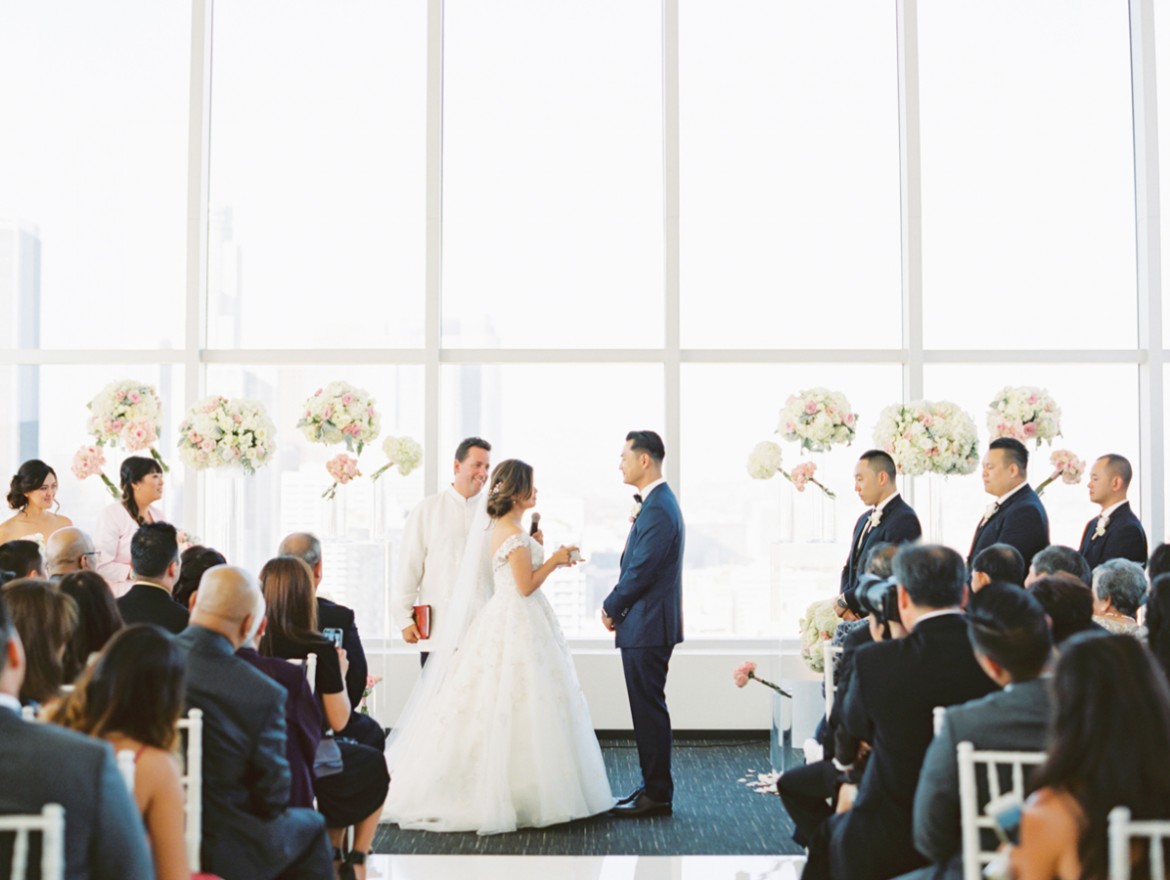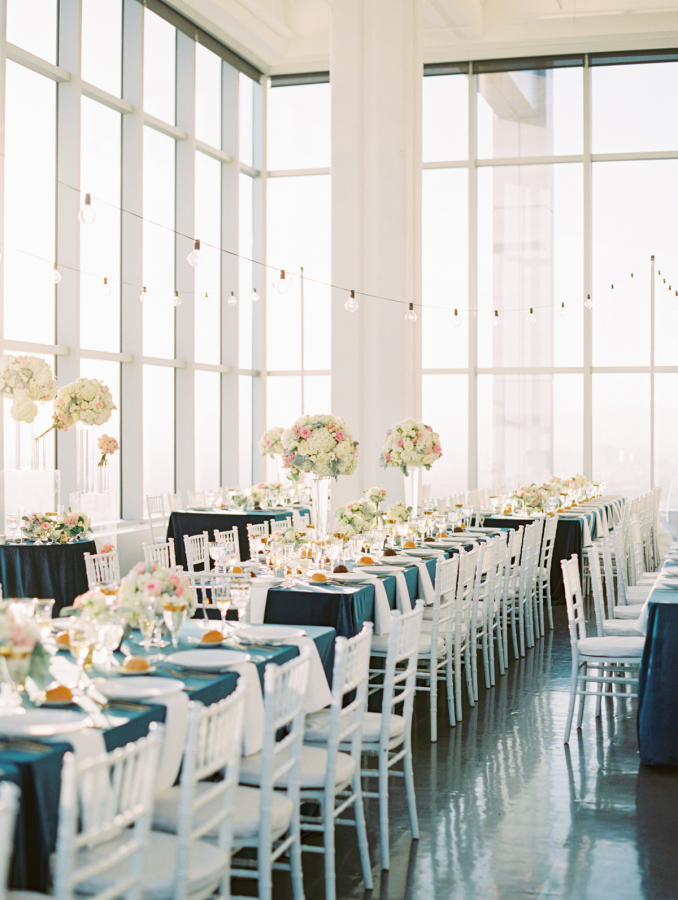 Vendors In This Wedding
Photography: The Great Romance Photo | Videography: David Rho | Wedding Planning: CCL Weddings & Events | Floral Design: Green Leaf Designs | Wedding Dress: Watters | Cake: M Cake Sweets | Catering: Patina Catering | Hair + Makeup: Theresa Huang | DJ: ProKreation/Paul Kim | Wedding Venue: Southpark Center | Custom Backdrop: Modest Peach | Custom Hot Sauce: La Siracha Racha | Linen Rentals: La Tavola Fine Linen Rental | Photobooth: GC Photobooth | Rentals: Chiavari Chair Rentals | Specialty Furniture : Etablir Shop | Stationery Design: Small Paper Co. | Tabletop Rentals: borrowed BLU | Wedding Design + Coordination: CCL Weddings & Events