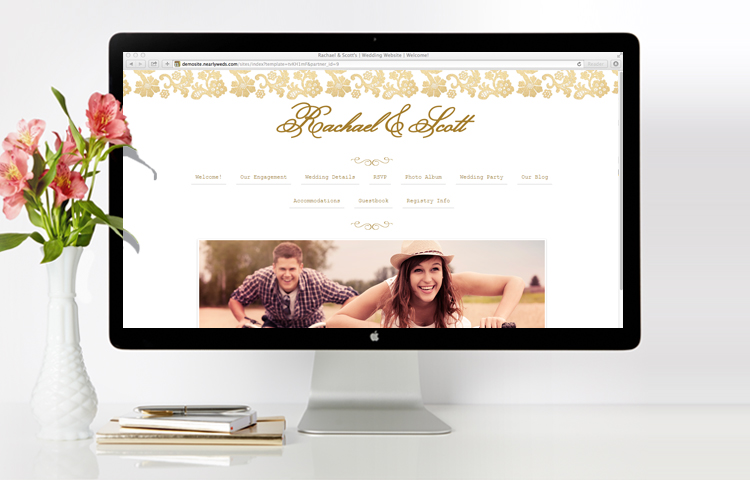 We are living in the digital age where couples have turned to technology to make their big day memorable and magical.  
New technology platforms can help you plan just about any aspect of a wedding such as picking out a wedding color palette, shopping for the perfect dress, finding a florist, and so much more. Here are some ways that tech savvy couples are using technology to their advantage.
Wedding Websites
Personalized wedding websites have become a popular way to share information. As long as guests have access to an internet connection, details of your big event will be at their fingertips. Information such as directions, gift registry, an interactive guest book,  RSVPs,  or nearby hotels can all be listed on your site.  Many wedding websites also include a section where you can tell the story of how you met your soon-to-be spouse complete with pictures. Wedding Paper Divas offers beautiful wedding websites that match your invitations!
Smartphones
Disposable cameras have become obsolete at weddings.  Armed with their smartphones, guests can get involved by snapping photos. It can take weeks to get your professional wedding photos back. In the meantime, you can enjoy instant access to your guests perspectives when they upload their smartphone pictures to Facebook,   Twitter, or Instagram.
Digital Music Downloads
It used to be that you hired a professional DJ or a live band to handle your wedding music needs but not anymore.  Digital music download services such as iTunes and Spotify make it easy for you to listen to samples of music, search for specific music, browse popular music charts, purchase music, and make your own special wedding playlists.
Apps
There are apps for almost every aspect of our lives. It's no surprise that there are apps for almost every aspect of wedding planning.
Ecommerce
Everything you need for your wedding is just one convenient click away.  The internet has made it easy to shop at any time of the day and in any place in the world. Couples can compare and shop for wedding decor, apparel, accessories, invitations and flowers.