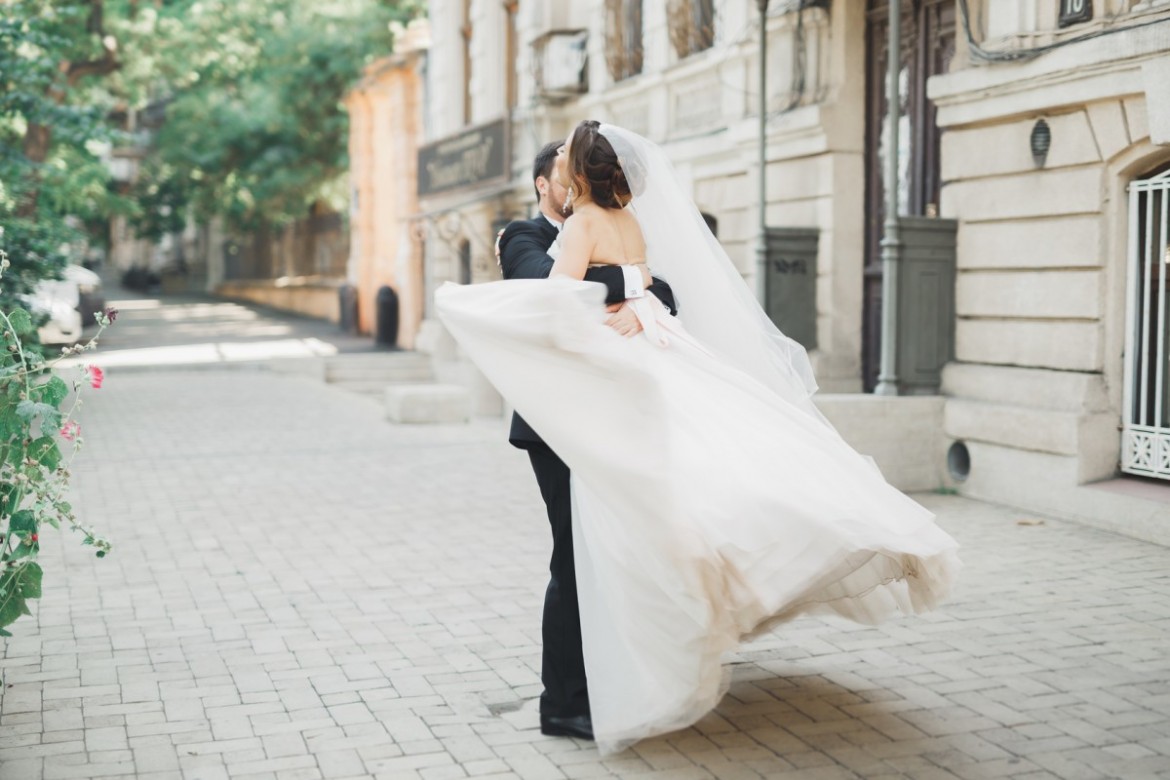 The wedding dance is an important part of your wedding, but how prepared are you? Your guests look forward to seeing you dance the night away, whilst being entertained by your joyful mood. It's also a pretty sight when a bride and groom take over the dancefloor, but not without some good planning.
Here are 10 simple steps to having a perfect wedding dance.
Find the "right" song
Choose a song that you both like. Whether fast or slow, you can bet that you'll both be able to dance to its beats as long as it's special and familiar to the both of you.
Find the right shoes and practice in them
The right pair of shoes should be comfy enough to allow you to dance naturally. The trick here is to practice in them before the actual dance. Most people make the mistake of practicing in their trainers only to realize they can't dance in their wedding shoes when it's too late.
Practice in your train too
Even as you practice in your shoes, don't forget to practice in your train too, especially if you have chosen a long one. That way, you will be able to dance without tripping over come your big day.
Dance to a live band
Do you intend to hire a band come that day? If so, practice with the band. Also, request a recorded demo from the band so you can practice whenever you have time, with or without the presence of the band.
Make sure you send your DJ the actual song
Don't be like most couples who assume the DJ has their song without realizing that there may be a different version of the song. To be on the safe side, send your DJ the exact version you intend to dance to.
Edit your song down if it's longer than 3 minutes
The perfect dance should ideally last for around 1.5 minutes. If your chosen song is longer that 3 minutes, have your band or DJ edit it down, or have a wedding dance agency do it instead. Also, to make the dance more fun, plan to invite your audience to the floor as the song comes to an end. You don't have to invite them personally, request your band or DJ to invite them at least 1-2 minutes before the song ends.
Have yourselves filmed
Having yourselves filmed as you practice will give you an opportunity to watch yourselves so you can change or work on whatever it is that you don't like.
Practice with your photographer
If possible, spare a few minutes off the dance floor to enable your photographer to be fully prepared during the actual dance. That way, he or she (the photographer) will be fully prepared to capture the twirls, drips, and lifts at perfect angles.
Don't panic if you forget the moves
With proper practice, there's absolutely no reason why you should forget the moves. However, if you do, don't panic –most couples go blank anyway and there's absolutely nothing wrong with that. Just have a default move ready, such as a simple turn or twirl, as you prepare to get your bearings. The trick is to relax and smile all the ways.
Disregard the cheers
The truth is that your dance will be among the various highlights of your wedding. Your guests will actually be waiting for your dance and they will definitely cheer you on as they film and take pictures. This commotion will be exciting yes, but if you are not careful, it will distract you. The trick is to ignore the cheers and to concentrate on each other instead.