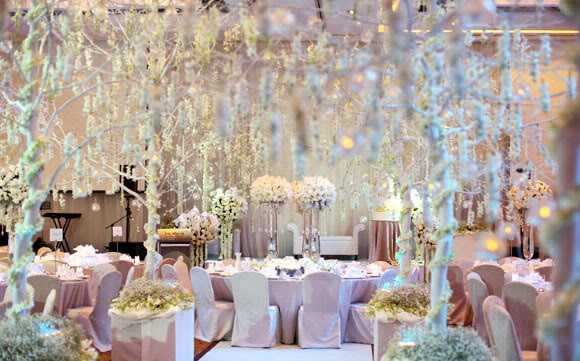 If you're having a winter themed or all white wedding in 2013, congrats from us all at CSW! Take a look at this gorgeous wedding reception decorated by Wishing Tree, it will surely leave you inspired and wanting more from your wedding florist. Taken from the beautiful wedding of a bride who envisioned a white winter themed wedding, this reception is decked in gorgeous blooms which filled the room with the romantic fragrance of flowers that could have you waltzing your way into the fabulous wedding reception.

You'll notice plenty of lilies (the bride's favorite flowers) in the centerpieces, with a few white roses that the designers at the Malaysia based Wishing Tree say they used to fill the spaces between the lilies so that the lilies didn't appear squished. They used tendrils of white matthiola flowers, slivers of silverleaf and delicate strings of crystal beads to complete the tall elegant arrangements. If you're not familiar with any of the flowers or materials used, just ask your wedding florist. Every good florist has a trick or two up their sleeves to help you achieve beautiful wedding arrangements within your wedding budget.
"The base of the centerpiece was covered in white blooms as well. Using more glassware filled with white lilies, white roses, silverleaf, matthiola, and white chrysanthemums, we achieved loads of texture and varying heights. Arranging all these different flowers in separate vases makes this a breeze to do. Add some white candles between the arrangements, and you have all the right stuff!"
Who could possibly refuse the fragrance of beautiful flowers at their wedding? And as if the flowers were not gorgeous enough, the creative designers installed real white trees and made them drip with more gorgeous matthiola. Each tree towered at least 12 feet and outlined the aisle that lead to the bridal table and the stage in the wedding reception.  They also accented the tree branches with matthiola flowers, using strings of orchid garlands to wrap around the tree trunks for added gorgeousness.
See Also

Tea lights floated from the branches at varying heights, illuminating the room beautifully. They finished off the stage decor with white drapes and linens to ensure a "strictly white" finish in the background of this white wedding. For the guest tables they created tall and short all white flower arrangements (look out for part II of this post for photos of the short arrangements and more), filling them with roses, some lilies and chrysanthemums. Then they tied it all in to match the bridal table by accenting once more with white mathiola, silverleaf and crystal beads.
The grand three-tiered wedding cake also got the floral make-over. They used the largest roses they could get their hands on to decorate each tier, while the stage was decorated with tall floor arrangements using white phalaenopsis orchids, roses and strands of orchids.