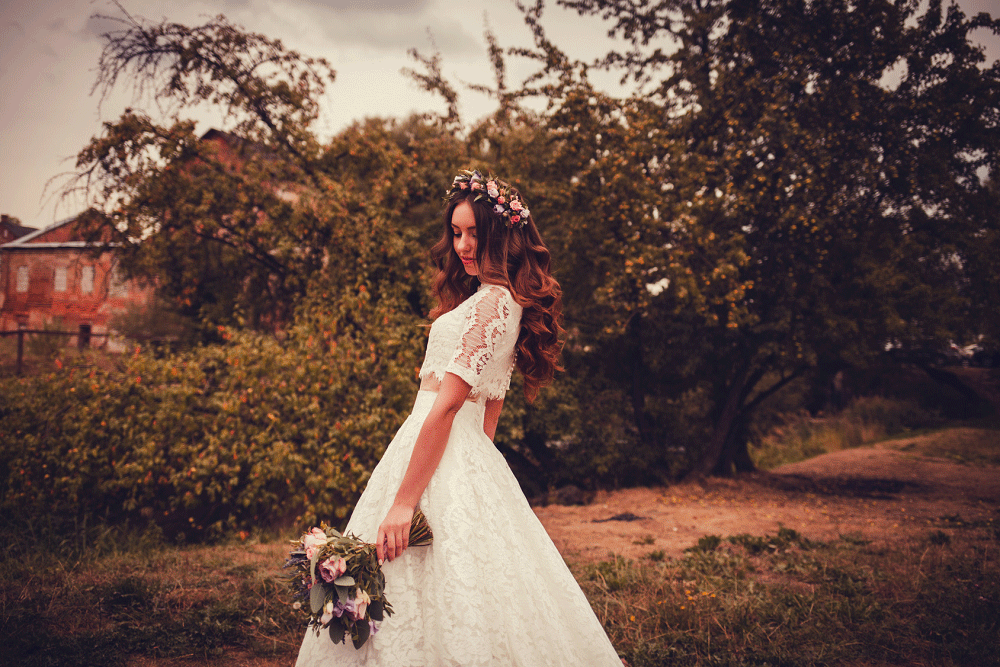 Weddings take place all year long and provide a lifetime of memories. Many couples typically plan their weddings in spring or summer.  Have you ever considered a fall wedding? There are many benefits to planning your wedding during the fall months. Ultimately, the choice is your yours but the benefits of a fall wedding are simply too hard to ignore.
Wedding photographs taking in the fall have the potential to be beautiful.  Depending on what part of the country you live in, you can take advantage of mother natures fall color scheme. Deep red, cappuccino, copper, yellow, gold, brown and orange are all beautiful colors for fall.   A fall backdrop or landscape in an outdoor wedding can create stunning photos like those taken of Kevin Costner and Christine Baumgartner.  They had a rustic fall wedding at Costner's Aspen ranch. Anne Hathaway and Adam Shulman held their fall wedding at a private estate in Big Sur. Pictures of the couple taken against a rustic fall backdrop were striking.
Depending on your location, the weather is beautiful in fall.  Also, mild temperatures and low humidity seem to make everything easier for you and your guests to cope with.  Your make-up stays put.  Flowers don't wilt so fast. You won't have to worry about sweating in your wedding dress. The crisp and cool weather makes everything more bearable for those who suffer from seasonal allergies. Guests will be comfortable shuffling from one location to the next and so will you.
You can get really creative with fall wedding favors.  There are many useful and unique favors you can give to your guests at this wonderful time of the year. Your guests will appreciate pashmina-style wraps, gourmet coffees, gourmet teas, hot chocolate mixes, leaf shaped soaps, and scented or fall themed candles to name a few.
There are numerous themes and decorating options for a fall wedding. Fall is the harvest season so you can incorporate wheat, apples, pears, pomegranate, or pumpkins into your decor. You can decorate with one of the many beautiful motifs of fall.  Catherine Zeta-Jones and Michael Douglas incorporated  a 20-foot magnolia tree into their decor.  From its branches hung silk ribbons with guests name and table assignments on magnolia leaf-shaped place cards. You can also decorate with a rich fall color palette and create elaborate fall inspired centerpieces like Christina Hendricks and Geoffrey Arrend. Their wedding flowers were a combination of camellia and herbs in deep red, browns, and greens.
A fall wedding calls for a fall menu.  Take advantage of the season's harvest and add it to your wedding fare. The temperatures will be cool so your guests will surely crave fall inspired dishes. The warmth and heartiness of soups make it a great addition to your fall menu. If you are serving salad, consider adding a seasonal element such as figs, pumpkin seeds, cranberries, pecans, grapes, or roasted walnuts. Some other great ideas to add to your menu are beef stew, baked potato, cider, and fresh corn.  As for a dessert that fits into a fall menu, decadent dark cakes,  mini apple pies, pumpkin tarts, or rich brownies will not disappoint.