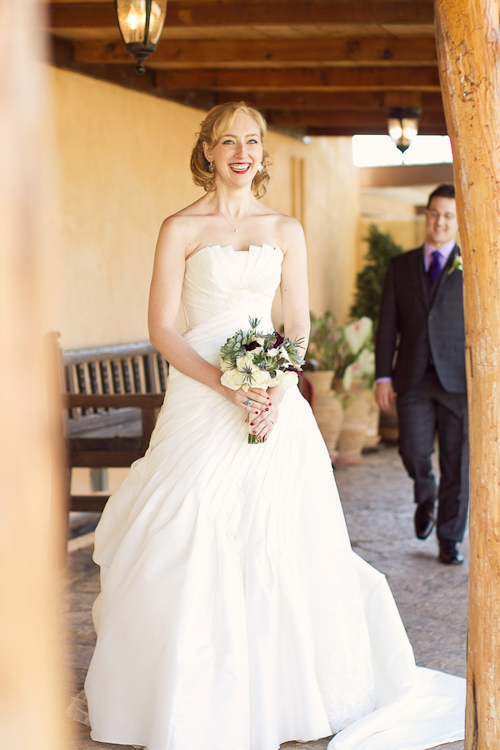 Get inspired by Kymberly and Mattew's Spanish style wedding. Bright colors and natural beauty fill the air in their beautiful Spanish themed wedding captured by Spink Studio at Gage Hotel,  a favorite wedding spot in Marathon, Texas. The couple sweetly welcomed uninvited guests – a swarm of monarch butterflies, to rest on the trees in the beautiful gardens of the Gage Hotel where their wedding ceremony took place. Talk about luck! As you can imagine, it was a pleasant surprise and only added more excitement and beauty to the couple's wedding decor in the gardens.
The Look: The couple wanted a "thoughtful, unexpected and bright" wedding. "The colors, ideas, and overall wedding theme were inspired by a painting of Marathon, Texas, by Mary Baxter. The isolation of the location really helped to provide a calm and celebratory atmosphere, where the guests could just put away their cell phones and relax (mostly because they didn't get any signal!). We all enjoyed the scenery of the desert sunset and sounds of a passing train" said the sweet couple.
They decorated the venue following the theme that was already available in the stylish rustic surroundings of the hotel. They went for colorful Papel Picados at the reception, wedding rings tied to rustic keys, and Spanish-style structured dresses. Luckily for the couple the Gage Hotel venue didn't need a lot of additional decor, and the gardens looked perfect so they didn't do much to it and instead took advantage of its natural beauty, highlighting what the beautiful venue had to offer.
See Also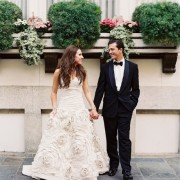 Photos: Courtesy of JuneBug