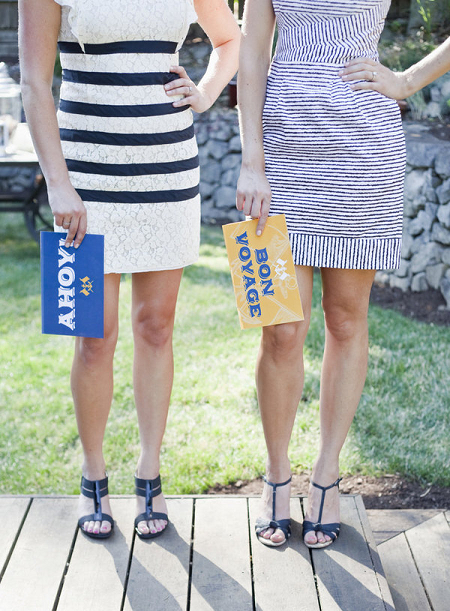 View Gallery
Jennifer Melle, co-owner of Hi, Friend Design in Portland, Oregon decided to change her last name along with her co-worker. As you can imagine, it was a good reason to throw a fabulous party – wouldn't you? So the 2 rather lovely ladies teamed up to plan a surprise name change party for their other halves. One day their unsuspecting husbands were out playing golf and when both returned, voila! a surprise summer backyard ceremony that followed a beautiful summer party.
The Look: Maiden Voyage with yellow/blue color motif . Customized wine labels for wine bottles and mini bottles of champagne, cupcakes, photos of the two couples from their wedding days, a photo booth with nautical themed props, enlarged copies of their new licenses for guests to sign their well-wishes on.
So special: They chose the same officiant that married Jennifer to her husband Steve in 2009.
The sweetest thing: During the ceremony the girls officially changed their names on Facebook using their ipads.
See Also

Photos: Courtesy of Style Me Pretty