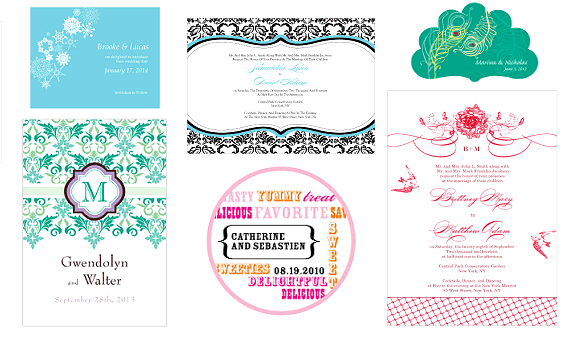 Choosing a style for your wedding invitations and stationery does not have to be a struggle. Remember, planning your wedding is supposed to be fun and time flies quicker than you think. So make sure you enjoy the planning process, all the way to aisle. If deciding on a wedding style is a struggle, a clever way find your style is by browsing through some wedding invitations and stationery.
When you make choosing your wedding invitations the first thing you decide on, you'll be surprised just how easy it will be to decide on everything else for the wedding, including the save-the-date cards. Why? It's simply sets the mood for your wedding and choosing that wedding dress becomes easier.
Your wedding invitations will inspire you,  get your ideas and style shaped up and ready to get planning. Apart from the wedding dress, the wedding invitation is one thing that every bride and groom would normally want to impress the wedding attendants with. It is normal as invitations set the tone of any event and gives everyone invited a glimpse of what to expect at your wedding.
There are 5 simple rules to choosing your wedding invitation:
Style
This would include color, theme and everything style related. It is obviously what sets the mood for your wedding.
Budget

A measure best adhered to when making any choices for your wedding. Also remember that money cannot always buy you style and that true style is individual. Be a savvy bride and get creative. Some brides make their own wedding invitations or even purchase a rather simple one that is a little cheaper and then accessorize them with colored rich looking ribbons and other fabulous embellishments. The end result is a wedding invitation that looks even more stylish than those specially ordered.
Timing
You'll need to have your timing right from the date you decide on the invitation to choose to the date you place your order. Time matters throughout the entire planning of your wedding.
Ordering
Consider the fact that the delivery time for wedding invitations and stationery will vary, whether you are ordering them online or from a physical store. The factors to consider are that some invitations are specially made, perhaps made of very fine paper, fabric or other material. They may have to be ordered in especially for you, and some times, even imported. This is often the case with highly specialized or small wedding invitation specialists. And unless you're going for pre-printed invitations that you'd fill in by yourself, consider that they are personalized and that this adds a few more days to the delivery date. These are just some of the most important things to think about, when trying to place your order. Like in every aspect of your wedding, it is always best to be early than late.
Delivery
This one is the most simple of them all but can be disastrous if one is not careful. After all is decided and done, delivering the invitation to your friends and family would be the last piece of the puzzle. Delivering wedding invitations too early is no good either, that's what the save-the-date announcement is for. You will need to get the timing right. At the very latest, guests should receive invitations six weeks in advance, and you should receive responses two weeks before your wedding day.