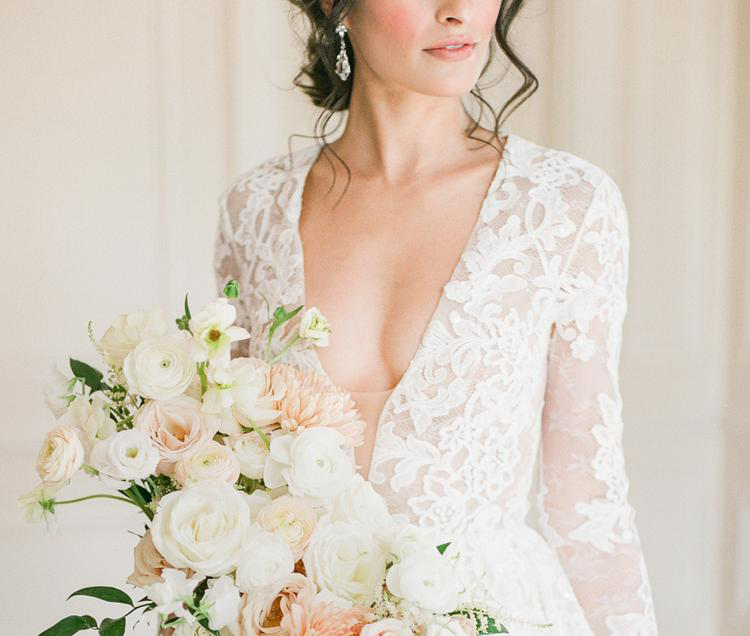 Photo credit: Stylemepretty/Alicia Lacey Photography
Of course, the sight of a woman on her wedding day on its own is beautiful enough as it is, but we all want to go the extra mile of looking flawless.  After all, these pictures are some of the most important ones we'll ever take and they will live on in family photo albums forever.  Here are 6 tips to ensure that your bridal makeup goes off without a hitch.
1. Play with the lighting
It sounds simple enough but many women don't adequately test the lighting of their bridal makeup.  Whether you hire a professional makeup artist or trust yourself enough to do it on your own, a bride to be has to see what her makeup looks like in natural lighting (outdoors) and artificial lighting (indoors).  Go the extra mile and see how it looks in photographs with and without added flash.  Nothing's worse then having a beautiful face with pictures that don't capture it accurately.
2. Start a serious skin care regimen long before the big day
Good makeup starts with good skin. Period.  Cosmetics can only enhance what is already there.  The state of your skin will affect the outcome of your look.  Begin a skincare routine long before the big day- at least 2 months- to ensure that you've given skin sufficient time to repair itself.  If you can, get professional treatments from an aesthetician as well.
3. Use makeup primer- for everything
If you're using a professional makeup artist this person will probably already do this for you but if you're doing DIY bridal makeup do NOT skimp on primer.  It's one of those things that people might think makes no difference in the application of makeup but it does.  There is primer for the face, eyes, even lips to ensure that makeup doesn't move on the face long after you've applied it.  It also mattifies the skin to prevent you from looking oily throughout the day.
4. Take your long wear lipstick for a test run
Put your long lasting lipstick to the test long before the wedding so you know what to expect.  It's not enough to just try it on during a trial makeup run.  Wear it throughout the day, go to dinner with it on, have a drink with it on.  See how it holds up to all the things you'll likely be doing on the day of the wedding.  You don't want to have to reapply lipstick every hour on the big day.
5. Don't think you need high shine products
Some women believe that they need exaggerated makeup with glitter on their wedding day but it's best not to go that route.  Assuming you take photos (see step 1) you'll see that very sparkly makeup becomes even more exaggerated with the camera lens.  Opt for subtle shimmery makeup instead.
6. Try and squeeze in a spa treatment before the wedding
Planning a wedding can be extremely stressful and getting pampered before you walk down the aisle can help ease any tension in the body.  Once the muscles are relaxed it can completely change the outward appearance of a person and your face and body will be glowing from the inside out.  There's always "man-made glow" with airbrushing but the most authentic kind will come from within.